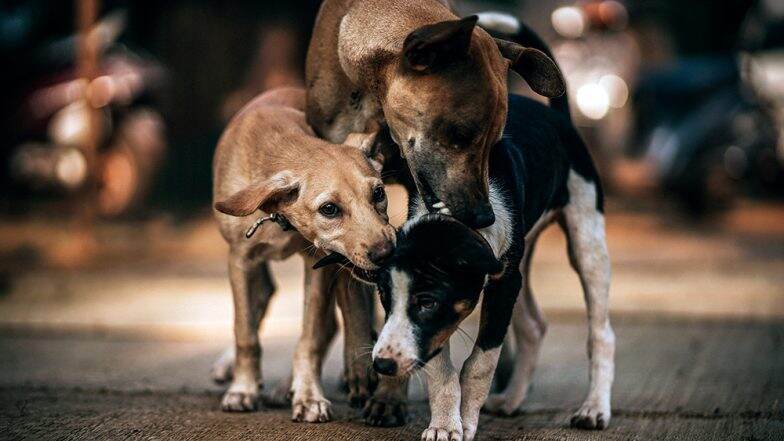 Girda, September 9: In a latest incident of cruelty on animals, more than 60 dogs in Maharashtra were found dead with their legs tied up with strings in Buldhana district. According to a tweet by ANI, the dogs were tied in the forest of Girda in Buldhana on September 6. Reports inform that the carcasses of the dogs were found strewn at various spots on Girda-Savaldabara Road in a forest area. Locals informed that the stench of the carcasses is not letting people move around the area and it can also lead to the spread of diseases in the region. Wayanad's Favourite 'Gentle' Wild Elephant Maniyan Passes Away.
The exact cause of the death of the canines would be known once the postmortem report is out. According to reports, the cattle herders complained that bodies of many dogs were thrown in the forest area. The incident came to light after a local youth complained to the authorities about the incident following which an official from the forest services came to the spot.
Here's the tweet:
Maharashtra: More than 60 dogs were found dead with their legs tied with strings in the forest of Girda in Buldhana district, on September 6. KN Taral, Forest Guard says,"We reached the spot immediately after we got the info. Efforts are on remove the odour in the area." pic.twitter.com/t2Xd90jcjH

— ANI (@ANI) September 8, 2019
Forest guard KN Taral was quoted by ANI saying that a JBC was pressed to service to remove the bodies. "We got the information that bodies of numerous dogs were thrown in the area from the locals. We have called for a JCB to remove the bodies and dispose of them properly. Efforts are also underway to remove the stench from the area," Taral said.
Reports inform that a case under Prevention of Cruelty to Animals Act, 1960, and the Indian Penal Code (IPC) was registered on Sunday against unidentified killers of the strays on a complaint lodged by a forest guard.