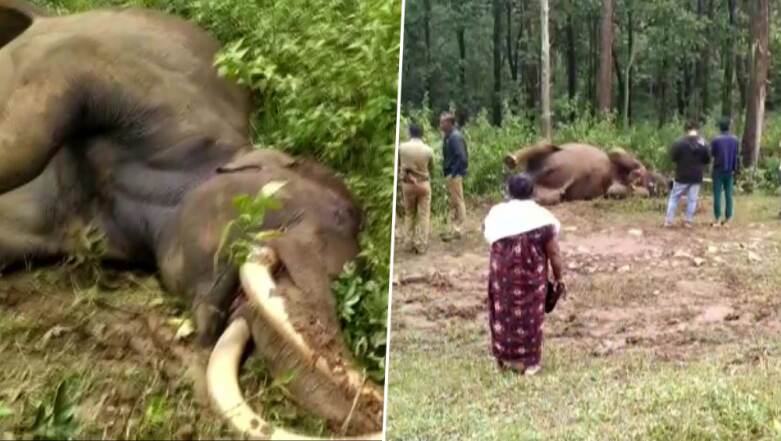 Wayanad's most famous 'gentle' wild elephant, Maniyan has passed away. The mammoth died on Saturday after being attacked by a herd of elephants. According to forest officials, the animal was killed by another tusker during a fight inside the forest. The 36-year-old was seen lying lifeless near the Kurichedy forest close to Batheri. While being a wild elephant, Maniyan was close to the people of Wayanad. He was friendly with humans and shared a strong bond with the villagers. He lived in the forest close to the village where people fed him and never ventured into the thick wood. It is believed that Maniyan had gone into the deep forest as it was the mating period, usually when most fights between elephants happen. Another tusker seems to have killed Maniyan over 'mating rights'. Granny Dakshayani, India's Oldest Elephant in Captivity Passes Away in Kerala at 88.
Maniyan was found dead in Pullumala forests near Kurichiyad forest range office on Saturday morning. He sustained wounds in the chest, forehead and stomach; the liver and lungers were completely battered. Hundreds of people from nearby areas going to catch a final glimpse of the elephant. Kerala is known for its elephants which enjoy celebrity status in the state. They are frequent visitors at temple grounds and other festival events. 'Rowdy' Ranga, Karnataka's Most Loved Elephant, Dies After Being Hit by Bus.
Watch The Video Below:
A recent video of Maniyan shows him carefully moving away from a motorbike-borne commuter who lost control and fell in front of him. Talking about Maniyan, India Today quoted Dr Arun Sachariya, a veterinary surgeon, who shared a bond with the elephant said, "The wild tusker was so harmless that he did not even retaliate when he was being attacked on Saturday. Maniyan sustained deep wounds in the chest, forehead and stomach. He was probably attacked multiple times by the rival elephant. For an elephant of Maniyan's size and with his tusks pointed upwards he could have easily outplayed his rival, but I couldn't see a single spot of blood or flesh in his tusks. This tells a lot about Maniyan's attitude."