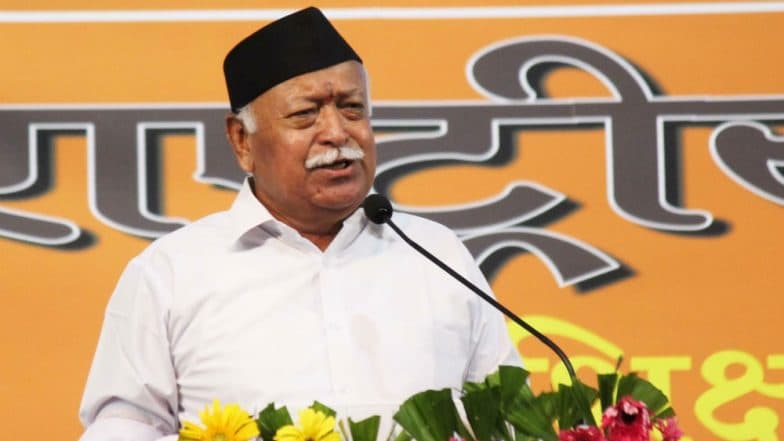 Kolkata, September 23: Rashtriya Swayamsevak Sangh (RSS) chief Mohan Bhagwat stated that those Hindus excluded from the national register of citizens (NRC) final list would not be excluded from the country. This is not the first time he had said something like this. RSS Chief Mohan Bhagwat to Interact with Foreign Media on September 24 in Delhi.
Speaking at a closed-door meeting between the Sangh and the BJP in Kolkata on Sunday, as Hindustan Times reported, Bhagwat assured the people that no Hindus would face expulsion from Assam where the final NRC list was released on August 31. In the final NRC list, 1.9 million people, many of them Bengali Hindus were excluded.
Apart from campaigning for identifying illegal immigrants in Assam, RSS functionaries are trying to push for bringing the Citizenship (Amendment) Bill or CAB. Under this, granting Indian citizenship to non-Muslims from Bangladesh, Pakistan and Afghanistan will be initiated. There are reports that RSS id pushing for the CAB which aims at India is the only place for the Hindu community. Muslims in India Much Luckier Than Those in Islamic Countries, Says Veteran Journalist Mark Tully.
Close functionaries of RSS claim that they have been asked to array fears of those Hindus whose names are not on the NRC list. One of the functionaries said, as the daily quotes, "The Sangh is of the view that the BJP government should introduce the CAB in the forthcoming winter session of Parliament."
Earlier, West Bengal Chief Minister Mamata Banerjee met Union Home Minister Amit Shah and raised her concerns over the implementation of NRC in the state. She was of the opinion that the NRC is being implemented to divert the attention of people from the economic slowdown of teh country.