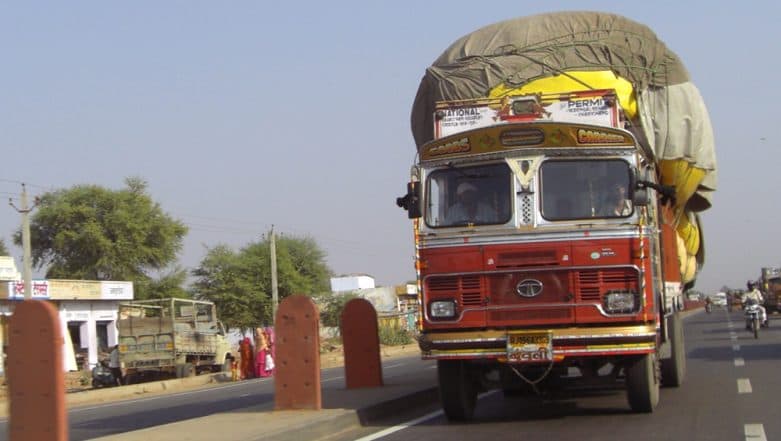 New Delhi, September 10: In what could be the highest fine for Traffic rules violation under the new Motor Vehicles Act 2019, a truck owner from Rajasthan was issued a challan of Rs 1,41,700. The image of the challan has been going on social media. According to news agency ANI, the truck owner paid the penalty at Rohini court on September 9 for overloading the truck on September 5. New Motor Vehicles Act: List of States Where Hefty Fines Are Not Enforced.
On September 8, a truck was fined Rs 86,500 in Odisha by the Sambalpur Regional Transport Office (RTO). He was fined under the amended Motor Vehicles Act. The fine, however, was settled in Rs 70,000 after the driver produced some documents. Motor Vehicle Amendment Act 2019: Vadodara Man Pastes All Documents Related to His Royal Enfield on Helmet to Avoid Fine, View Pics.
Tweet by ANI:
Delhi: A truck owner from Rajasthan paid challan amount of Rs 1,41,700 at Rohini court on September 9 for overloading the truck on September 5. pic.twitter.com/2P4G9JqDgR

— ANI (@ANI) September 10, 2019
The new Motor Vehicles (Amendment) Act has been making the headlines for hefty fines. Earlier this month, a rider from Delhi was penalised Rs 23,000 by the traffic cops for violating traffic rules. Dinesh was fined for not wearing a helmet and also not carrying documents. In another incident from Dehli, a furious driver set his bike on fire after police fined him Rs 11,000.
Meanwhile, considering the stringent punishment, many state governments have not implemented the new Motor Vehicle Act. Gujarat on Tuesday announced a reduction in fines under the new act. Rajasthan, Punjab, Madhya Pradesh, Puducherry, Chattisgarh, Odisha, Telangana, and West Bengal have not enforced new penalties in the states.