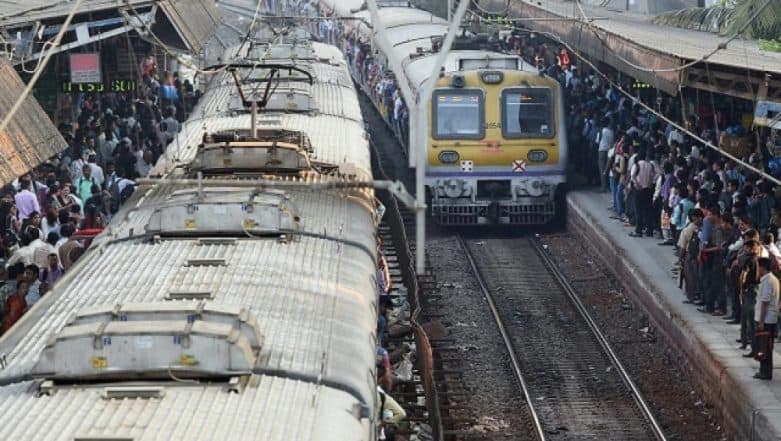 Mumbai, June 21: Commuters from Thane to Panvel stations on the trans-harbour route have been left stranded as the local trains are not plying due to a technical glitch. The disappointed passengers have taken to social media to mark their dissent against the Railway Ministry. The services were yet to be restored by the time this report was published.
According to reports, the line turned dysfunctional at 10am in the morning -- the peak office hours. A train on the route has been stranded between Koparkhairane and Turbhe railway stations. Quick Response Teams Planned at Thane, Kalyan, Dadar, Kurla as CR Preps For Monsoon
The Central Railway has taken cognizance of the logjam and has initiated efforts to restore the line. While replying to a Twitter user, the Central Railway expressed regret for the unprecedented inconvenience caused to commuters.
Commuters Venting Their Frustration on Twitter:
Trans Harbour train stopped in middle of the track n commuters r forced to jump on the track n walk till Turbhe station which is almost 1 km frm dqt point isn't it stupidity of driver who doesnt vacated the train in koparkhairne stn for techmical snag @mumbaitrains @RailMinIndia pic.twitter.com/WE5oAc62if

— Ankur Bajpai (@ankurbajpai) June 21, 2019
Passengers Stuck in Vashi, Airoli, Nerul
Usual halt in transharbour route between airoli & thane in Mumbai. Its been 30mins and no movement. Its happening more often & we're gettin use to it as authorities are least bothered wth regards to train maintenance.#canyouact @CRailwayMumbai @PiyushGoyal @PiyushGoyalOffc pic.twitter.com/WqxbeJXo4U

— Aarshith (@Aarshith1) June 21, 2019
Stranded Commuters 'Not Informed'
Stuck between ghansoli & koparkhairne from 30 min already got late for office @MumbaiLocals what is the issue why all the trains are late ?? @MumbaiPolice can you please tell me where to complaint about this issue .?? pic.twitter.com/SaGfVel3MH

— kamlesh Yadav (@__king_karma__) June 21, 2019
The Trans Harbour route is used for commutation between Thane and Panvel, covering a stretch of nearly 50 km. Much of the local line passes through Navi Mumbai, with major halts being Rabale, Airoli, Koparkhairane, Vashi, Sanpada, Juinagar, Nerul, Seawoods, Belapur, Kharghar and Mansarovar.
The above stations, mostly located in the satellite city of Navi Mumbai, have developed as bustling hubs due to sprawling colleges and industries in the region. The disruption of train services affects scores of people, including workers, white-collared employees and students.