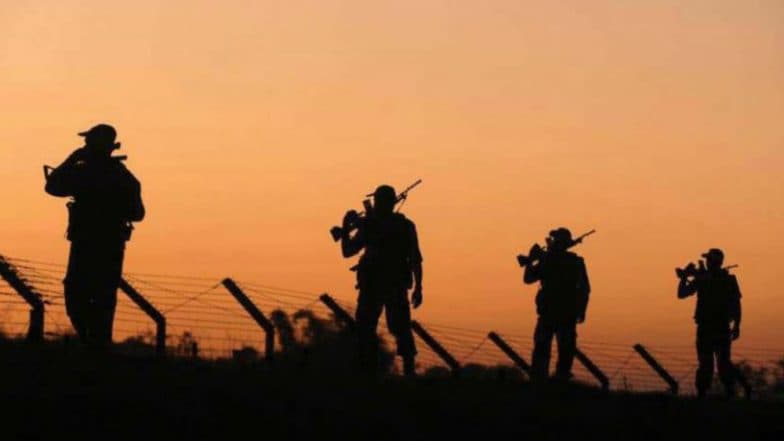 New Delhi, October 7: With the Imran Khan government upping the ante against India over the alleged excesses being committed in Jammu & Kashmir, the Pakistani defence establishment has reactivated all the terror camps along the Line of Control, reports citing sources said on Monday. Nearly 20 terror launch pads and 18 terror camps have resumed operations along the border with India, said reports, adding that scores of terrorists are being prepared to infiltrate into the Valley. Forces on High Alert Along LoC as 500 Militants Waiting to Sneak into Kashmir to Create Unrest: Report.
The NDTV report on Islamabad reactivating terror camps along the border comes a day after Jammu & Kashmir Director General of Police (DGP) Dilbag Singh told reporters that nearly 200-300 terrorists are currently in the Valley. The militants, he said, are mostly those who have infiltrated from the neighbouring nation.
"The number of active terrorists (in Jammu and Kashmir) is between 200 to 300 ... the figure usually does not remain static and goes up and down," Singh told reporters during a visit to the border district of Poonch to review the security situation.
The DGP's statement came days after Indian Army chief General Bipin Rawat said nearly 500 trained terrorists are lined up in Pakistan to infiltrate into the Valley.
"Around 450-500 terrorists are waiting at the terror launch pads along the LoC in PoK," the Gen Rawat was reported as saying, adding that the Balakot terror camp which was destroyed in Indian aerial strikes has also been reactivated.
Pakistan Prime Minister Imran Khan, while addressing the United Nations General Assembly (UNGA), contested the claim made by the Indian Army chief. "Why would we send 500 terrorists to battled against a force of 900,000 soldiers in Kashmir," he asked.
Tensions between India and Pakistan peaked after the Narendra Modi government stripped Kashmir's semi-autonomous status by abrogating Article 370, through a presidential order, on August 5. Since then, Imran Khan has sharpened his rhetoric and reiterated the threat of a nuclear war between the two Himalayan nations.