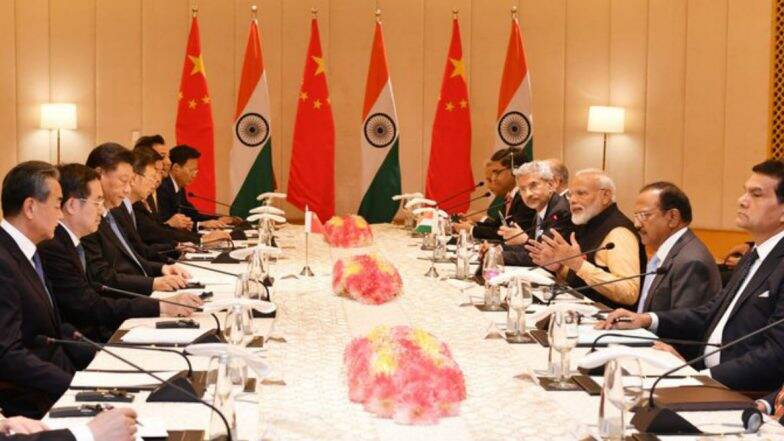 Kovalam, October 12: Prime Minister Narendra Modi and Chinese President Xi Jinping held delegation-level talks on Saturday, the final day of second Informal India-China Summit. Accompanied by External Affairs Minister S Jaishankar and National Security Advisor Ajit Doval, PM Narendra Modi said that the second informal talks between him and Xi Jinping mark beginning of a new era of India-China relations. PM Modi, Xi Jinping Spent 5-Hour Quality Time, Discussed Trade and Terrorism: MEA After Day 1 of Malappuram Summit.
"The Wuhan spirit instilled a new momentum and trust in our relations and today's 'Chennai connect' is the start of a new era in India-China relations," PM Modi said. The first Informal India-China Summit was held in Wuhan, China last year. "The first informal summit between India and China last year in Wuhan led to fresh stability in our relations and gave a fresh momentum. Strategic communication between our two countries has also increased," the Prime Minister added. Malappuram Summit: Mutton, Lobster in Dinner For Xi Jinping Hosted by PM Narendra Modi.
"We had decided that we will manage our differences prudently and won't allow them to turn into disputes. We will remain sensitive about our concerns and our relationship will contribute towards peace and stability in the world," he further asserted. In his opening remarks, President Xi Jinping thanked India and PM Narendra Modi for hospitality.
"We are really overwhelmed by your hospitality. Me and my colleagues have felt that very strongly. This will be a memorable experience for me and us," President Jinping said. He mentioned that he had a "candid" and "heart to heart" conversation with PM Modi on India-China bilateral relationship on Friday.
Prior to the delegation-level talks, PM Modi and President Jinping spent some leisure time at the Taj Fisherman's Cove Resort & Spa beach resort. Modi received the Chinese President at the entrance of the resort. The two leaders shook hands and then boarded a battery-operated vehicle to reach their informal meeting room facing the Bay of Bengal.
The second Informal India-China Summit will end with lunch hosted by PM Modi for President Jinping and both the sides will be issuing separate statements.