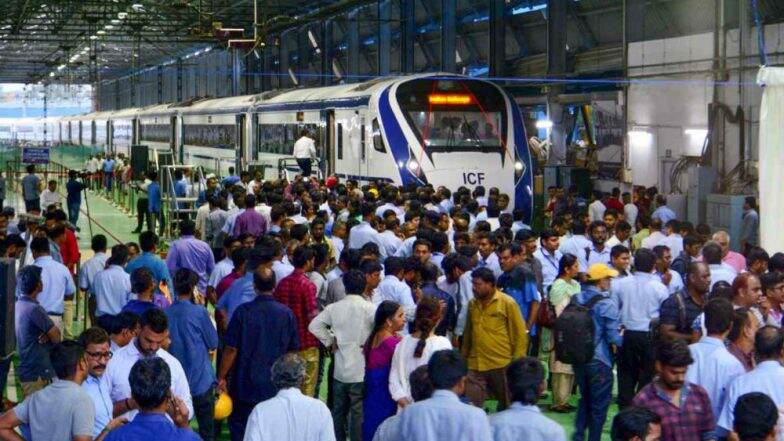 New Delhi, February 7: Prime Minister Narendra Modi is set to flag off India's fastest train 'Vande Bharat Express' or Train 18 on February 15 from New Delhi Railway Station (NDLS). Reports say that PM Modi will flag off the Made in India train at 10 am on Feb 15 and will travel on board the train from NDLS to Varanasi, his Lok Sabha constituency. It is being said that the Prime Minister will also address people on board the train. Vande Bharat Express to Have Narendra Modi As First Passenger?
Train 18, which was recently renamed Vande Bharat Express by Railway Minister Piyush Goyal, has been manufactured by the Integral Coach Factory in Chennai. In the trial runs, the Made-In-India train has clocked a speed of 180 km/hr, making it faster than the Shatabdi Express. Train 18: Visuals From The Inside of 'Vande Bharat Express'; Watch Video.
WATCH: All About Train 18 aka Vande Bharat Express
Apart from reducing the travel time, the new train also promises to offer the passengers the next level of comfort. The 16-coach Vande Bharat Express was built in 18 months at a cost of Rs 97 crore. It is regarded as a successor to the 30-year-old Shatabdi Express. It's also the first locomotive-less or engine-less train in the country.
Train 18 Encyclopedia: 10 things about India's Fastest Train Vande Bharat Express; Watch Video
On Friday, Train 18 was attacked with stones during its trial run. According to reports, miscreants pelted stones on the new Train 18 while it was on its trial run. The Railways informed that the incident took place when the train left Sakurbasti at around 11:03 pm on Friday to reach New Delhi to begin its trial run to Allahabad.
The Northern Railways in its statement said that on reaching New Delhi station, the escort party informed about stone pelting. It said that the second coach from the front was hit near Sadar area under DLT(Delhi Lahori Gate) post. "A railway servant present in T-18 informed the escort party that a stone hit the window glass of coach no.188320 of T-18," an official said.