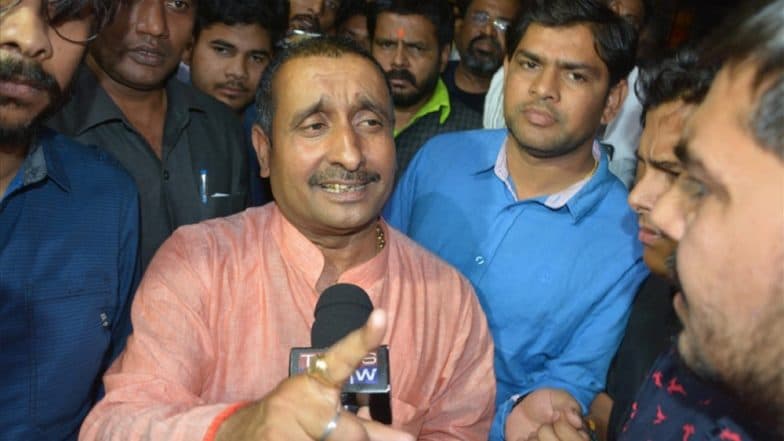 New Delhi, October 11: Expelled Bharatiya Janata Party (BJP) legislator Kuldeep Singh Sengar, who is reeling under jail on the accusation of raping a woman in Unnao, has not been charged of attempt to murder by the Central Bureau of Investigation (CBI). The premier agency, which submitted its charge sheet before a Delhi court on Friday, did not press charges against Sengar in connection to the car accident which led to the death of victim's lawyer and aunt, while leaving her with serious injuries.
Sengar, however, has been named in the chargesheet for comparatively less heinous crimes - criminal conspiracy and intimidating the rape survivors' family. According to the CBI, Sengar had no role in the car crash which left two close aides of the rape survivor dead. The accident was "caused due to negligence", the probing body has concluded. Unnao Rape Case: Delhi Court Orders DCW to Provide Accommodation to Rape Survivor.
The truck accident, which claimed the lives of the victim's aunt and lawyer, occurred on July 28 this year. The accident was reported a week after the rape survivor alleged threat to her life and had written to the Chief Justice of India.
Immediately after the accident, the Supreme Court tasked the CBI to expedite its inquiry in the rape case and also probe whether the accused had any role in the car crash.
Sengar, who represents the Bangarmau constituency in Uttar Pradesh legislative assembly, was expelled from the BJP's primary membership after pressure grew on the party following the car crash. He has been reeling in jail since July 2017, when the victim went public with her allegation against the MLA.