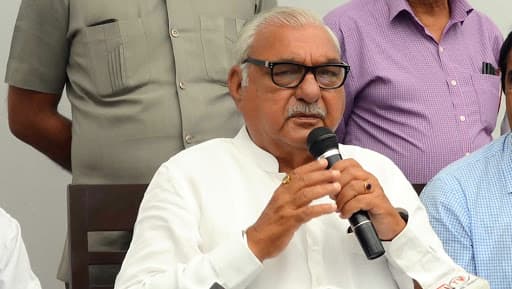 Chandigarh, August 19: A day after extending the support to Narendra Modi government for revoking Article 370 from Jammu and Kashmir, former Haryana chief minister Bhupinder Singh Hooda on Monday gave a hint on his retirement from politics. However, he also made it clear that the decision will be made public only after the committee advises him to do so.
Expressing his opinion on the recent controversy, which created a furore in Congress, Hooda said, as quoted by news agency ANI, "A committee will be formed in a day or two. Convenor will call a meeting after the committee is formed. I will do what the committee will say, if it asks me to leave politics, I will leave politics as well." Bhupinder Singh Hooda Backs Modi Government on Article 370 Abrogation, Asks Manohar Lal Khattar to Give Account of Last 5 Years
Earlier, the Congress leader sparked controversy by extending his support to BJP government at Centre for scrapping the special provisions to Jammu and Kashmir. He had said, as news agency quotes, "I support the decision to revoke Article 370 but I want to tell Haryana government that you will have to give an account of what you did in 5 years, don't hide behind this decision. Our brothers from Haryana are deployed as soldiers in Kashmir, that is why I supported it."
Stating the reason for his support to the ruling dispensation at Centre, Hooda said, "When government does something right I support them. Many of my colleagues opposed the decision to revoke Article 370. My party has lost its way, it's not the same Congress it used to be. When it comes to patriotism and self-respect, I'll not compromise with anyone."
However, he asked current state CM Manohar Lal Khattar to give last five years' record. Hooda had Khattar government should declare how much work it did for the people of Haryana.