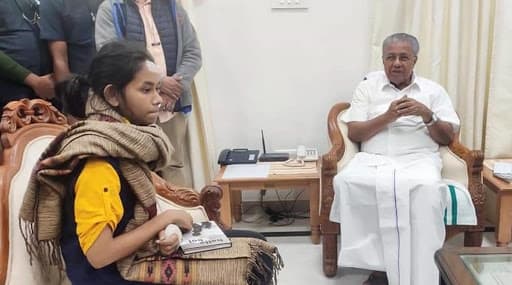 New Delhi, January 11: Kerala Chief Minister Pinarayi Vijayan on Saturday met Jawaharlal Nehru University Students Union (JNUSU) president Aishe Ghosh in Delhi's Kerala House. The Kerala CM's meeting with Ghosh comes amid the controversy over the violence that took place on January 5.
According to a tweet, shared by news agency ANI, Viajayan can been seen meeting Ghosh at state house in the national capital and having a conversation with her. Also, in another photograph, Vijayan and Ghosh were seen holding a book together, whose details are yet to be ascertained. JNU V-C Jagadesh Kumar Meets Students to Discuss Violence on Campus, JNUSU Claims It Was 'Not Invited'.
Here's the ANI tweet:
Delhi: Chief Minister of Kerala Pinarayi Vijayan met Jawaharlal Nehru University Students' Union (JNUSU) President Aishe Ghosh at Kerala House. pic.twitter.com/3bWwBav2X9

— ANI (@ANI) January 11, 2020
Earlier in the day, Delhi Police sources claimed that the Special Investigation Team have identified 37 suspects from the 60-member WhatsApp group 'Unity Against Left' for the January 5 violence. This new revelations are arriving after Delhi police named Aishe and eight other for vandalishing CCTV cameras and server room on January 3. JNU Violence: Delhi Police Identifies 37 Suspects for January 5 Incident From 60-Member WhatsApp Group 'Unity Against Left'.
Meanwhile, reports arrived that varsity VC -- M Jagadesh Kumar met a group of students to discuss the situation and claimed a high possibility of "outsiders" living in hostel being involved in the violence. He was of the opinion that they may have orchestrated the violence to terrify students.
Kumar even met the Ministry of Human Resources and Development (MHRD) Secretary Amit Khare on Friday to discuss the "fee hike" row. He claimed that it has been decided to implement the hike in hostel fee "in totality" and stated the varsity will increase the deadline for semester register process, if necessitated.