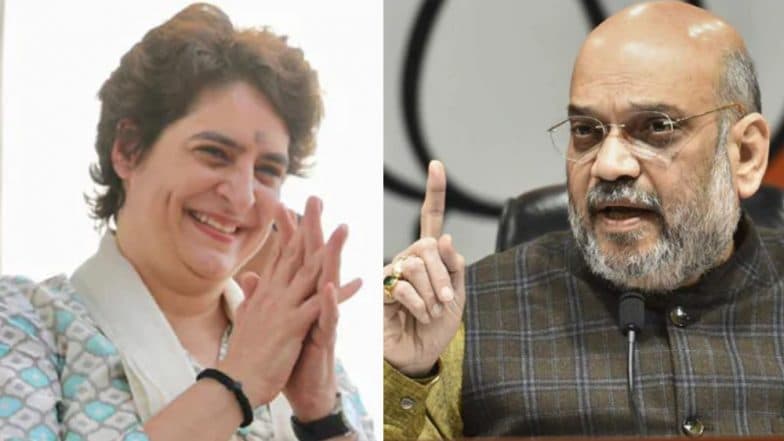 Ahmedabad, February 12: With the spree of controversial comments over Priyanka Gandhi officially joining Congress continues, Bharatiya Janata Party president Amit Shah has added fuel to the fire on Tuesday by stating that Priyanka had to make her entry into active politics as her brother – Rahul Gandhi – is 'unmarried' and she has to preserve the 'dynasty'.
Taking a swipe at Priyanka Gandhi's entry into active politics, Shah said, as quoted by PTI, "As the "brother" (Rahul Gandhi) has not married, so now the "sister" (Priyanka Gandhi) has come (in the political arena)." He was of the opinion that the top seat in Congress is reserved for the family and questioned whether a worker of the party could ever think of occupying the top post. Robert Vadra, Maureen Reach ED Office in Jaipur For Questioning; Congress Supporters Raise 'Priyanka Gandhi Zindabad' Slogans.
Shah said, "I was a booth worker of the BJP. I rose to be the party president. The chaiwala has become the prime minister of the country," Mr Shah said, addressing party workers. "Can any party worker from Congress ever think of becoming the prime minister? In that party that seat is reserved by birth."
Earlier in last month, Congress president Rahul Gandhi appointed Priyanka as the general secretary and announced her as the in-charge of eastern Uttar Pradesh. The announcement was made by the Congress president month ahead of the Lok Sabha Elections 2019, and it is seen as a trump card for the party, aspiring to form government at the Centre.
With the latest induction of Priyanka into the party-fold, the BJP leaders have made sharp criticisms on her appearance, and some even made sexist comments. Even the Union Textile Minister Smriti Irani had said earlier that Rahul Gandhi had been a failure and that is why they are inducting Priyanka. She said, "I was a booth worker of the BJP. I rose to be the party president. The chaiwala has become the prime minister of the country," Mr Shah said, addressing party workers. "Can any party worker from Congress ever think of becoming the prime minister? In that party that seat is reserved by birth."