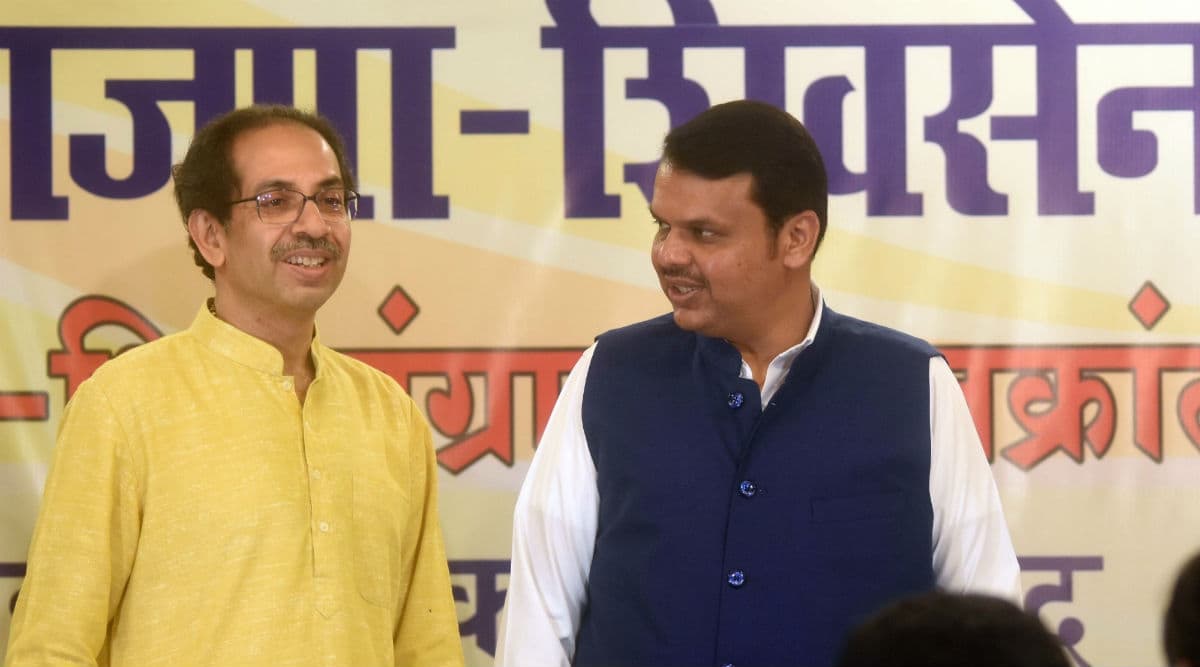 Mumbai, October 27: In a bid to shore up their numbers and bolster bargaining power for government formation in Maharashtra, the Bharatiya Janata Party (BJP) and the Shiv Sena initiated efforts to bring small outfits and independents into their folds. On Sunday, two independent MLAs met Chief Minister Devendra Fadnavis and extended their support to the BJP. On the other hand, the Shiv Sena managed to get support from two legislators of the Prahar Janshakti Party. Shiv Sena Should Accept Deputy CM Post For Aaditya Thackeray And Leave CM Chair For Devendra Fadnavis, Says Ramdas Athawale.
Mira Bhayandar MLA Geeta Jain, who quit the BJP after being denied ticket, and Rajendra Raut, who was elected from Barshi, extended their support to the saffron party after meeting Chief Minister Devendra Fadnavis. Jain defeated BJP's Narendra Mehta in the October 21 Maharashtra assembly elections, results of which were announced on October 24. Prior to the important announcement, she also met Bahujan Vikas Aghadi (BVA) chief and Vasai MLA Hitendra Thakur. NCP, Congress Deny Alliance With Shiv Sena for Govt Formation; Say 'Will Respect People's Mandate'.
Jain's meeting with Thakur raised speculation about her future political move as the Vasai legislator was supported by the Congress and NCP during the polls. However, Jain said that she had visited him to express her gratitude for helping her in the election campaign and later announced her support for the BJP. Earlier on Sunday, Achalpur MLA Bachchu Kadu and his colleague Rajkumar Patel, a legislator from Melghat, offered support to the Shiv Sena. Kadu heads the Prahar Janshakti Party.
Following Kadu's support, a Shiv Sena leader told news agency PTI that it has increased the bargaining power of the Uddhav Thackeray-led party vis-a-vis the BJP. "We adjusted with the BJP between 2014-19, now it is time to have our share," he was quoted as saying. Both the parties are now trying to enlist support of Independent MLAs, most of them rebels belonging to either party, to score over others in the bitter battle of political oneupmanship.
In the state assembly elections, the won 105 seats, down from 122 that it had bagged in 2014, falling way short of the majority mark. Shiv Sena's tally also went down and it bagged 56 seats. In the 2014 Maharashtra assembly elections, the BJP emerged as the single largest party winning 122 seats. The Shiv Sena, which contested alone, came second with 63 seats. Since the BJP's tally has gone down compared to its 2014 performance, the Shiv Sena is playing hardball to form government in the state.
In his write-up for party mouthpiece Saamana, Sena leader Sanjay Raut on October 27 said the party now had the "remote control of power" in Maharashtra despite getting fewer seats in the Assembly polls when compared to 2014. Shiv Sena President Uddhav Thackeray has reportedly asked written assurance from BJP President Amit Shah that powers will be equally shared between the two parties which include chief minister's post.