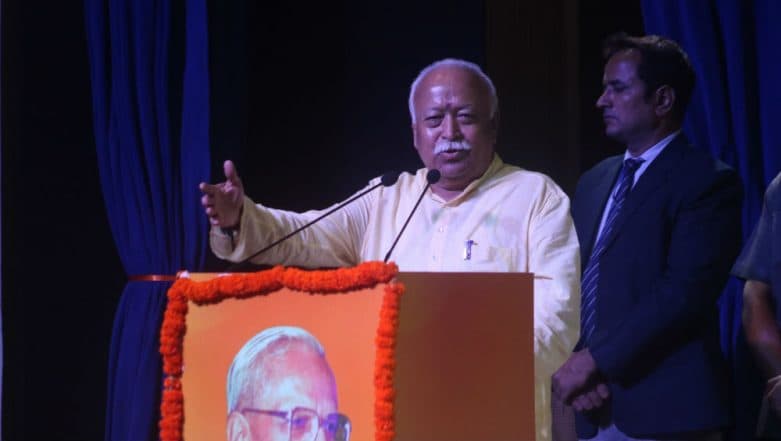 New Delhi, August 19: Rashtriya Swayamsevak Sangh (RSS) chief Mohan Bhagwat on Sunday created a flutter when he called for "harmonious" debate on reservation, a politically-contentious issue in the country. There should be a conversation in a harmonious atmosphere between those in favour of reservation and those against it, Mohan Bhagwat said at the concluding session of Gyanotsav, a programme on competitive exams organised by the RSS-affiliated Shiksha Sanskriti Utthan Nyas.
Bhagwat said sharp action and reaction comes whenever a discussion takes place on quota policy, but there is a need for harmony in the different sections of the society on this approach. Those who favour reservation should speak keeping in mind the interests of those who oppose it, and similarly, those who are against it should do the vice versa, the RSS chief added. Bhagwat had advocated a review of the reservation policy, drawing sharp reactions from many parties. Mohan Bhagwat Hints at Constructing Ayodhya Temple, Says Ram's Work Has to Be Done.
He also said the RSS, the BJP and the party-led government were three different entities and the government can disagree with the Sangh. "Since there are Sangh workers in the BJP and this government, they will listen to the RSS, but it is not mandatory for them to agree with us. They can disagree as well," he said. Reacting to Bhagwat's remarks on reservation, Union minister Ramdas Athawale said there was no need for a debate. Car in RSS Chief Mohan Bhagwat's Convoy Overturns in Bid to Save Cow, One Injured.
"I don't think there needs to be a debate on reservation. Even if there is, people will say that reservation is necessary for SCs and STs. Whatever happens, reservation to these sections should remain untouched. Now, others (communities) have got reservation too," Athawale, who founded the Republic Party of India (R), an ally of the BJP, told a news channel.
"There can be a discussion about who all reservation has reached. But I don't see any point in discussing whether there should be reservation or not," the minister of Social Justice and Empowerment added.