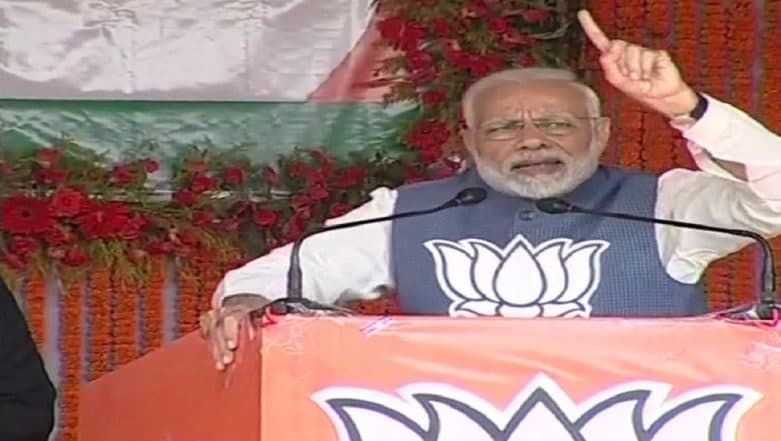 Ambikapur, November 16: In the backdrop of the Opposition calling note ban a "wasteful exercise", "misadventure"and a "money-laundering drive", Prime Minister Narendra Modi defended the demonetisation policy while addressing an election rally in Chhattisgarh's Ambikapur on Friday.
"Those who had illicit wealth used to hide it beneath their beds, under the ground and other secretive places. But when demonetisation was announced, all unaccounted wealth was cracked down," Modi said. Scars of 'Ill-Fated' & 'Ill-Thought-Out' Notebandi Are Getting More Visible With Time, Says Manmohan Singh.
Targeting Congress president Rahul Gandhi, who has reiterated that demonetisation dealt an unprecedented blow on the economy, Modi said that "only one family" is left grieving over his decision to fight corruption.
"None present here is inconvenienced. No one is crying over note ban today, except for one family," he said, in a veiled dig at the Gandhi family.
Watch PM Modi Responding to Opposition's Charge on Demonetisation:
#WATCH: PM Modi speaking on #Demonetisation says,"Yahan baitha ek bhi vyakti notebandi ke liye aaj ro nahi raha hai, akela ek parivaar ro raha hai." #ChhattisgarhElections pic.twitter.com/9typy97deb

— ANI (@ANI) November 16, 2018
Notably, the demonetisation exercise was carried out by the government on November 8, 2016 -- when the Prime Minister had issued a shock announcement, declaring all 500 and 1000-rupee notes as non-legal tender.
Critics, including former PM Manmohan Singh, said the move crippled the economy, led to massive job loss and shrunk the GDP by nearly 2 per cent. While speaking on the second anniversary of note ban, Manmohan claimed that its impact is still visible.
"Small and medium businesses that are the cornerstone of India's economy are yet to recover from the demonetisation shock. This has had a direct impact on employment as the economy continues to struggle to create enough new jobs for our youth," he had said.