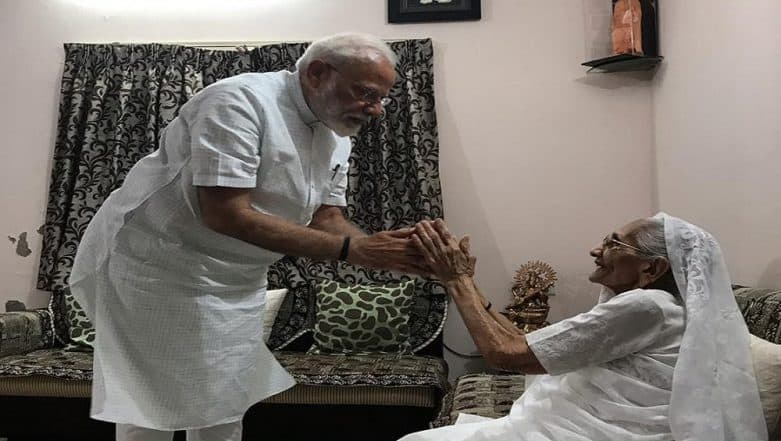 Gandhinagar, May 26: Prime Minister Narendra Modi on Sunday met his mother Heeraben in Gandhinagar for the first time after winning the Lok Sabha elections 2019. PM Modi took blessings from his mother. Before meeting his mother, the Prime Minister paid tribute to Sardar Vallabhbhai Patel's statue near the Ahmedabad Airport.
PM Modi addressed a mass gathering in Ahmedabad, where he expressed his solidarity with bereaved families of Surat fire tragedy. He said, "The fire tragedy in Surat has saddened us all. We stand in solidarity with the bereaved families. May Almighty give them strength in this hour of grief." He reiterated that Gujarat holds a special place for him and he always values the blessings of the people of the state.
PM Modi meets his mother:
Prime Minister Narendra Modi meets his mother Heeraben Modi at her residence in Gandhinagar and seeks her blessings. #Gujarat pic.twitter.com/qWEwnJo1Y9

— ANI (@ANI) May 26, 2019
On May 25, Modi was appointed as the next Prime Minister of the country by President Ram Nath Kovind. Earlier that day, he was appointed as the leader of the Bharatiya Janata Party-led National Democratic Alliance. He will take oath as the next PM on May 30 at 7 pm.
In the 2019 Lok Sabha elections, the saffron party secured a landslide victory. The BJP bagged 303 seats, while the NDA remained victorious on 353 seats. The main opposition party Congress won only 52 seats. The Others including Samajwadi Party, Bahujan Samaj Party and Trinamool Congress also failed to reach the three-figure mark.