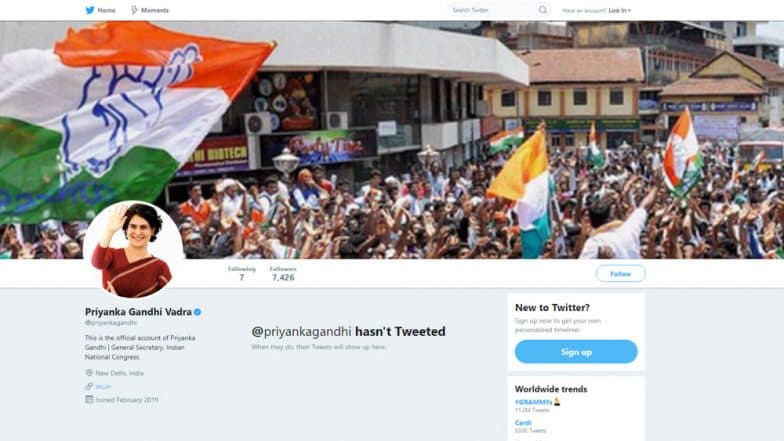 New Delhi, February 11: Congress General Secretary Priyanka Gandhi Vadra on Monday made her debut on micro-blogging site Twitter to interact directly with the masses. The launch of the Twitter handle of the newly appointed AICC general secretary of Uttar Pradesh East comes just ahead of upcoming Lok Sabha elections 2019. Soon after joining the social networking site, her handle @priyankagandhi, garnered as many as 20,000 followers in less than a minute.
A close look at her profile shows that Priyanka followed several accounts of top Congress leaders which include Congress President Rahul Gandhi, Deputy Chief Minister of Rajasthan Sachin Pilot, Rajasthan CM Ashok Gehlot, Gujarat MP Ahmed Patel, Jyotiraditya Scindia, the general secretary in-charge for Uttar Pradesh West and the official handle of Congress. Priyanka Gandhi Officially Enters Active Politics.  Priyanka Gandhi Officially Enters Active Politics.
On February 6, Priyanka took charge as AICC general secretary and will helm the party's affairs in Uttar Pradesh East. 47-year old Priyanka was appointed as general secretary and in-charge of Uttar Pradesh East on January 23 by Rahul Gandhi. She has been allotted an office adjacent to that of her brother's at the party headquarters. Priyanka will share her office with Jyotiraditya Scindia, general secretary in-charge for Uttar Pradesh West. Scindia's appointment was made on the same day as Priyanka's and he assumed charge earlier in the day.
In the last week, Bahujan Samaj Party (BSP) president Mayawati joined Twitter to interact with the media and masses. According to a BSP release, Mayawati will be also expressing her views on national and matters of political importance on Twitter. "This to inform you BSP (Bahujan Samaj Party) national president, former Uttar Pradesh chief minister and ex-MP Mayawatiji has for the first time decided to join Twitter for speedy interaction with media and masses, besides expressing her views on various issues of national and political importance through Twitter," the release posted on Mayawati's Twitter stated.