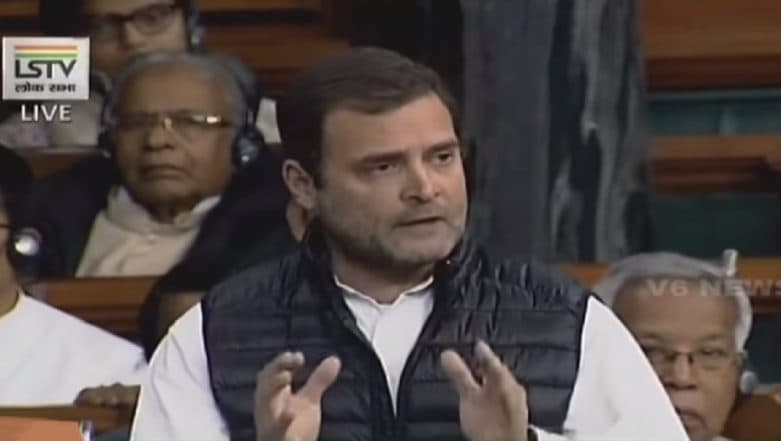 New Delhi, January 4: Following Defence Minister Nirmala Sitharaman's near two-hour defence on the embattled Rafale deal, Congress president Rahul Gandhi exercised his right to intervene. In his brief counter, Gandhi said the Minister failed to answer the questions raised by the Opposition while addressing the Parliament.
The Congress chief said Sitharaman was attempting to shield herself, but the "accused" in the "Rafale scam" is not her but Prime Minister Narendra Modi. "We are accusing PM Modi directly. You've done nothing apart from defending his lies," he added. Nirmala Sitharaman Slams Rahul Gandhi in Lok Sabha Over Rafale Deal, Says 'Congress is Shedding Crocodile Tears For HAL'.
While Sitharaman's speech was focussed on the necessity of amending the UPA era pact for a newer deal which offered 36 ready-to-use fighter jets from France, Gandhi said he wanted to know why Anil Ambani's newly set-up defence firm was "awarded" the offsets deal.
"Price is not part of the secrecy pact. My question is Anil Ambani was brought in for the contract. Who was the one to decide on Anil Ambani," Gandhi asked.
Watch Rahul Gandhi's Intervention in Lok Sabha:
LIVE: Congress President @RahulGandhi speaks on the floor of the Parliament on Rafale Scam. https://t.co/IHp4RL7JGG

— Congress (@INCIndia) January 4, 2019
On pricing, Gandhi reiterated that he was informed by French president Emmanuel Macron that "there is no secrecy deal" with India which prevents the government from revealing the price to the nation.
Earlier, while defending the government against the accusations levelled by the Opposition, Sitharaman said the government was forced to abrogate the UPA-era pact for 126 combat aircrafts with a newer deal offering only 36 fighter jets as the Air Force wanted it to be procured at the earliest.
Rafale Debate: Top Quotes of Nirmala Sitharaman
"If national security and the sense of urgency was there, why didn't you (Congress) bring aircraft to India? The IAF procurement was weakest under the UPA regime. China and Pakistan are building a bigger fleet. The UPA government wanted only 18 flyaway fighter jets. UPA created a deadlock," she said.
"We (Central Government) don't do defence dealings. We deal in defence with national security as a priority," she added.
The Defence Minister also informed the House that the first Rafale aircraft will be delivered to India in September 2019 and 36 aircraft will be delivered in the year 2022.