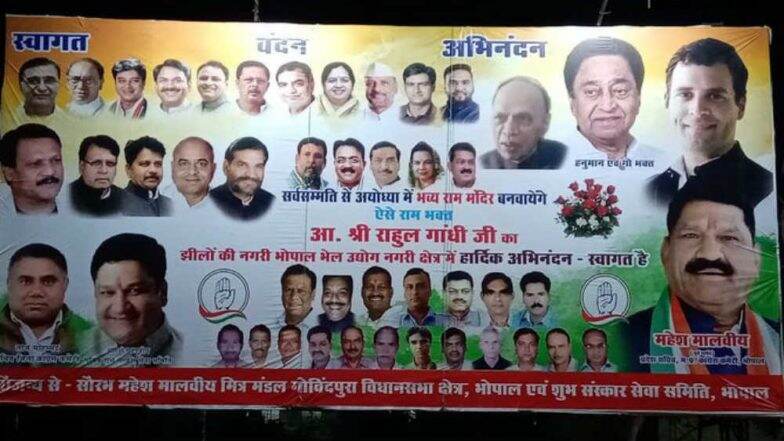 Bhopal, February 8: Ahead of Congress President Rahul Gandhi's thanksgiving rally in Madhya Pradesh, the party has put up posters which claims that he will build a Ram temple in Ayodhya 'with everybody's consent'. "Sarv Sammati Se Ayodhya Mein Bhavya Ram Mandir Banwayenge, Aise Ram Bhakt Adarniya Rahul Gandhi Ji Ka Jheelon Ki Nagri Bhopal Mein Hardik Abhinandan Swagat Hai," reads the poster.
The posters also addressed Rahul Gandhi as 'Ram Bhakt' and Madhya Pradesh Chief Minister Kamal Nath as 'Hanuman and Gau Bhakt'. The state Congress, however, blamed 'enthusiastic workers' for the poster. "Congress does not believe in religion-based politics. This has not been done by the party, but our enthusiastic workers. They have installed the hoardings," Narendra Saluja, state Congress media cell coordinator, told TOI. Rahul Gandhi Portrayed as 'Ram Bhakt', Kamal Nath as 'Hanuman Bhakt' in Hoarding.
The posters were put up a day after Bharatiya Janata Party (BJP) national president Amit Shah challenged the Congress to clear its stand on Ram temple in Ayodhya. "BJP's stand is clear that Ram temple will be built in that very place in Ayodhya. The Samajwadi Party, Bahujan Samaj Party and Congress should clear their stand, whether they want the construction of Ram Mandir or not," Shah said in Aligarh. Kamal Nath Gives Stern Warning to Gau Rakshaks, Says 'Won't Spare Those Involved in Violence in Name of Cow'.
As 'Ram Mandir' posters surfaced in Bhopal, BJP took a dig at Congress. "Why in posters? Congress should officially announce that they will construct the Ram temple, if they are serious about it. BJP national president Amit Shah has asked them to clarify their stand," BJP national vice-president Prabhat Jha said.