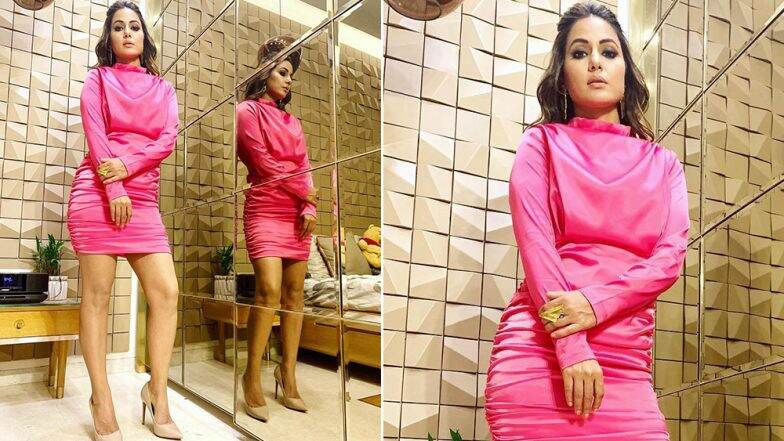 Hina Khan was recently in bad news when Diet Sabya, popular virtual fashion police criticised her recent outing for being a 'gandi copy.' Now the Instagram page in question here is well known for trolling designers and celebs who seek inspiration from international designs and end up copying them blatantly. While the anonymous writer has previously trolled some well-known names like Janhvi Kapoor, Shweta Bachchan Nanda and Anushka Sharma, its recent target was Hina Khan. The page tagged her for copying a similar design from Bebe Rexha's past appearance and how the uncanny similarities between their attires is a thing to worry and troll. After Divyanka Tripathi, Diet Sabya Calls Out Hina Khan For Plagiarising a Pink Dress From House of CB! See Pics.
However, Hina wasn't really offended with the allegations but found it amusing instead. In her recent Instagram chat, she addressed the situation by calling out such trolls as 'jobless'. She believes a verified account should be used for better things and do progressive work instead. She revealed how she found the entire situation very funny and how she laughed hard about it. Hina doesn't really give a shit about her haters so these things don't bother her.
The post where Diet Sabya targeted Hina Khan
Coming to the copy part, Hina and beau, Rocky Jaiswal revealed how it's a mere inspiration. They don't want the haters to ignore the fact that there's an entire team who worked hard on the same design and we shouldn't disrespect their efforts. Going ahead she elaborated how she admires Deepika Padukone and Sonam Kapoor and if she wears one of their looks, it doesn't mean she's copying them. Well, this is a classic case of the glass being half empty or filled. Hear it! Hina Khan May Rub Shoulders with Sonam Kapoor and Deepika Padukone at Cannes Film Festival 2019.
Meanwhile, Diet Sabya was recently in the news when it trolled Divyanka Tripathi Dahiya for copying Sabyasachi Mukherjee's signature belt design. While the actress gave it back to the troll, her fans jumped in to support her. Another instance was when Diet Sabya trolled Anamika Khanna for Sonam Kapoor's fuschia pink AK is OK outfit at Isha Ambani's wedding last year. While the post was taken down, the page insisted it wasn't a blunder but a form of respect towards the Khanna family.