Akshaya Tritiya 2019 falls on May 7, Tuesday. It is considered one of the most auspicious days in India for any new beginnings. The sacred day is associated with wealth and prosperity. On Akshaya Tritiya, also known as Akti Teej or Akha Teej, people buy gold as it is symbolic of eternal prosperity and abundance. As is the case with every religious festival and important events, one indulges in exchanging wishes and greetings on Akshaya Tritiya. If you too are looking for new and beautiful Akshaya Tritiya messages, wishes, images, WhatsApp Stickers, photos, SMS, quotes and more, you will find it all here at LatestLY. Akshaya Tritiya Images & HD Wallpapers for Free Download Online: Wish Happy Akha Teej 2019 With GIF Greetings & Urdu WhatsApp Sticker Messages.
Let us learn about "Akshaya Tritiya" and its meaning. The word "Akshaya Tritiya" is a combination of two Sanskrit words – "Akshaya" meaning "eternal" and "Tritiya" meaning "third". The annual Spring festival falls on the third Tithi (lunar day) of Bright Half (Shukla Paksha) of Vaisakha month. People practising Hinduism commonly associate wealth and prosperity with the festival of Diwali. Because, on this festival, Goddess of Wealth, Lakshmi and Ganesh, God of Good Luck are worshipped. Akshaya Tritiya 2019 Greetings: WhatsApp Stickers, GIF Image Messages, SMS to Wish on Akha Teej.
However, in addition to Diwali, Akshaya Tritiya is another time in the year when devotees seek prosperity and divine blessings. According to Hindu mythology, Kuber, the Lord of Wealth sought blessings from Goddess Lakshmi to become the owner of the treasures of the world. There are many more legends associated with several avatars of Lord Vishnu and Akshaya Tritiya. Devotees worship the Lakshminarayana form of Lord Vishnu on the day. You can learn more about Akshaya Tritiya 2019 Date and Time: When Is Shubh Muhurat to Buy Gold and Silver on Akha Teej This Year.
Coming to Akshaya Tritiya wishes, here are list of Akshaya Tritiya images, Akshaya Tritiya HD wallpapers, Akshaya Tritiya wishes images, Akshaya Tritiya greetings, Akha Teej messages in Gujarati, Akshaya Tritiya quotes, statuses, SMS and photos – all available for free download.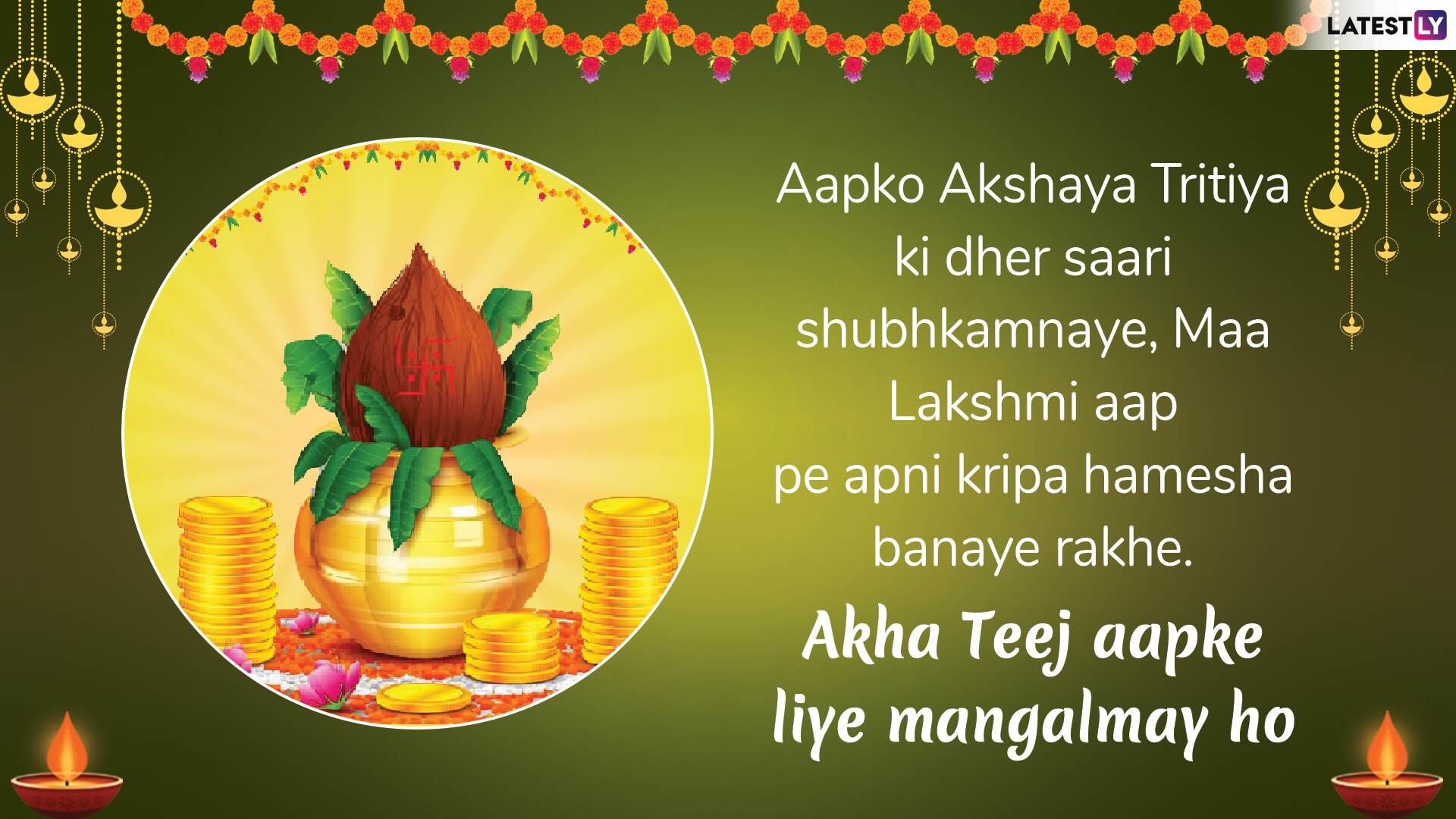 WhatsApp Message Reads: Aapko Akshaya Tritiya Ki Dher Saari Shubhkamnaye, Maa Lakshmi Aap Pe Apni Kripa Hamesha Banaye Rakhe. Akha Teej Aapke Liye Mangalmay Ho.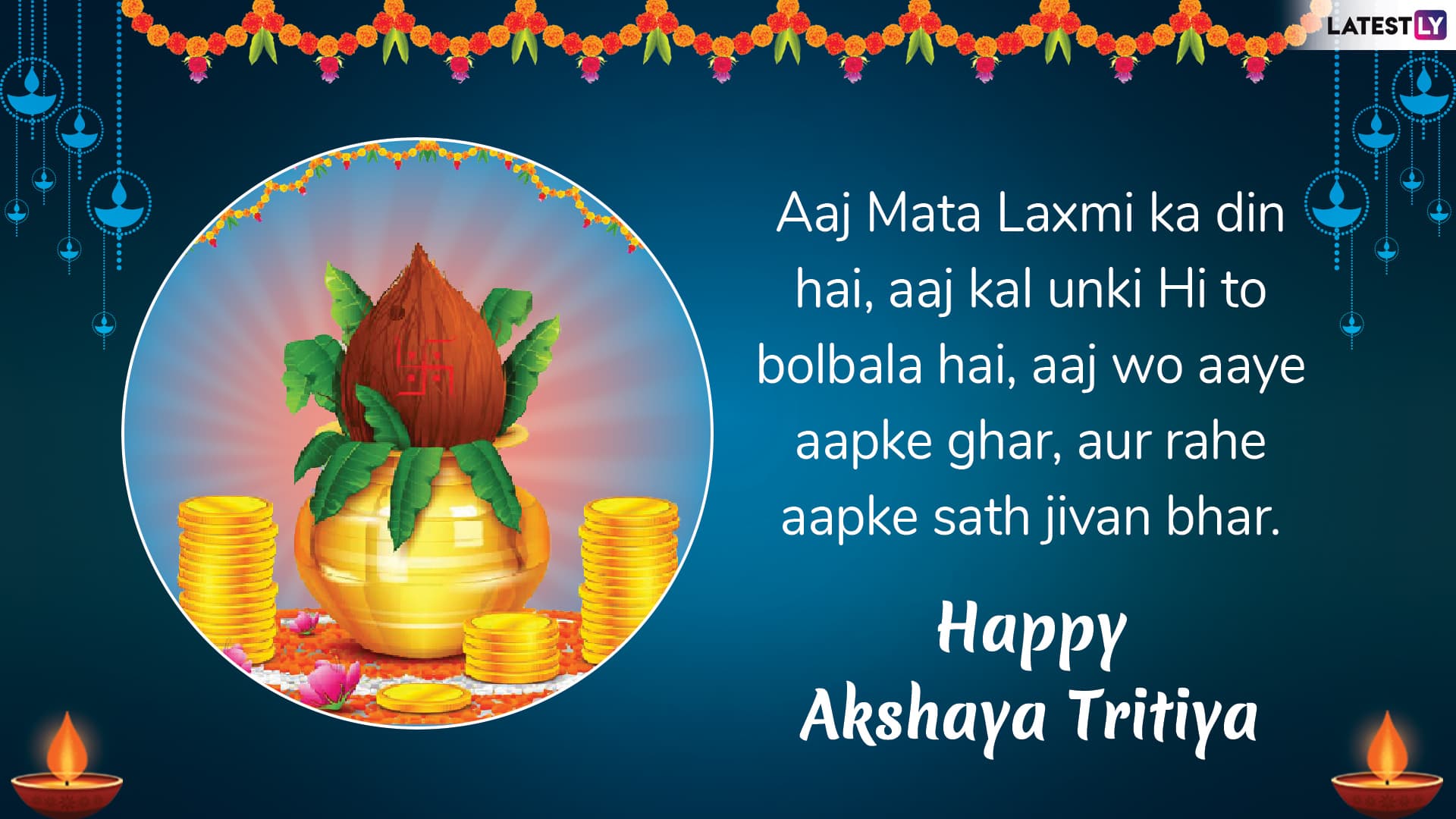 WhatsApp Message Reads: Aaj Mata Laxmi Ka Din Hai, Aaj Kal Unki Hi to Bolbala Hai, Aaj Wo Aaye Aapke Ghar, Aur Rahe Aapke Sath Jivan Bhar. Happy Akshaya Tritiya.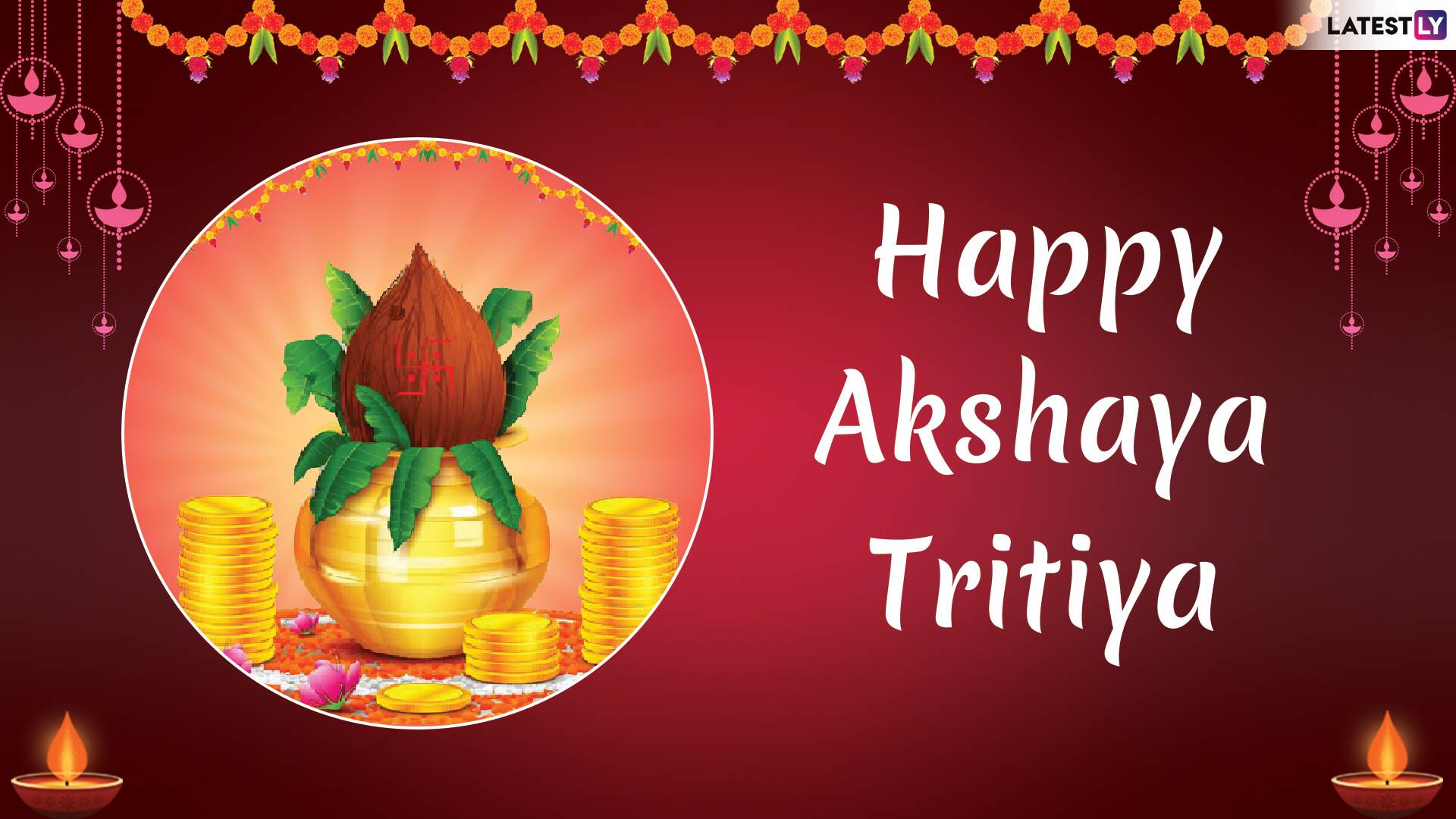 WhatsApp Message Reads: Bhagwan Vishnu Ka Haath, Hamesha Aapke Ghar Par Ho. Sukh, Samruddhi Aur Samadhan, Har Pal Aapke Ghar Par Ho. Akshaya Tritiya Ki Shubhkamnaye.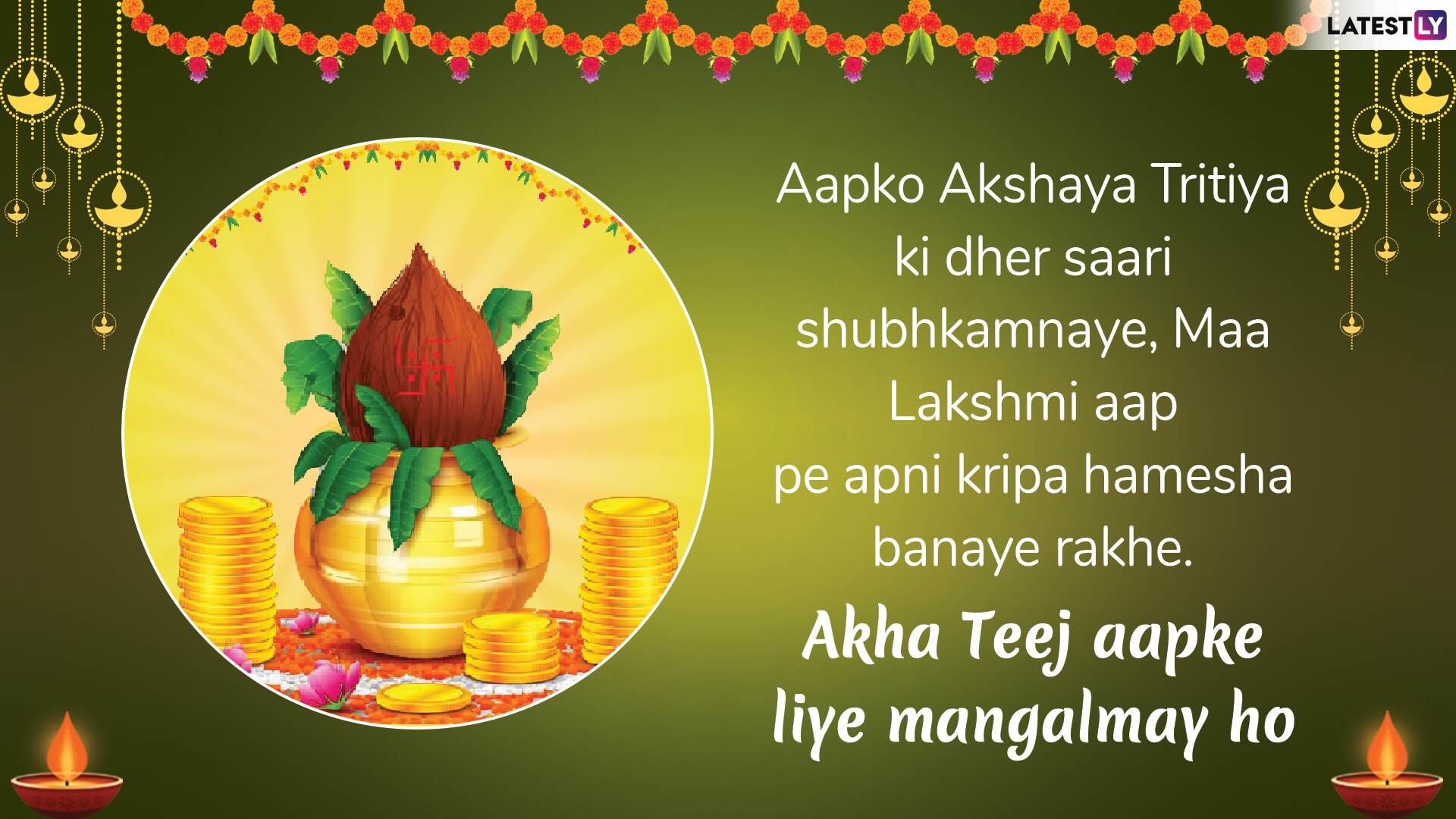 WhatsApp Message Reads:  Aapko Is Akshaya Tritiya Par, Zindagi Ki Sabse Pyari Wish Mile, Mata Lakshmi Aap Par Maher Kare. Happy Akshaya Tritiya to You & Your Family.
WhatsApp Message Reads: Khushiyon Se Bhara Sansar, Is Akshay Tritiya Par, Miley Aap Ko Apno Ka Pyar. Happy Akshaya Tritiya…!!!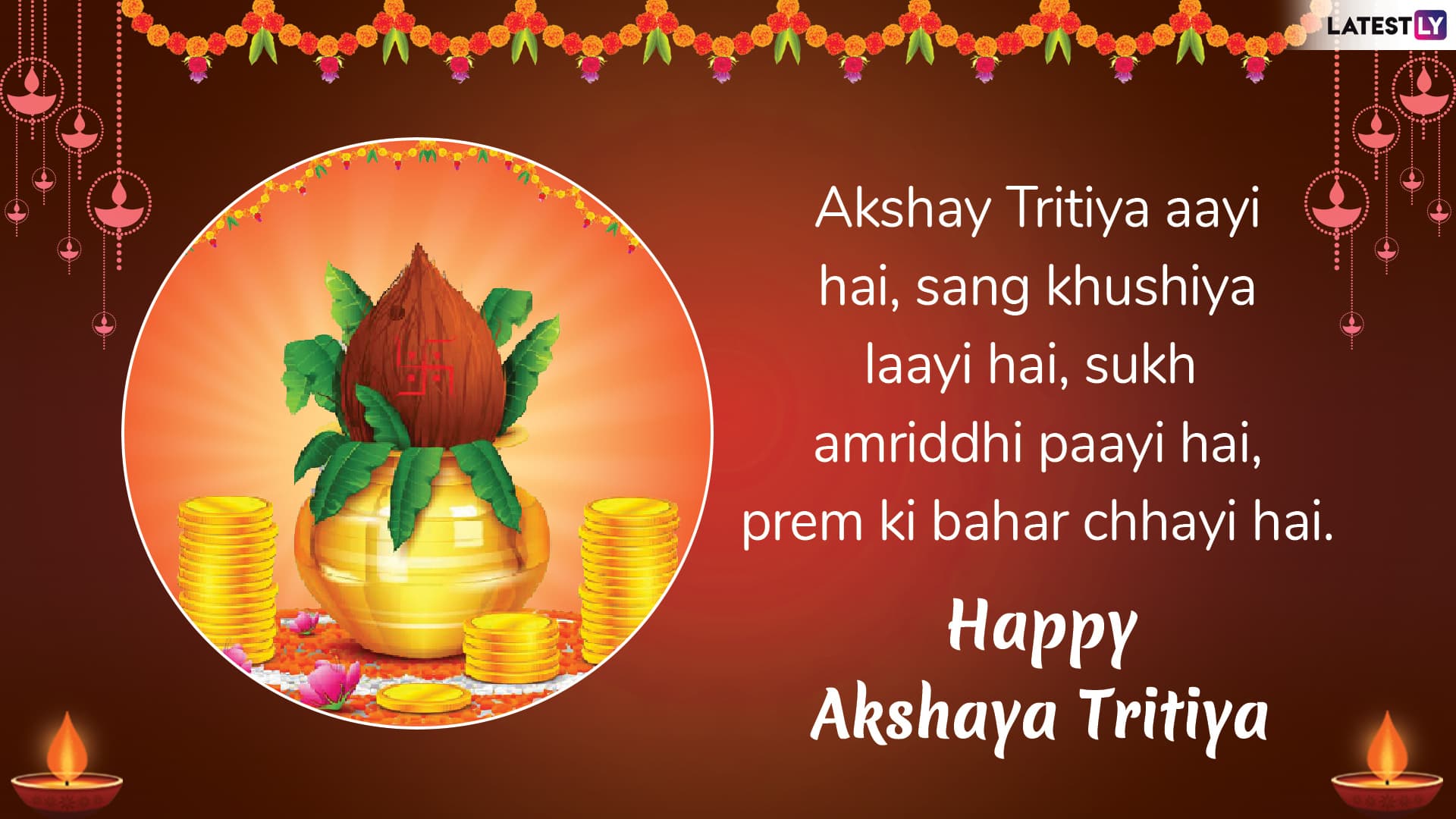 WhatsApp Message Reads: Akshay Tritiya Aayi Hai, Sang Khushiya Laayi Hai, Sukh Samriddhi Paayi Hai, Prem Ki Bahar Chhayi Hai. Happy Akshaya Tritiya.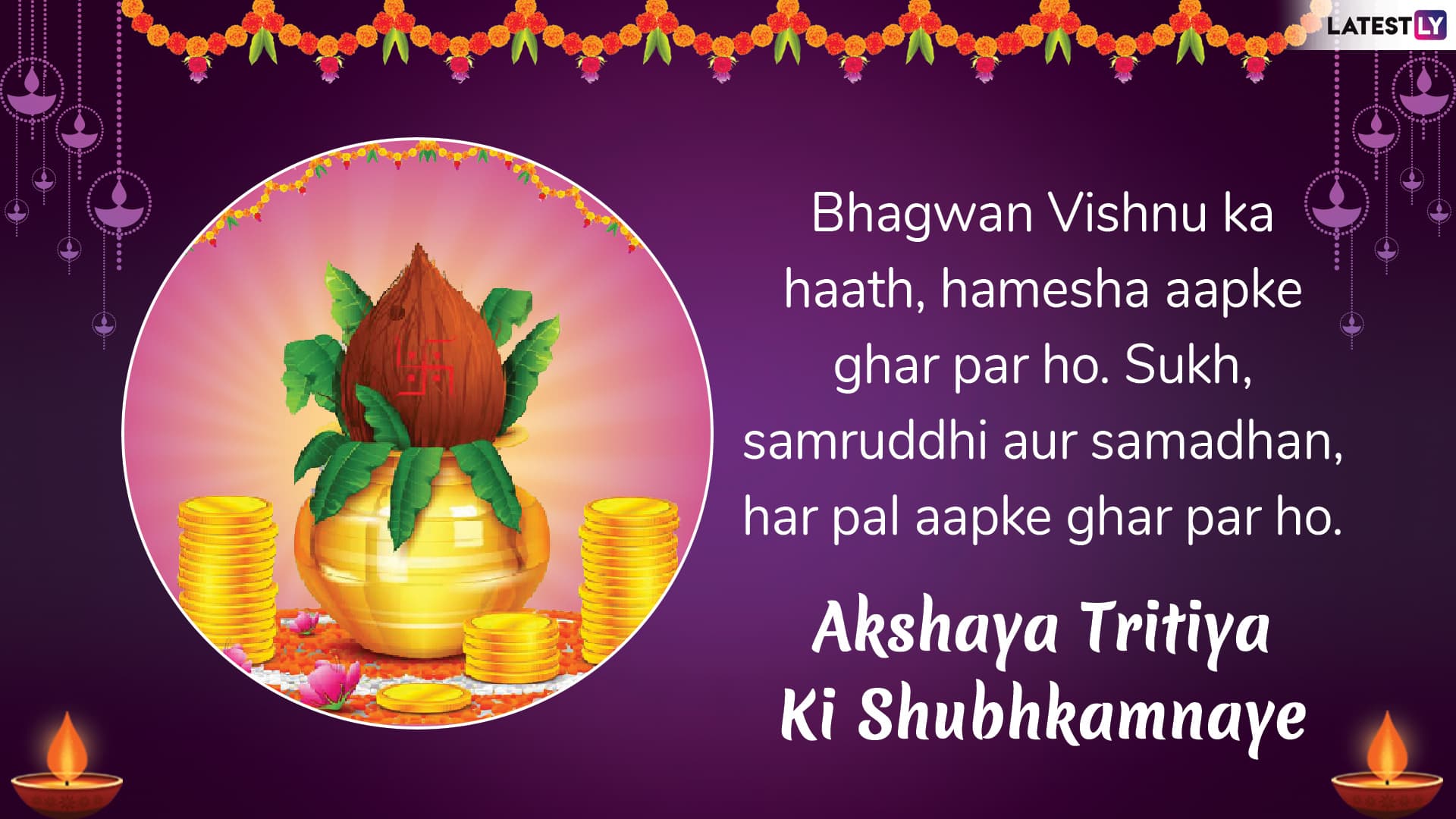 WhatsApp Message Reads: Bhagwan Vishnu Ka Haath, Hamesha Aapke Ghar Par Ho. Sukh, Samruddhi Aur Samadhan, Har Pal Aapke Ghar Par Ho. Akshaya Tritiya Ki Shubhkamnaye.
Akshaya Tritiya Greetings: WhatsApp Messages, Images, SMS, Quotes to Wish Happy Akha Teej
How to Download Akshaya Tritiya WhatsApp Stickers?
WhatsApp Stickers are everyone's favourite, and it is always fun to send bright and colourful animated stickers to wish on festivals and events. For the occasion of Akshaya Tritiya, there are several exciting apps providing WhatsApp Stickers, GIF Image Greetings, Photo Frames, Messages in Hindi, Wishes in Gujarati and more. You can download everything related to Akshaya Tritiya on Play Store here.  We wish all readers who will be celebrating Akshaya Tritiya, a very Happy and Prosperous Akshaya Tritiya 2019!