Akshaya Tritiya 2019 will be celebrated on May 7 this year. Also called as Akti Teej or Akha Teej, it is an annual festival marked by people of Hindu and Jain community. It is a very auspicious day as it marks the birth of Lord Parasurama. The word 'Akshaya' means imperishable, eternal and 'Tritiya' means third. It falls on the third lunar day of the spring month of Vaisakha in the Hindu calendar. The day is also considered as a lucky day to start a new venture such as a business or buying gold and other new beginnings will follow betterment and prosperity. People also exchange Akshaya Tritiya greetings, messages and wish their family for good luck and prosperity. We give you a collection of Akshaya Tritiya wishes, images, pictures, GIFs and WhatsApp Stickers which you can send across to give prosperity and goodwill wishes to everyone. Akshaya Tritiya 2019 Shubh Muhurat And Puja Vidhi: Know When To Buy Gold And Worship on Akha Teej.
Akshaya Tritiya is a very auspicious time and any task done during this period will be successful and benefit in the days to follow. So a lot of people invest in buying gold, or a vehicle, or sometimes even property. Praying on this day is also said to invoke positive results. The day is also considered as the most golden day of the year. So people also exchange wishes of good luck and prosperity, with technology bringing people closer it is easier to pass on greetings over social media or WhatsApp. We thus bring you Akshaya Tritiya greetings, Akshaya Tritiya messages, GIF images, WhatsApp Stickers etc which you can send to your friends and family. Flipkart's Flipstart Days Sale: Celebrate Akshaya Tritiya 2019 With Big Discounts on Laptops, Speakers, Smart TVs & Accessories.
Akshaya Tritiya 2019 Greetings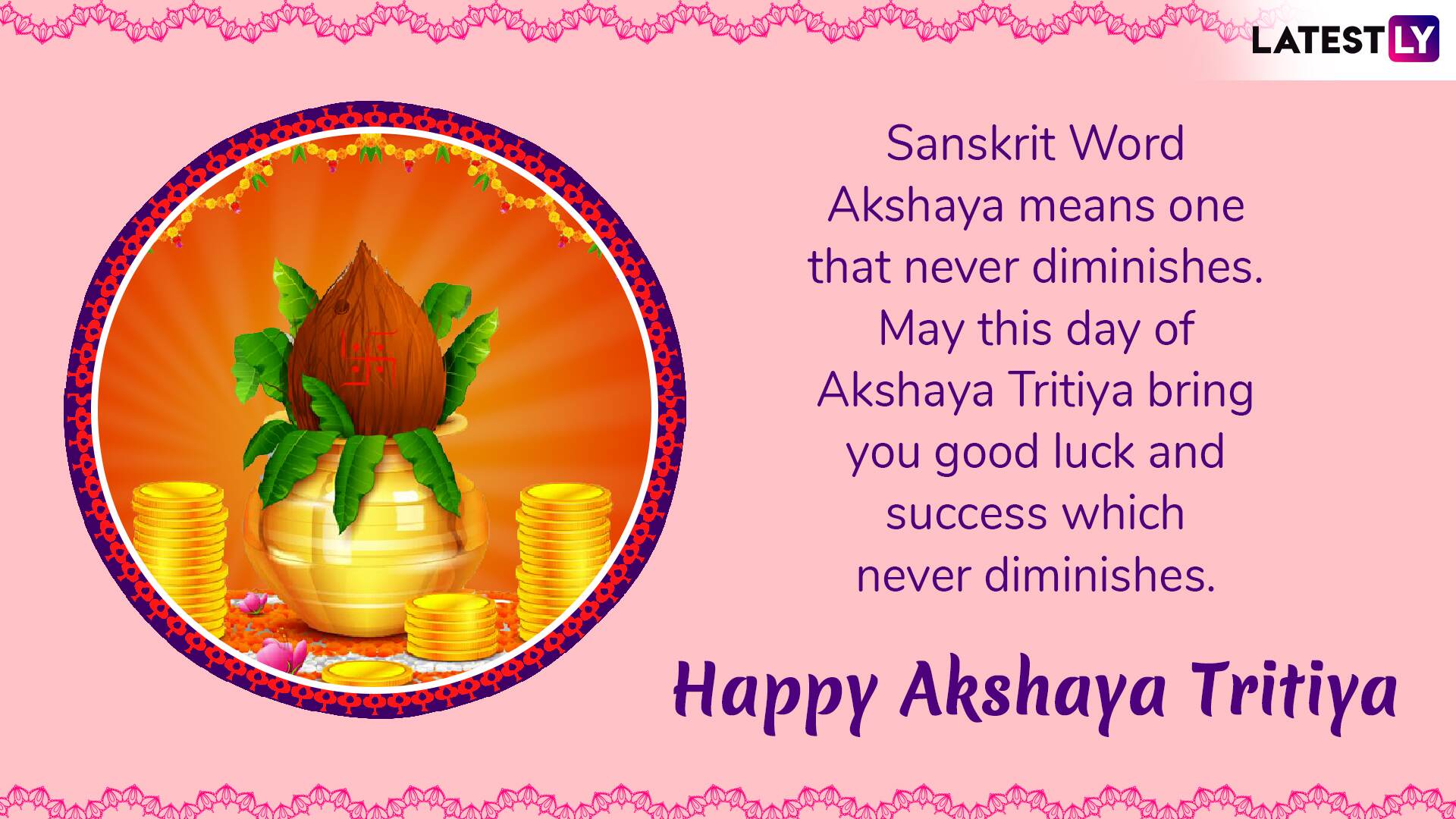 Message reads: Sanskrit Word Akshaya means one that never diminishes. May this day of Akshaya Tritiya bring you good luck and success which never diminishes. Happy Akshaya Tritiya.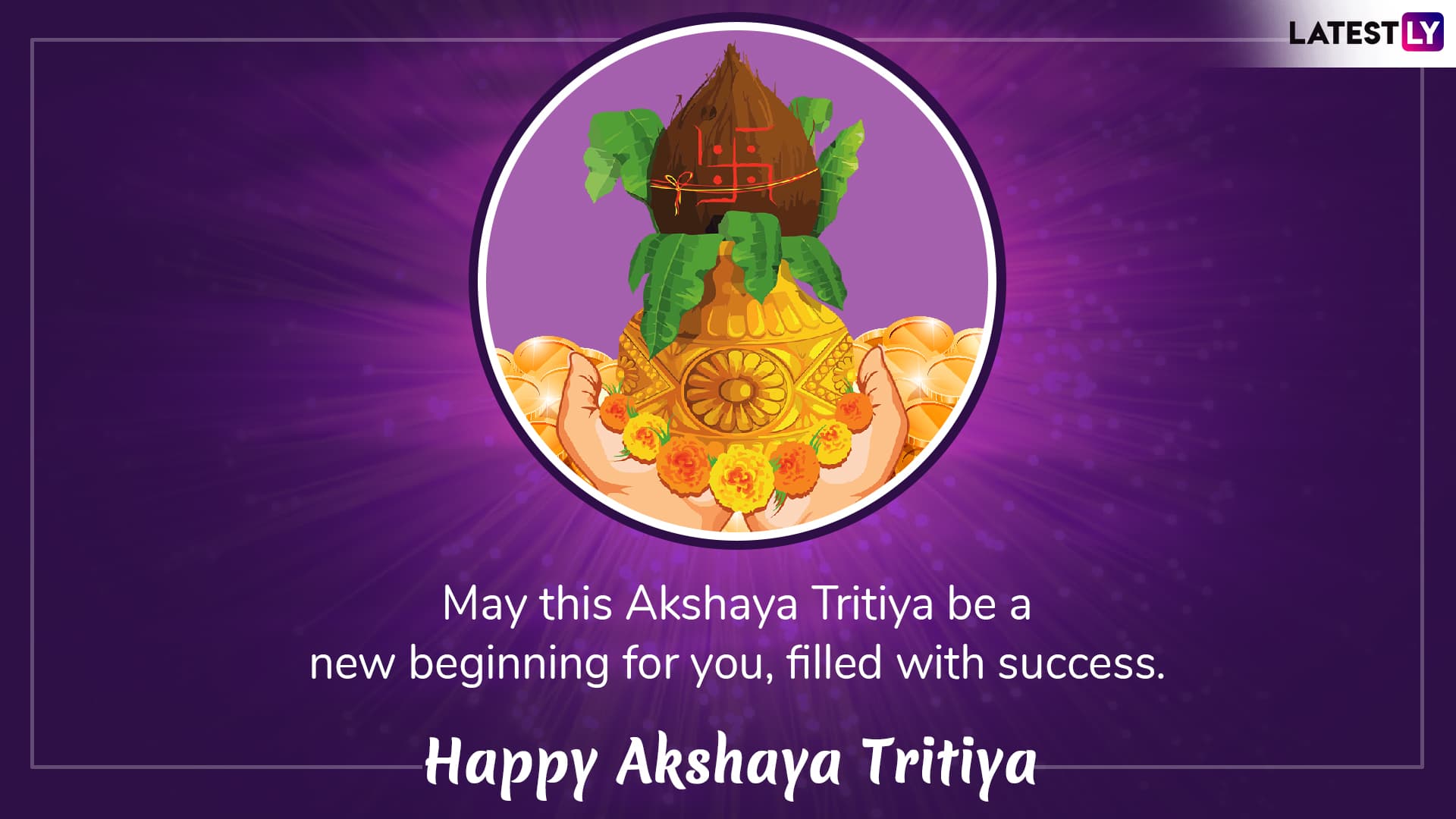 Message reads: May this Akshaya Tritiya be a new beginning for you, filled with success. Happy Akshaya Tritiya.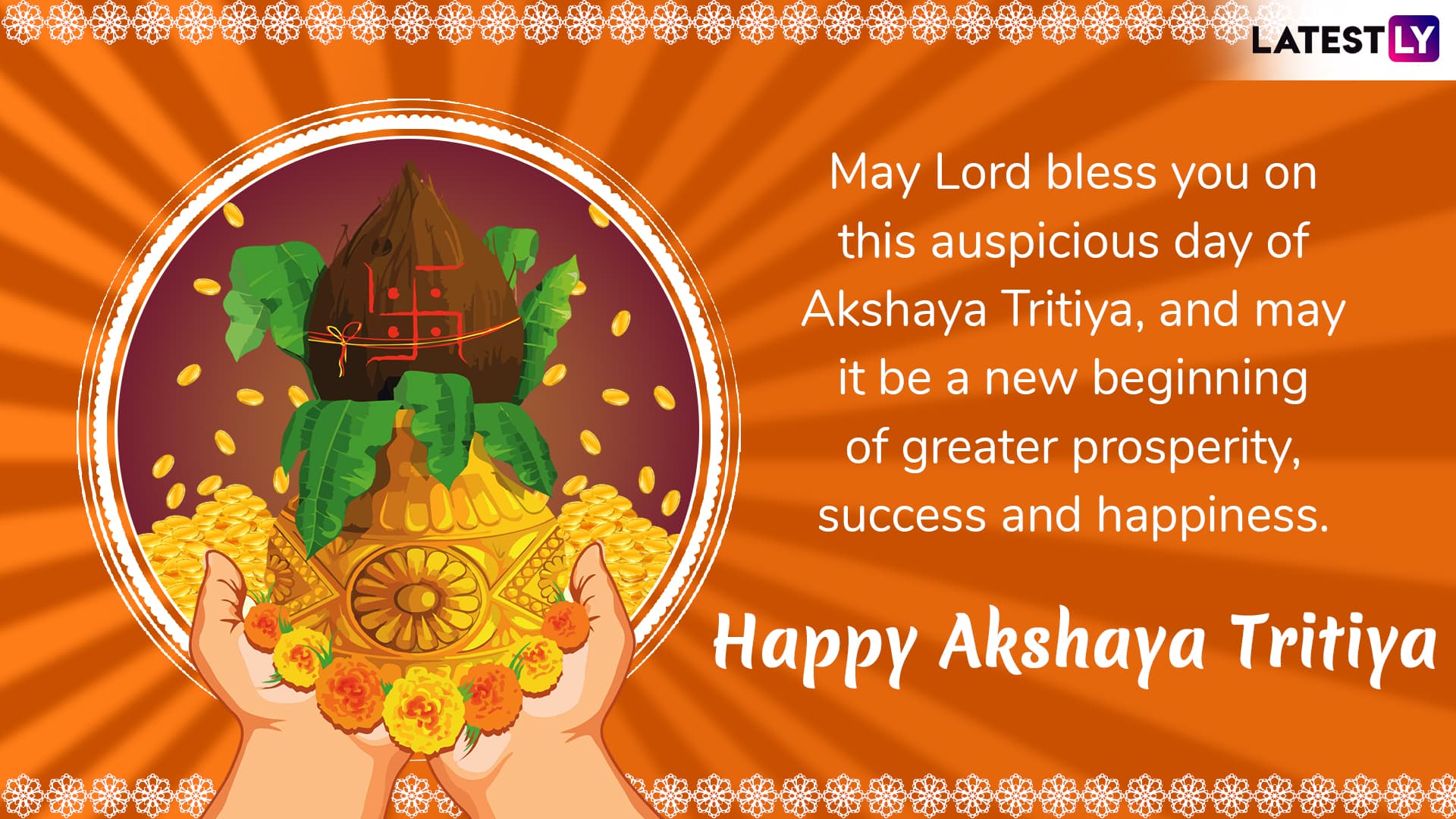 Message reads: May Lord bless you on this auspicious day of Akshaya Tritiya, and may it be a new beginning of greater prosperity, success and happiness. Happy Akshaya Tritiya.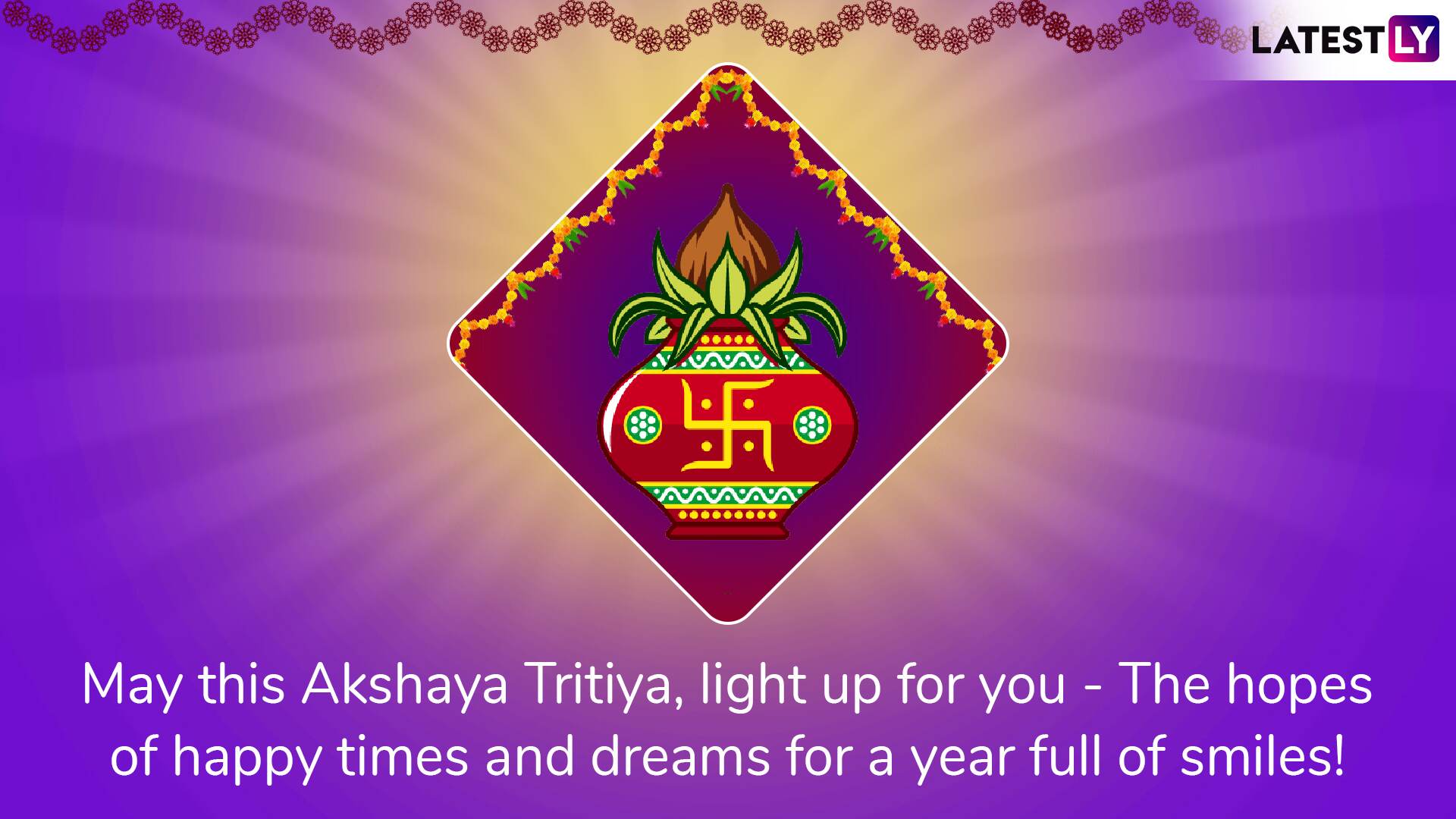 Message reads: May this Akshaya Tritiya, light up for you - The hopes of happy times and dreams for a year full of smiles!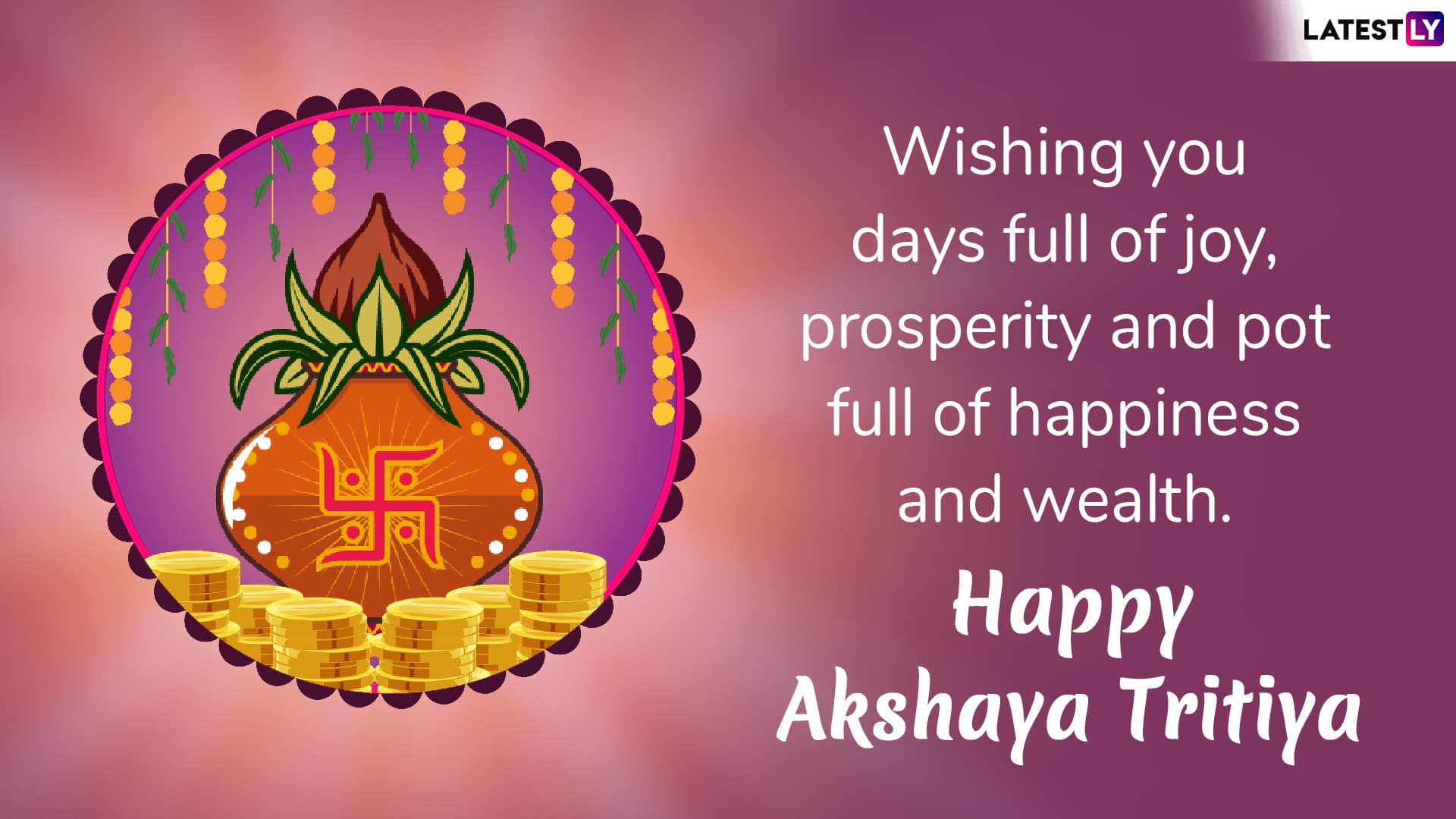 Message reads: Wishing you days full of joy, prosperity and pot full of happiness and wealth. Happy Akshaya Tritiya.
Akshaya Tritiya WhatsApp Stickers
You can also send your greetings for the day with the help of WhatsApp Stickers. Thanks to the new feature, you can convey your messages with these animated stickers or GIFs. There are several external applications which provide festive stickers. You can download Akshay Tritiya WhatsApp Stickers and send them through the messaging application.
Akshay Tritiya GIFs
We hope the beautiful collection of Akshaya Tritiya greetings, messages and images help to send goodwill wishes for this auspicious festival. Wish you all have a bountiful and prosperous Akshaya Tritiya and Akha Teej 2019!