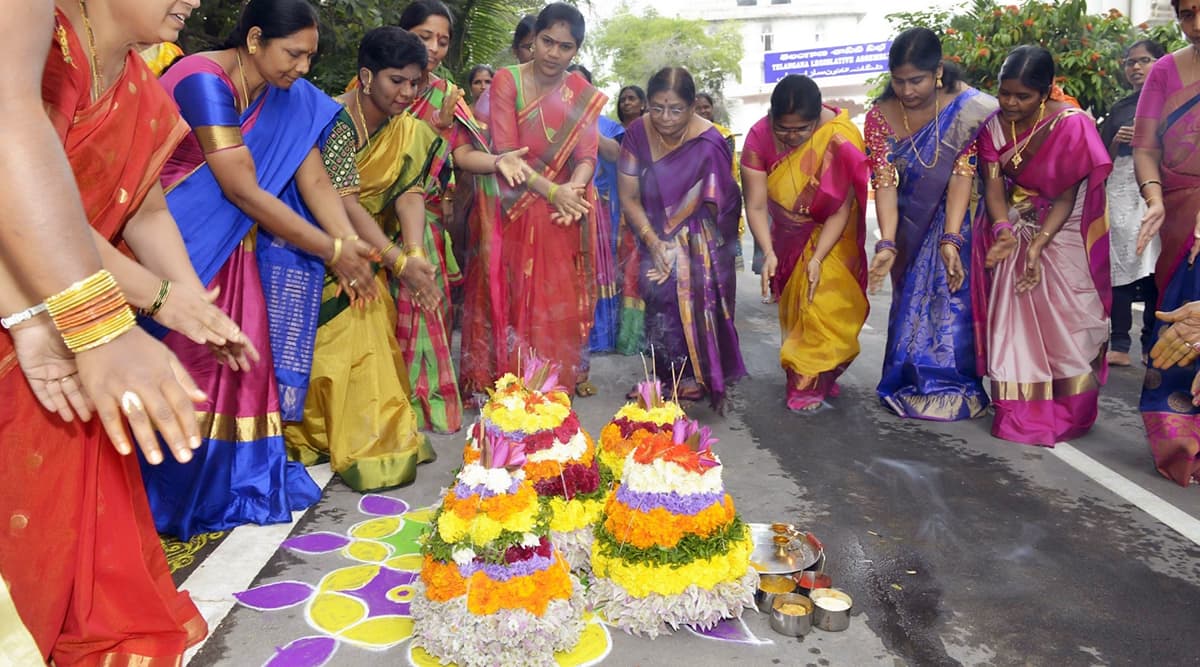 The onset of spring brings in festive cheer across India. Navratri, Durga Puja, Dussehra and Bathukamma, September to October is the season of festivals. The people of Telangana and some parts of Andhra Pradesh are slated to celebrate their annual floral festival, called Bathukamma. Every year, this festival is celebrated according to the Satavahana calendar for nine days from Bhadrapada Purnima to Durga Ashtami. People worship Goddess Gauri, who is known as Bathukamma in the state. The festival is celebrated for nine days and coincides with the celebration of Navratri and Durga Puja. The dates, every year, may vary. Know the history, names of Bathukamma, significance and ceremonies of the festival that is celebrated during Sharad Navratri. Know All About Nine Days of Navratri And Celebrations Related to the Festival. 
Bathukamma 2019 Dates
Bathukamma is the cultural spirit of Telangana. The festival begins during Mahalaya Amavasya (Pitru Amavasya) and ends with Durga Ashtami. The dates may vary, but it usually falls between September and October, as the festival coincides with Navratri and Durga Puja. This year, Bathukamma will be celebrated from September 28 to October 6.
Bathukamma History and Significance
The name, Bathukamma is derived from Batuku which means life in Telugu and amma means mother. The festival is a social movement practised for 1000 years. Songs with Goddess Parvati's names are sung on occasion. As per the Hindu religious records, once upon a time, there was king called Dharmangada who belonged to the Chola Dynasty. The king ruled over South India, and his wife gave birth to a girl after many years of prayers. She was named Lakshmi. While she was growing up, Princess Lakshmi survived many accidents; so her parents named their daughter Bathukamma to honour her spirit to survive against odds. Again another tale that dates back to AD 793 is the story of the Rastakoota sub-feudal Chalukya lord Tailapa II and his son Satyashraya.
Names of Bathukamma
The nine days of Bathukamma festival is celebrated in nine different names:
Day 1: Engili pula Bhathukamma

Day 2: Atukula Bhathukamma

Day 3: Muddappappu Bhathukamma

Day 4: Nanbiyyam Bhathukamma

Day 5: Atla Bhathukamma

Day 6: Aligina Bhathukamma (alaka Bhathukamma)

Day 7: Vepakayala Bhathukamma

Day 8: Venna muddala Bhathukamma

Day 9: Saddula Bhathukamma
Bathukamma festival is for feminine felicitation. Colours, flowers and water are all intrinsic to the festival. The flower stack is arranged with different unique seasonal flowers most of them which hold medicinal values. Celosia, Cassia, Marigold, Chrysanthemum, the flower of Pumpkin plant, Luffa are among other flowers that are used to make the Bathukamma.