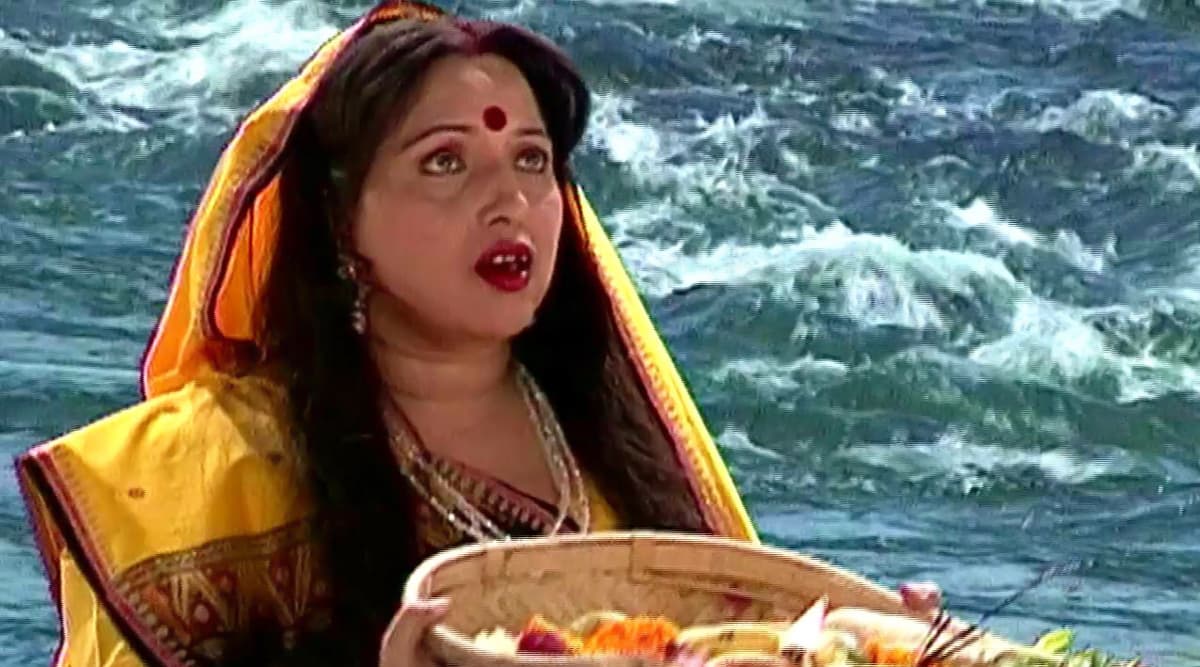 Chhath Puja is almost here. And if you have a special place for this Indian festival in your heart just like us, you must have started playing Chhath ke Geet aka Chhath songs on a loop already! Right from Pawan Singh Chhath ke Gaane to Khesari Lal Yadav's Chhathi Maiyya Puja songs, folk Bhojpuri are in everybody's playlist. And only if you are an ardent Chhath Puja folk song lover, you will know that nothing beats the classic Sharda Sinha Chhath puja geet. Whether it is the traditional "Kaanch hi Baans ke Bahangiya" or "Kelwa Ke Paat Par", Sharda Sinha's version of these classic folk songs are uncomparable. Chhath Puja 2019 will be celebrated on Saturday and Sunday, November 2 and 3 and we have you covered with all the melodious songs for the festival. Chhath Puja 2019 Date & Full Schedule: When is Nahay Khay, Lohanda and Kharna, Sandhya and Usha Arghya? Know the Significance of Worshipping Chhathi Maiya & the Sun God. 
For people who don't know, Bhojpuri doesn't just have one version, but in fact, almost every district in Bihar and UP has a slightly changed version of the language. When it comes to folk songs for Chhath Puja depicting epic legends and mythological background of the festival, Sharda Sinha has no match. She is essentially a Maithili and Bhojpuri folk-singer from Bihar, who is one of the most celebrated and renowned singers. She has sung umpteen number of Maithili and other languages like Bhojpuri and Magahi. But if you are looking for special chhathi maiya Sharda Sinha mp3 songs to download or to listen, here are a few options for you:
Ho Deenanath By Sharda Sinha Bhojpuri Chhath Pooja Geet: This song is known to be sung for the Sun to rise. It is usually sung during the arag (morning worship) of Chhath Puja.
Watch Video:
Kelwa Ke Paat Par Bhojpuri Chhath Songs By Sharda Sinha: This is another song sung to worship the Sun Gods during Chhath Puja. Here's the classic version.
Watch Video:
Kartik Maas Ijoriya Bhojpuri Chhath Geet By Sharda Sinha: This song talks about the Kartik month of the Hindu calendar that celebrates Chhath puja.
Watch Video:
Poorji Hey Chhath Maiya Bhojpuri Chhath Geet By Sharda Sinha: This song praises Chhathi Maiya aka Chhath Goddess and seeks blessings.
Watch Video:
Hey Chhathi Maiya Sharda Sinha Bhojpuri Chhath Songs: This is another folk song that seeks blessings from Chhati Maiyya and sings praises for her.
Watch Video:
Kehan Samaiya Ele Bhojpuri Chhath Geet By Sharda Sinha: A song that asks the Sun God for blessings.
Watch Video:
How To Listen To Chhath Puja Geet by Sharda Sinha MP3
There are many portals that provide songs of Chhath Puja. You can search for Sharda Sinha Chhath mp3 chhath songs on apps like Saavn and Gaana, easily by downloading these apps from Google Play store. There are growing searches for mp3 songs downloads of Chhath puja geet as well.
Chhath puja takes about four days, the Chhath Puja 2019 date & full schedule has arrived. People observing a fast follow it strictly without water. The rituals also include the holy bath at sunrise and sunset, eating satvik food before the fast and standing in cold river water during the sunset and sunrise to pray the Sun Gods.