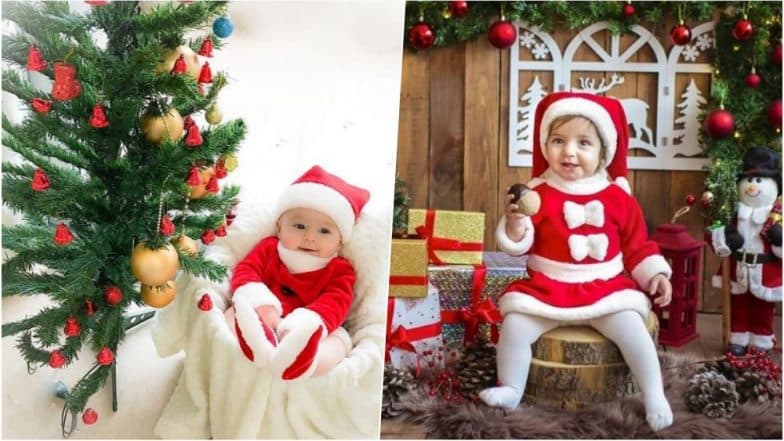 Christmas is an annual festival that falls every year on December 25th. Everybody gets into the holiday mood when they enter the last month of the year and can't wait to begin the new journey and welcoming the New Year. Children are also especially excited for Christmas as they eagerly wait for Santa Claus to arrive. Santa Claus plays an important role in Christmas stories. Since our childhood, we have heard several legends associated with existence of Santa Claus. If you are planning to dress your child as a Santa Claus, for a fancy-dress competition in school or for a Christmas event, we tell you how can achieve the look. Mother Buys 'Sexy Santa Suit' For Christmas Via eBay But the Ill-Fitting Outfit Makes Her Look Cheap, View Funny Pic!
When we think of Santa, the first picture in our head comes is a stout man with red clothes and long white beard and a big bag full of gifts. Dressing up as a Santa Claus is one of the popular choices among children. And for Christmas, schools usually have several activities and competitions where you can help ace your child to dress up as Santa Claus. The key elements that go into the making of a Santa Claus costume are: Who is Santa Claus? Surprising Facts About Father Christmas, Including His Connection With Coca-Cola.
1. Bright Red Trousers & Matching Jacket: Red outfit is the colour to wear as Santa Claus. Red with white border on the sleeves and bottom of the jacket.
2. Black Broad Shiny Belt: Add a wide black leather belt with a gold buckle over your jacket.
3. Big Black Boots: You can either wear simple black shoes or take your outfit a notch higher with black boots that you wear during winters.
View this post on Instagram
4. Add Padding: Ever seen a slim Santa? No, right. Add padding underneath your kid's outfit and secure it firmly around his weight. Make sure it does not make the child uncomfortable.
Watch Video: How to Make a Santa Costume
5. Add a White Long Beard: You can either purchase a fake beard or make a DIY beard at home using cotton. Secure it with elastic and see that your child doesn't feel itchy. Also add a white wig and eyebrows.
View this post on Instagram
6. Add Spectacles: Santa is an old man and he wears spectacles at the end of your nose.
7. Put on a Hat & Gloves: Complete your look with a red hat and white gloves because of course it is cold outside.
Last but not the least, make your child practice saying 'ho, ho, ho' in Santa Claus' manly voice. For competitions you can also teach your child a Christmas poem or write him down a story associated with Santa Claus. This Christmas 2018 dress you child as a perfect Santa so that he wins a prize at school's fancy dress. We wish you and your children a Merry Christmas.