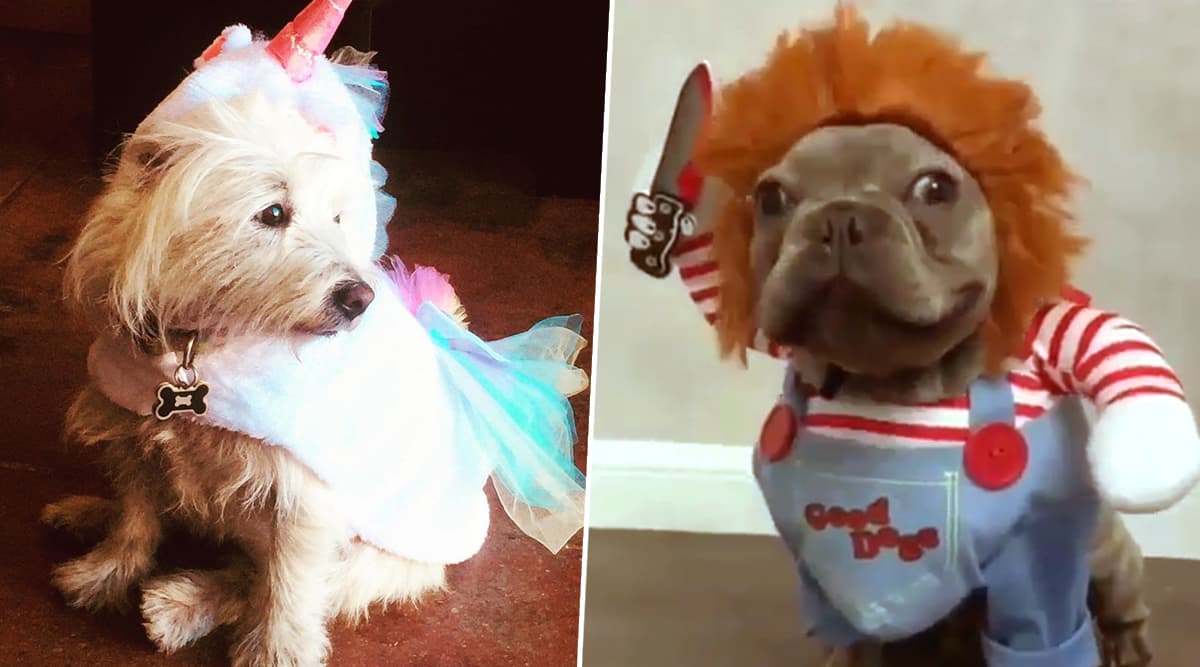 The spookiest time of the year is here. Halloween 2019 is on October 31, and it only means fun and everything eerie! For some Halloween is an annual trip to visit the store and spend a few bucks on a costume that is relevant to the pop culture. While for others, it is a perfect opportunity to explore their creative side. And if you are a pet parent, you know you have to go a little extra to sew an outfit for your four-legged companion. Wish your dogs a happy Howl-oween with utterly spooky, yet cute dog outfits. These are those costumes that every pup parent should have. In case you are struggling with the creative bit, here we have got you the pictures to the rescue! Sexy Vampire Fangs Is The Spookiest Nail Art Trend That YOU HAVE TO TRY This Halloween. 
To anyone, wondering why to dress up your pet, well just imagine the resulting photos! Coordinating your canine's new look with your kids' or even yours' Halloween costumes for a matchy-matchy trick-or-treating adventure is something that you will never forget. You are surely going to have so many throwbacks to share on Thursdays, post-Halloween. These funny and quirky dog Halloween costumes will be the talk of the night. Take a look! Maleficent Halloween 2019 Costume Idea: Easy DIY Ways to Dress like the Mistress of Evil on October 31 (Watch Tutorial Video). 
Chucky the Dog: 
View this post on Instagram
This French bulldog earned named Reggie got into the Halloween spirit early this year, and it surely grabbed the eyeballs from every corner of the world. His costume featuring a red and white striped shirt, dungarees, orange hair and holding that bloodied knife, mimicking the creepy serial killing character, Chucky, is enough to give you the scary feels. Well, you know what to note for Halloween 2019!
Unicorn Lover: 
View this post on Instagram
Your pooch is no less than a magical creature. Dressing your dog up like a unicorn might seem an odd choice, but it may actually the best one. Not only that unicorns are easily recognizable, but this costume will complement just about anything you decide to wear. Plus unicorn costumes are versatile! Hence, post-Halloween, you can recycle.
Pumpkin Pup: 
View this post on Instagram
Pumpkins are a symbol of Halloween. You can use the curvy remains to DIY a cute outfit for your puppy-pie and enjoy the festival. There is not too much of skill required in setting up a pumpkin-inspired costume for your pooch.
Creepy Crawly Spider: 
View this post on Instagram
If you are planning for a real scary theme this year, get your dog dress up as a creepy crawler tarantula. Although, it is a Halloween festival, your pooch will still manage to look just about everything but adorable. Their puppy eyes can never scare anyone.
These were some quick Halloween costume ideas for your doggos. Not to mention, that dog Halloween costumes are plain hilarious, and as we said, they are not going to give any eerie vibe. But the results are going to melt your heart even more. Happy Halloween!