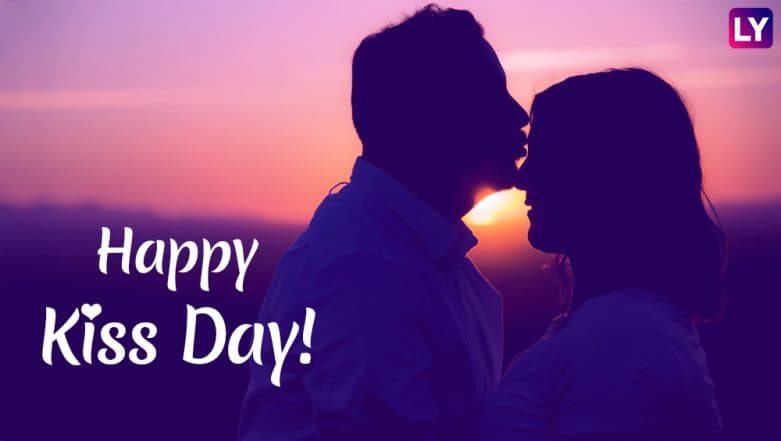 Valentine's Day 2019 is just a day away and today marks the Kiss Day. Couples ring in their celebrations by marking every small gesture of love on each of the days. February 13 is celebrated as Kiss Day every year. But not all couples may be able to meet on this day, so they always look out for Kiss Day wishes and messages. Happy Kiss Day greetings are sent across to loved ones. Kiss WhatsApp stickers, GIFs, Valentine Day messages are searched for online. We have compiled some of the best Happy Kiss Day messages, GIFs, WhatsApp stickers, kiss quotes, sensual kiss quotes which you can send across to your partner on Kiss Day 2019. Kiss Day 2019: From French Kiss to Reverse Kiss, Here Are the Most Romantic Types of Smooches You Can Try This Valentine Week.
A kiss is such a beautiful gesture shared by a couple. It is one of the very romantic moments shared by two people. It could be a light peck on the cheek, forehead or a lip to lip kiss. Each of these gestures invokes a beautiful feeling. So it is best to mark this day with your loved one, by sending them lovely messages and wishing them a Happy Kiss Day. Below are some of the Happy Kiss Day greetings, which you can easily send to your loved ones. Kiss Day 2019 Quotes: Express Your Feelings via These Romantic Lines That You Can Share on WhatsApp, Facebook and Twitter, This Valentine Week.
Happy Kiss Day Wishes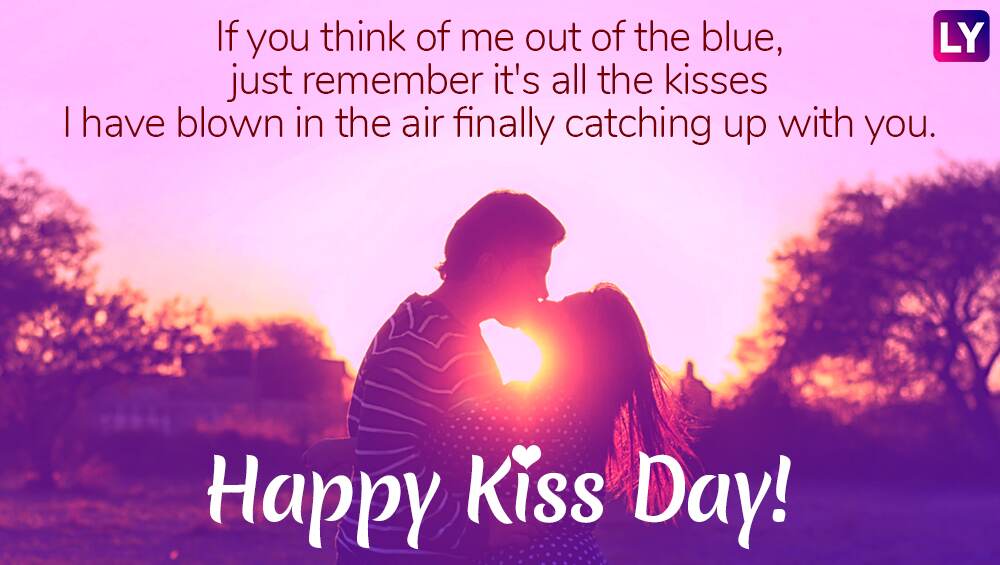 Message reads: If you think of me out of the blue, just remember it's all the kisses I have blown in the air finally catching up with you. Happy Kiss Day!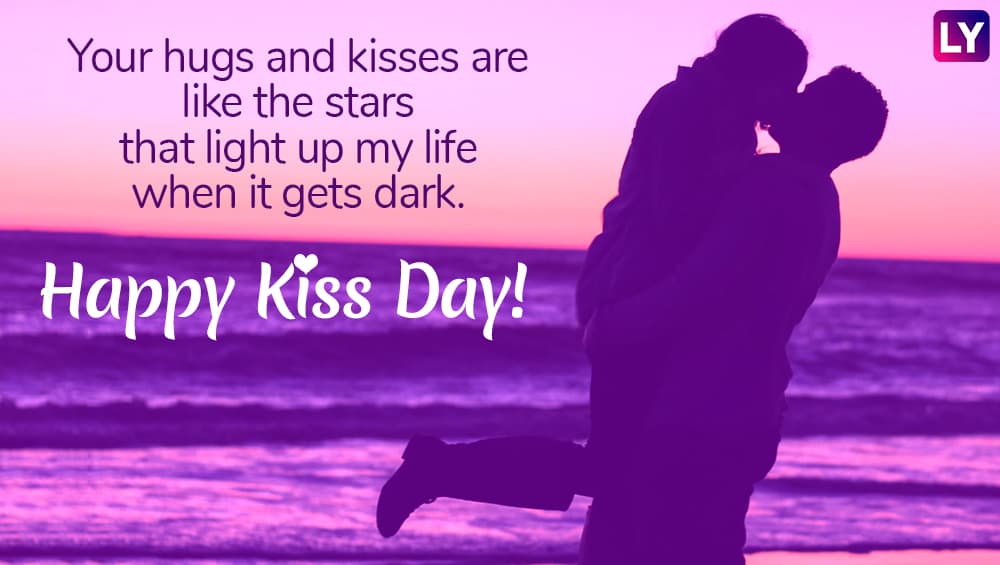 Message reads: Your hugs and kisses are like the stars that light up my life when it gets dark. Happy Kiss Day!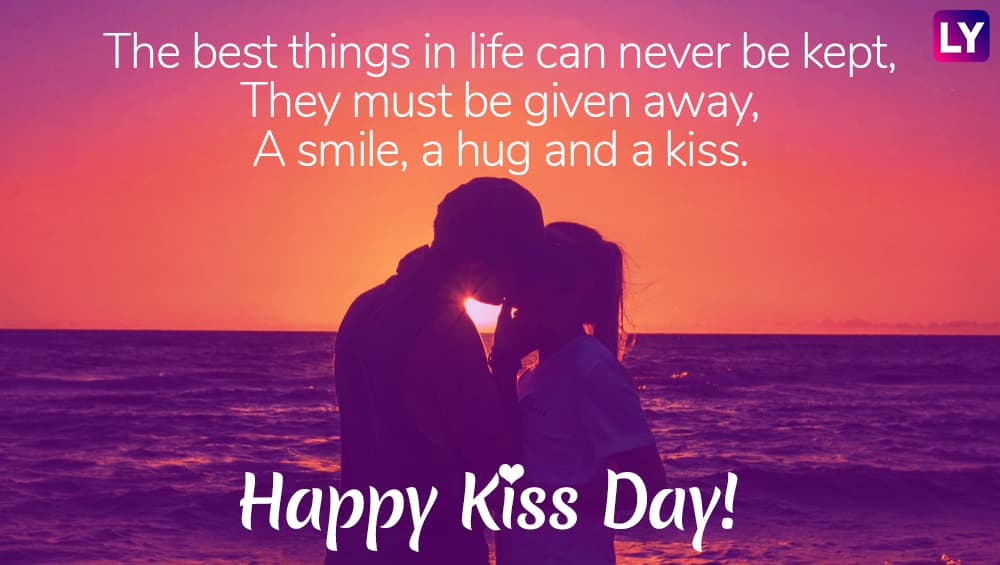 Message reads: The best things in life can never be kept, They must be given away, A smile, a hug and a kiss. Happy Kiss Day!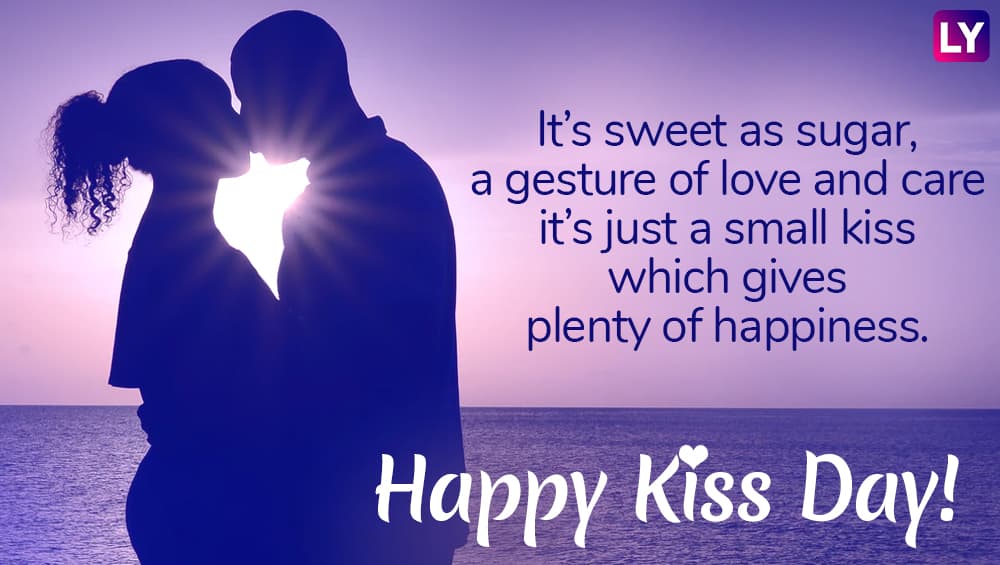 Message reads: It's sweet as sugar, a gesture of love and care it's just a small kiss which gives plenty of happiness. Happy Kiss Day!
Kiss Day GIFs
A Flirty Kiss
Flying Kiss
Too many kisses
Kiss Day WhatsApp Stickers
Thanks to the new sticker feature by messaging application WhatsApp, one can also send their feelings through stickers. There are special sticker packs which let you convey the exact emotion. You can download Kiss Day stickers through the Play Store and easily send them through WhatsApp. Let your stickers do the talking.
We hope the above messages, GIFs, WhatsApp stickers, picture greetings help to convey the best of this lovely day. We wish you all a very Happy Kiss Day 2019!