Lohri, popular Punjabi harvest festival will be celebrated on January 13, 2020 (Monday). While the preparations are in full swing, people are also searching for colourful Lohri 2020 greetings and images. This is why we are getting you a collection of Happy Lohri 2020 wishes, Lohri images in HD, wallpapers, Lohri quotes in Punjabi and Hindi and more. The festival of Lohri is celebrated mostly by the people of the Sikh community and the Hindu community. People also celebrate the auspicious day by sending Lohri wishes and greetings on WhatsApp, Facebook, Hike, and other popular platforms. If you are looking for best and popular Lohri 2020 wishes and greetings, then you can find them here. Lohri 2020 Date: History, Significance and Celebrations of Harvest Festival Marked in Punjab Ahead of Makar Sankranti.
Lohri is celebrated to commemorate the passing of mid-winter season. People can send newest Lohri 2020 wishes and greetings through WhatsApp messages, Facebook statuses, Hike messages, Instagram posts among other social messaging apps. It is a nice gesture to get in touch with your loved ones on this festive day and send them warm Lohri wishes. Lohri 2020 Fashion: From Sonakshi Sinha to Sara Ali Khan, Here Are Celebrity Endorsed Ways to Dress Up for the Harvest Festival!
Also, people can share the latest 2020 Lohri greetings and wishes through text messages, picture messages, GIFs, videos, and even SMSes. Recently, WhatsApp had launched a new feature, i.e. WhatsApp Stickers, which has become a popular medium these days. If you are searching for some the most amazing Lohri 2020 wishes and greetings to send to your friends, family, relatives, employees, colleagues, etc. then don't worry, we have got your back. We at LatestLY bring you the top and trending 2020 Lohri wishes and greetings which you can send them to your dear ones as a token of love on this festive day.
Happy Lohri 2020 Wishes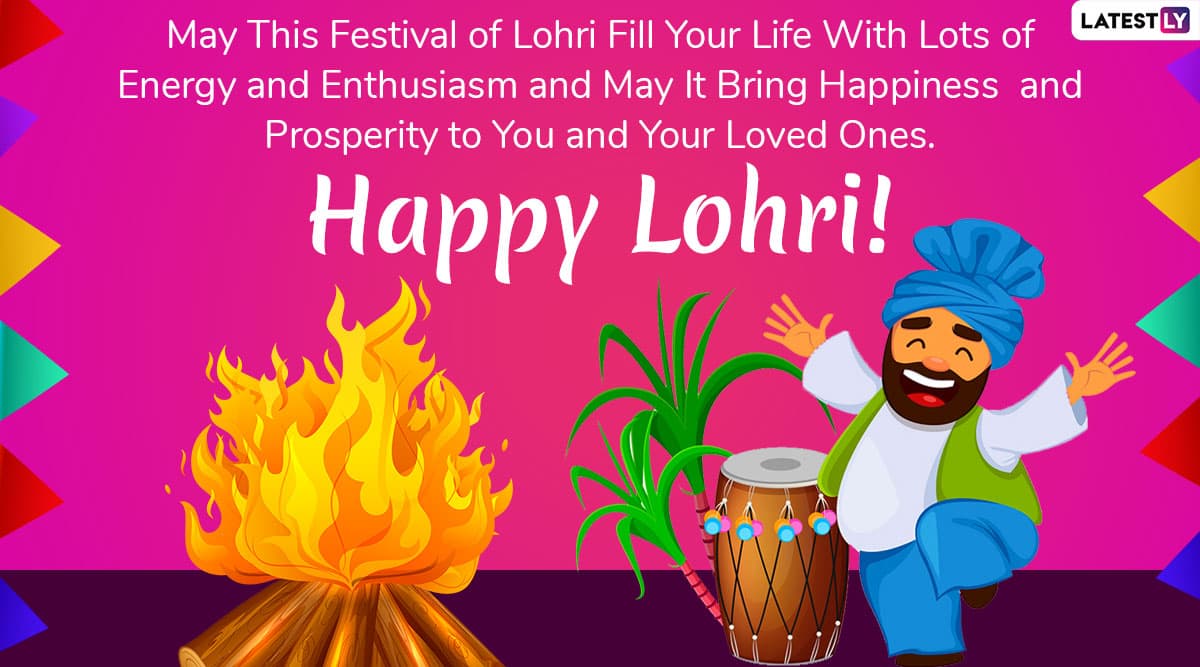 WhatsApp Message Reads: May This Festival of Lohri Fill Your Life With Lots of Energy and Enthusiasm and May It Bring Happiness and Prosperity to You and Your Loved Ones. Happy Lohri!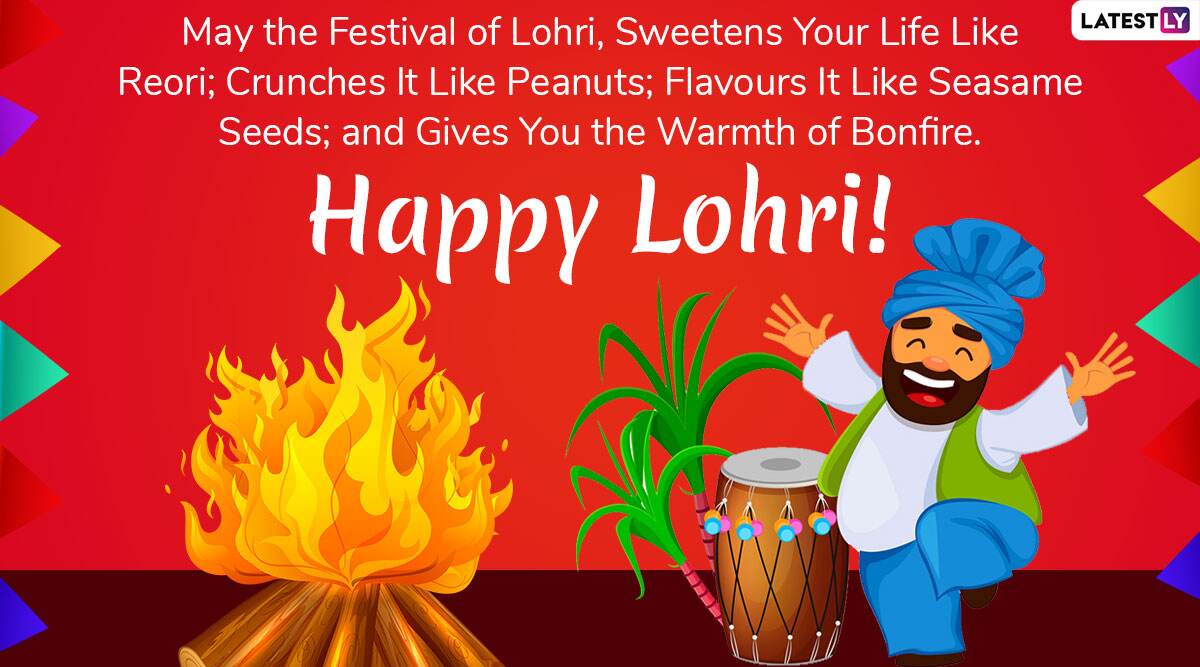 WhatsApp Message Reads: May the Festival of Lohri, Sweetens Your Life Like Reori; Crunches It Like Peanuts; Flavours It Like Seasame Seeds; and Gives You the Warmth of Bonfire. Happy Lohri!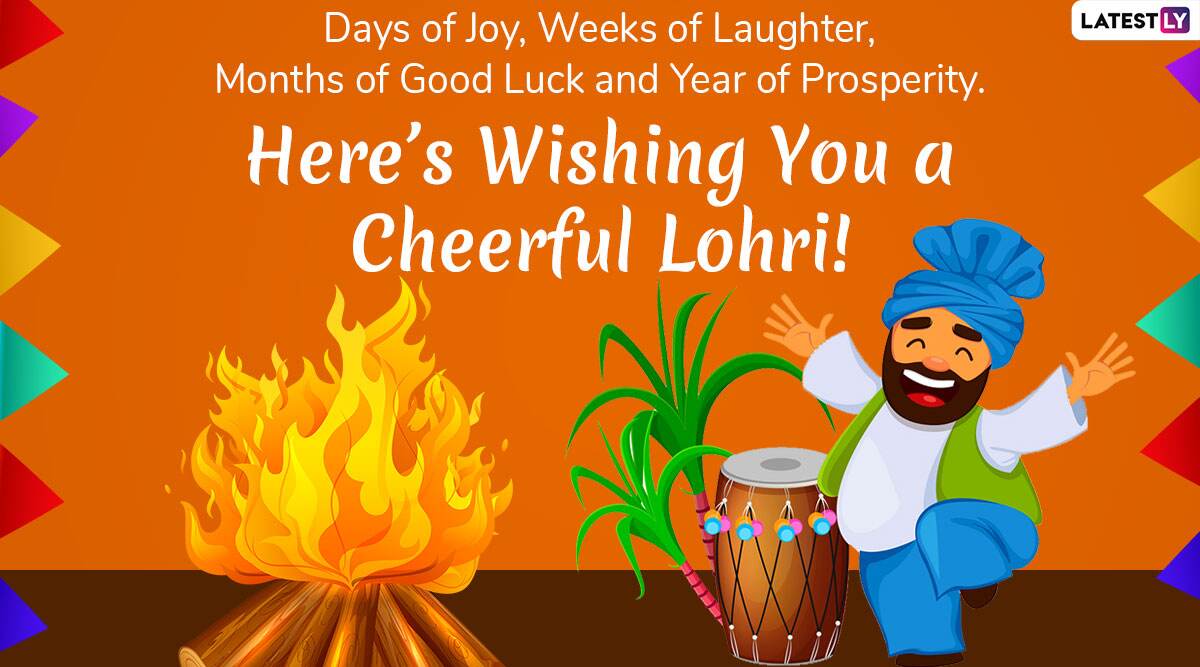 WhatsApp Message Reads: Days of Joy, Weeks of Laughter, Months of Good Luck and Year of Prosperity. Here's Wishing You a Cheerful Lohri!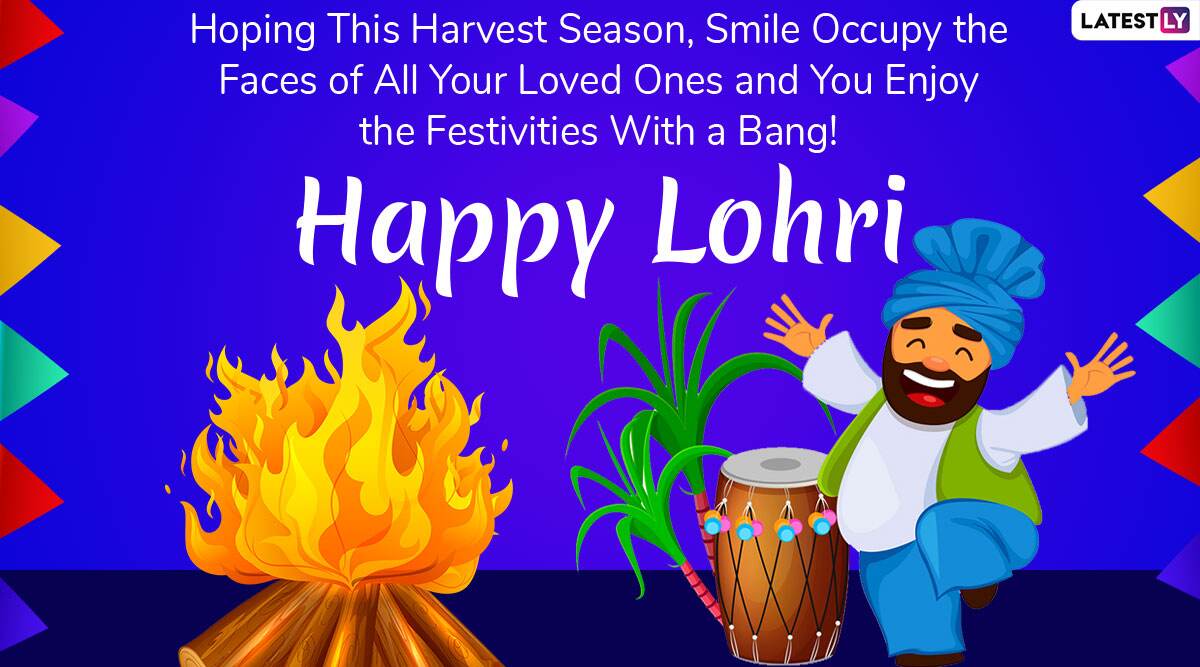 WhatsApp Message Reads: Hoping This Harvest Season, Smile Occupy the Faces of All Your Loved Ones and You Enjoy the Festivities With a Bang! Happy Lohri.
Happy Lohri GIFs
Lohri WhatsApp Stickers
One of the many ways of sending out festive greetings these days is WhatsApp stickers. All you have to do is go to the Play Store and look for Lohri stickers. There are special festive sticker packs which you can download for free. Then use them via the messaging application.
Lohri is also popularly known as 'Lohdi' and 'Lal Loi' by people of different sects. The festival marks the end of the winter solstice and welcomes the longer days ahead. The holy day of Lohri is observed a night before Makar Sankranti. People celebrate Lohri by lighting bonfire, and singing and dancing around it. Bhangra and Gidda are the dance forms which are popularly associated with the occasion. Rituals are performed, traditional food – Sarson da Saag and Makki di Roti – is prepared, houses are decorated, and people also purchase new clothes as a part of their celebrations of Lohri festival.
People in north India simply love the festival of Lohri. The festivities are grand, the celebrations are huge, and the atmosphere is euphoric when one speaks about Lohri. As January 13 nears, we at LatestLY wish you and your family a very "Happy Lohri 2020".
(The above story first appeared on LatestLY on Jan 12, 2020 11:00 AM IST. For more news and updates on politics, world, sports, entertainment and lifestyle, log on to our website latestly.com).