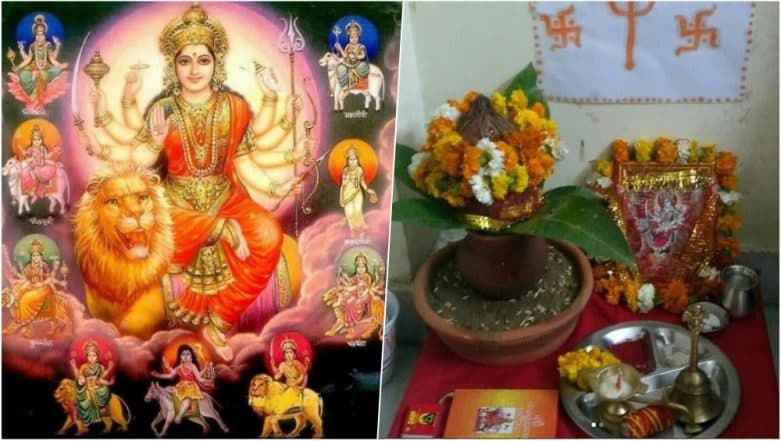 This year the auspicious festival of Sharad Navaratri has begun from today i.e. October 10 and is considered one of the most important festivals among Hindu devotees. The literal meaning of Navratri is 'nine auspicious nights.' The festival is celebrated to honour nine different forms of the Goddess Durga throughout the nine days of the occasion. In India, the festival is celebrated with great fervour in states of Gujarat and Maharashtra. During Navaratri people come together and sing and dance together in form of dandiya and garba nights to mark the event. If you wish to bring the idol of Goddess Durga to your humble abode, we tell you how to perform a simple puja vidhi in Hindi at home and the items required to perform the puja. Ghatasthapana 2018 Date & Shubh Muhurat: Kalash Sthapana Timings and Puja Vidhi to Start Navaratri Festival.
The significance of celebrating Navratri is believed that Goddess Durga killed the mighty demon Mahishasura and thus it known to be the victory of good over evil. The main Goddess of Navratri is Goddess Durga who is also known as Goddess Bhavani and Goddess Amba. All these forms of Durga are attributed to Goddess Parvati. According to Hindu mythology, it is also believed that Lord Rama worshipped Goddess Durga during Sharad Navaratri to seek her blessings before waging war against demon Ravana. Read on to know more how to do a simple Navaratri puja ritual at home. Navaratri 2018 Day 1 Shailputri Puja: Worship the First Form of Goddess Durga With Mantras This Navratri.
Navratri Puja Items Required
The material required to perform the puja is a picture or idol of Goddess Durga; a dupatta or saree to offer the deity; Durga Saptshati book; Ganga water in kalash; fresh and washed mango leaves; fresh grass; sandalwood; coconut; roli (sindoor for tilak); moli (red sacred thread); rice; supari (Areca nuts); paan (betel leaves); cloves; cardamom; Kumkum (vermilion) and gulal. Other items required are incense sticks, camphor and diya to light the lamp, some fresh flowers every day like rose, jasmine or hibiscus. You can also offer fresh fruits to the Goddess before the puja.
Navratri Puja Vidhi to Do at Home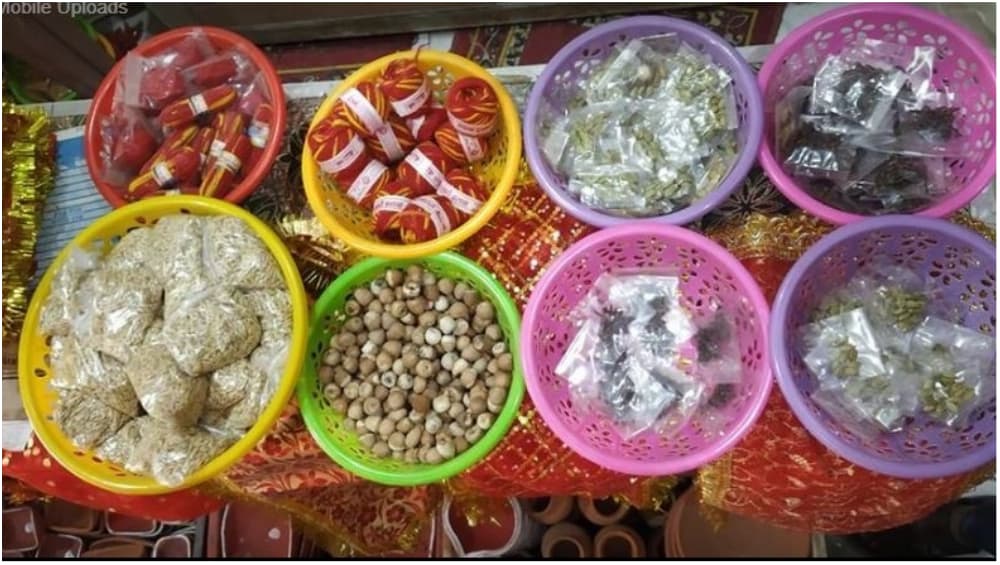 To perform the puja during Navratri at home, one must wake up early, take bath and wear fresh clothes. Make sure the place where the idol of Goddess Durga is placed is cleaned properly. Light a lamp on the left side of the deity and incense sticks on the right. Now place the kalash in front of the idol. Kalash should be filled with pure water or gangajal, mango leaves on the mouth, coconut inside the kalash and tie a moli around the neck of the kalash. Now sprinkle gangajal all over the puja room. Now offer items to Goddess Durga such as sandalwood powder, fresh grass, sari or dupatta, and paan leaves. Navratri Colours 2018 to Wear During Nine Days Festival: Images and List of 9 Colours for Each Date of Sharad Navaratri.
Some devotees even light the 'akhand jyot'. One must keep in mind that the akhand jyot must be lit for all nine days and the house must not be left vacant. If you are performing havan, chant the mantra – 'Om aing hreeng kleeng chamundaya vichche namah'. Fold your hands and pray. You can call a pandit to perform the havan at your home. At last, offer prasad and perform aarti of Goddess Durga. Pray with your whole heart and ask for forgiveness towards the end of the puja.
During the festival of Navaratri, devotees take conscious efforts to not do any wrong doings and welcome the Goddess Durga with positivity and great respect. When performing puja during Navratri pray for the happiness, prosperity, peace and blessings for your friends and family. Also, this Navratri immerse yourself in the celebration of Navratri by visiting pandals and dancing on dandiya and garba nights. Happy Navratri 2018!