Why do we celebrate Raksha Bandhan? The main reason is to commemorate the bond between brothers and sisters. Raksha Bandhan is observed in the pious month of Shravan and is considered to be a very holy day. On this day, sisters tie a rakhi or a ceremonial thread around the wrist of their brother and perform an aarti as a solemnisation of their bond. Brothers vow to protect their sisters from any harm that may befall them. The Hindu festival has many stories and legends associated with it. On Raksha Bandhan 2019, which will be celebrated on Shravan Purnima (August 15), let us look at some of the tales from mythology, including that of Lord Krishna and Draupadi. Raksha Bandhan 2019 Date and Auspicious Time: Shubh Muhurat to Apply Tilak and Tie Rakhi on Brother's Wrist On Full Moon Day of Hindu Shravan Month.
Yama and Yami
The sun god Surya was married to Samjna, the daughter of Vishwakarma, the divine engineer. Though their union bore them three children – Manu, Yama and Yami – Samjna and Surya's marriage came to an end. It was said that Samjna couldn't bear to withstand her husband Surya's brilliance and she left leaving her children behind. Rakhi Gift Ideas For Sisters on Raksha Bandhan 2019: Here's A List of Rakshabandhan Gifts That You Can Give On The Festival Day!
In her absence, her shadow, Chhaya took over without Surya's knowledge and had a son with Surya. She treated Samjna's children with a lot of scorn. One day, after having an altercation with Yama, she cursed that his foot falls off. Surya who learnt of her curse realised she isn't Samjna, but Yama had to be banished to the underworld due to his disability.
Yami couldn't bear the separation from her brother. After having not seen him for 12 years, Yami went to Goddess Ganga who reminded Yama of his impending visit. When he finally visited her on Shravan Purnima, an overjoyed Yami tied the ceremonial thread or rakhi on his wrist and performed the aarti. So pleased was Yama that he declared any brother who visits his sister on the day of Shravan Purnima would be blessed with health and prosperity, and he, in turn, would protect her. The day then came to be known as Raksha Bandhan.
King Bali and Goddess Lakshmi
Lord Vishnu was pleased with the overlord of demons King Bali for his devotion. A Vishnu-bhakt, Bali became all-powerful and the devas were worried about his growing strength. Vishnu himself had to intervene and go down to his kingdom as Vamana, a dwarf Brahmin. In three strides, Vamana covered the earth, the underworld and the heaven, banishing Bali to the nether lands forever.
But Vishnu still had a soft spot of Bali, and vowed to protect his kingdom in his absence. So Lord Vishnu himself guarded King Bali's kingdom. But Goddess Lakshmi was not very pleased with Vishnu's absence. So she made a deal with King Bali. She tied a rakhi across his wrist, and in exchange, she beseeched her brother Bali that he let her husband return to Vaikuntha.
As a brother, Bali obliged, but Vishnu was in a fix. So he struck up a deal with Brahma and Shiva, asking them to each guard Bali's kingdom for four months each.
Lord Krishna and Draupadi
Lord Krishna and Draupadi's relationship is an exemplary bond of a brother-sister relationship. According to legends, on a Sankranti day, Lord Krishna happened to cut his finger while cutting sugarcane. On seeing his finger bleeding, both his wives – Rukmini and Sathyabama – scampered around to find a piece of cloth to tie on his finger.
Draupadi, who was present there, didn't bother to look for a cloth. She tore her saree and used the piece of fabric to tie up her brother's wound. Krishna was moved by her gesture and promised to protect his sister from any harm that may befall her. He simply uttered, "Akshayam," which means "never ending."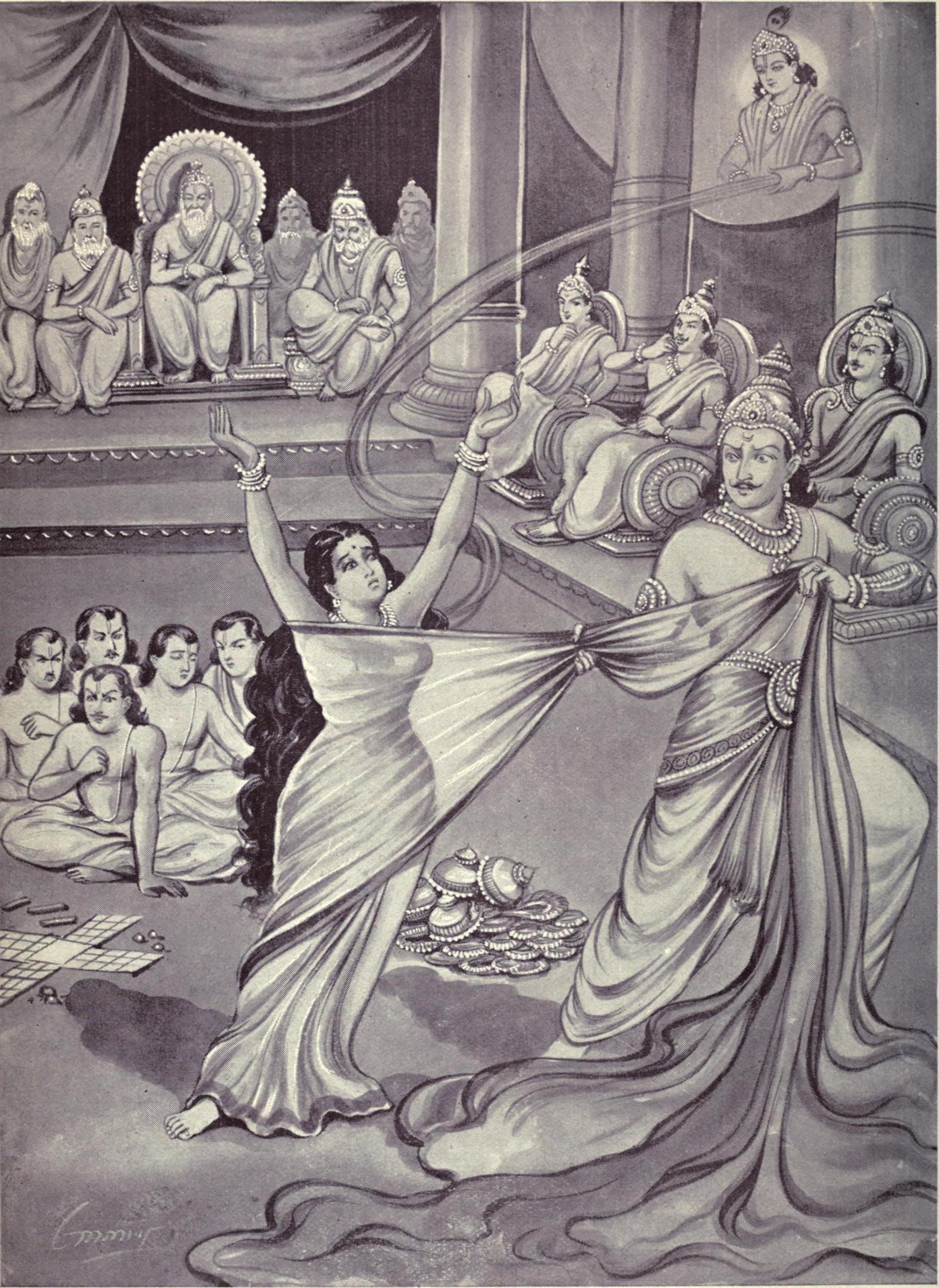 In this manner, he was able to save her from humiliation when Dushasan tried to disrobe her in front of the court. He blessed her with a never-ending saree that didn't come off no matter how much Dushasan tried.
Santoshi Maa and Shubh-Labh
On the day of Raksha Bandhan, Lord Ganesha was visited by his sister Goddess Manasa. She tied him a ceremonial thread and he blessed her with prosperity. Seeing this, Ganesha's sons Shubh and Labh were upset for they didn't have a sister to tie them a rakhi.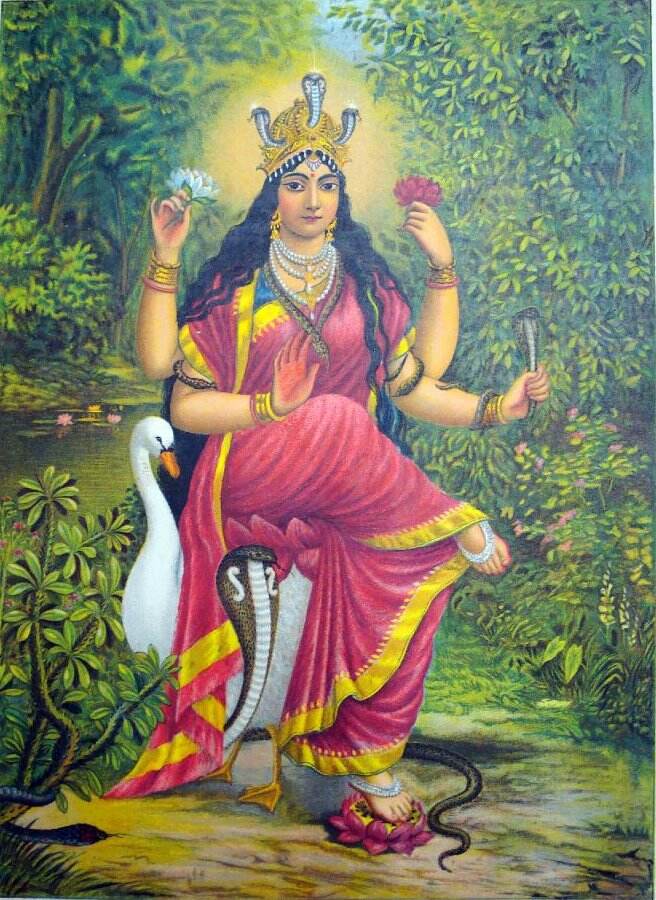 Ganesha understood his sons' feelings and decided to create a sister for them. He channelled the divine radiance of his wives Riddhi and Siddhi and created a girl child. She then tied her rakhis on her brothers' wrists. On being asked what she wanted as a gift, she said she's content with what he has.
Hence, she was named Satoshi or the content one.
These are some of the legendary stories from Hindu mythology about Raksha Bandhan. These stories show that even the gods respected the bond they shared with their sisters. And how a simple thread tied on the wrist becomes an unbroken vow of protection and love.