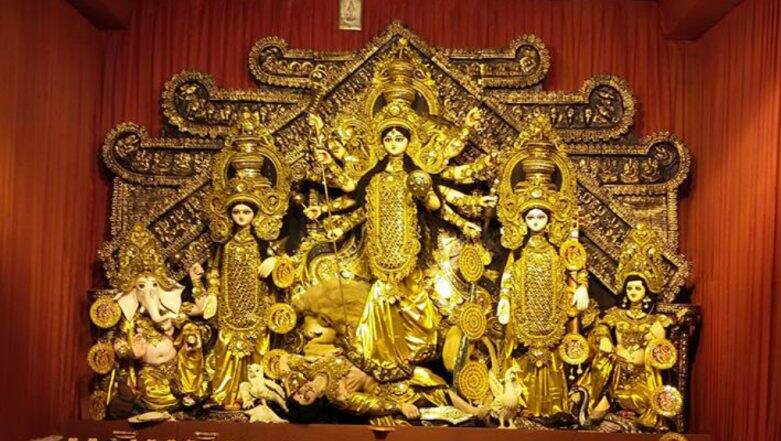 The festival of Sharad Navaratri worships the Goddess Durga and her nine forms on each of the days in particular order. Durga Puja, also known as Durga Pujo in Bengali is celebrated with much grander in West Bengal, Assam, Odisha and Bihar. It is held in the autumn months. Durga Stuti is chanted for worshipping the goddess. It is an easy form of Durga Saptsati composed by Maha Rishi Markande. The devotees chant it at the time of praying to the Goddess to invoke her blessings.
It is considered that by chanting Durga Stuti, Goddess Durga helps her devotees during the time of distress. In Durga Stuti, the Goddess is depicted as the power behind Lord Shiva. Devotees also believe that chanting Durga Stuti, devotees submit themselves to the goddess which makes their mind 'holy'.
Durga Stuti paath sung by Anuradha Paundwal:
Lyrics of Durga Stuti: 
Miti Ka Tan Huaa Pavitra, Ganga Ke Asnan Se |
Ant Karan Ho Jaye Pavitra, Jagadambe Ke Dhyan Se ||
Sarve Mangal Mangalye, Shive Sarvarth Sadhike |
Sharanye Trambake Gauri, Narayani Namo Stute ||
Shakti Shakti Do Mujhe, Karoon Tumhara Dhyan |
Path Nirvignya Ho Tera, Mera Ho Kalyan ||
Hridya Sinhasan Par Aa, Betho Meri Maa |
Suno Vinay Mam Din Ki, Jag Janani Vardan ||
Sundar Deepak Ghee Bhara, Karoon Aaj Tayaar |
Gyan Ujala Maa Karo, Metto Moh Andhkaar ||
Chandra Surya Ki Roshni, Chamke Chaman Akhand |
Sab Mein Vyapak Tej Hai, Jwala Ka Prachand ||
Jwala Jag Janani Meri, Raksha Karo Humesh |
Dur Karo Maa Ambike, Mere Sabhi Kalesh ||
Shradha Aur Vishwas Se, Teri Jyot Jalaoon |
Tera Hi Hai Aashra, Tere Hi Gun Gaoon ||
Teri Adhabhut Gaat Ko, Padhoon Mein Nischay Dhar |
Sakshat Darshan Karoon, Tere Jagat Aadhar ||
Man Chanchal Se Baat Ke, Samay Jo Aogun Hoye |
Dati Apni Daya Se, Dhyan Na Dena Koye ||
Main Anjan Malin Man, Na Jano Koi Rit |
At Pat Vani Ko Hi Maa, Samjho Meri Prit ||
Chaman Ke Aogun Bahot Hai, Karna Nahi Dhyan |
Sinhvahini Maa Ambike, Karo Mera Kalyan ||
Dhanya Dhanya Maa Ambike, Shakti Shiva Vishal |
Angh Angh Mein Rum Rahi, Dati Din Dayal ||
The devotees believe that with the help of Durga Stuti 'Maa Durga' listens to their problems and blesses them with the light of wisdom and puts an end to their darkness. By singing the stuti, they also promise that they will always remember 'mother Durga' throughout their lives. Festive Season Trains: Indian Railways Announces Special Trains for Durga Puja, Dussehra, Diwali; Check Schedule Here
The last four days called Saptami, Ashtami, Navami and Dashami are the most significant days for the Bengali community. It is a time to commemorate the killing of demon Mahishasur by Goddess Durga. Durga Pujo is celebrated with much pomp as elaborate decorations are made across pandals. During the Durga Puja, Bengali women also engage in Sindur Khela as a part of their rituals.