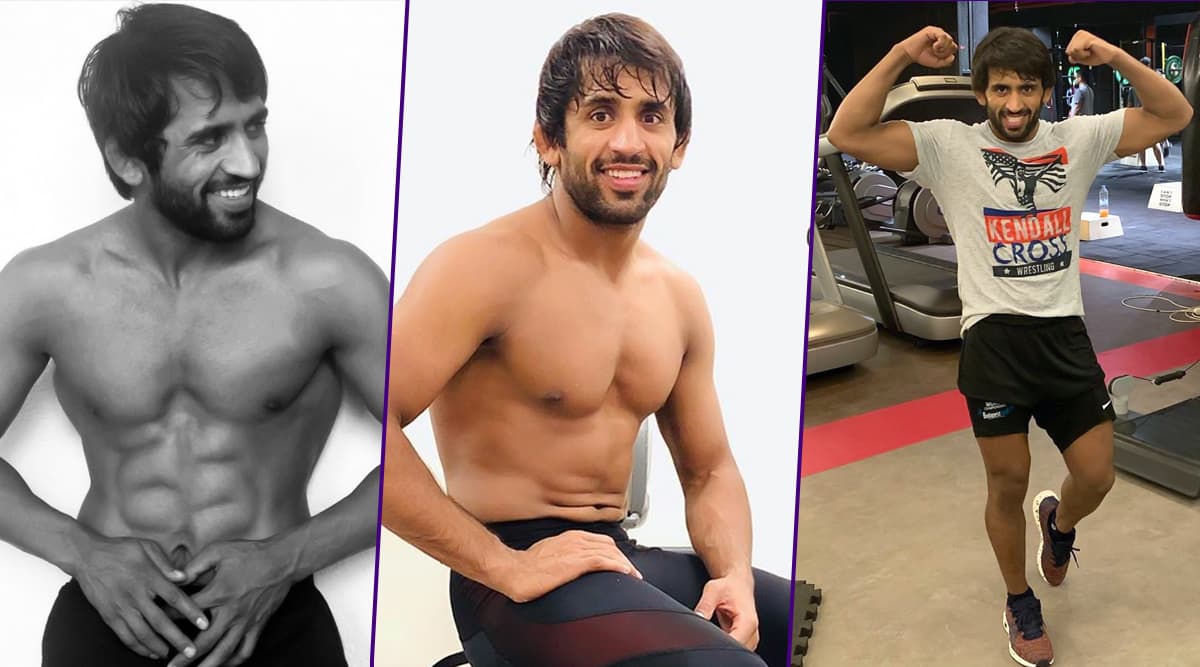 Bajrang Punia is an Indian freestyle wrestler who competes in the 65kg  weight category. He bagged a bronze medal in the recently-concluded World Wrestling Championship 2019 held at Nur Sultan, Kazakhstan. Bajrang Punia has also secured his quota for Tokyo Olympic 2020. To maintain his form, Bajrang follows a strict diet and workout regimen. The youngsters who have been aspiring to have a lean, muscular physique like Bajrang Punia should know his workout and diet secret. Bajrang Punia Wins Bronze at World Wrestling Championships 2019.
The 25 years old Bajrang Punia hails from Jhajjar district in the state of Haryana. Punia started wrestling at the age of seven and was encouraged to take up this sport as his profession by his father. Wrestlers commonly known as pehalwans in Hindi start their vigorous training from a very early age where they train on loose mud or Akhara in India.
If you want to become a wrestler, you will have to perform free bodyweight exercises from childhood like push-ups, squats and Hindu push-ups. Apart from strength and power, wrestlers also need endurance, for which they start to practice running long distances first thing in the morning even before sunrise. Now let us specifically throw light on Bajrang Punia fitness regime. PV Sindhu Workout & Diet: Unlock Fitness Secret of World Badminton Champion (Watch Video)
Bajrang Punia's Workout
Bajrang Punia mainly includes cross-functional training in his workout routine. His day-to-day exercise is the amalgamation of strength, conditioning and body balancing training. Just like any other wrestler his training aims to develop his power, strength, agility and off-course endurance. In the video, you will witness Bajran's training sessions that are totally insane. You can see him perform different form of calisthenic movement, rope climb, barbell step up, leg press, bicep curl, battle rope to name a few exercises.
Exercises Performed By Bajrang Punia 
Bajrang Punia Doing Thruster 
Bajrang Punia Doing Battle Rope 
Bajrang Punia Doing Cardio on Elliptical Machine 
Bajrang Punia's Diet
Bajrang Punia believes in eating good organic whole foods. He adds desi ghee in most of his meals. The reason for the heavy meal is to keep the glycogen level high in the body which is required for producing immediate Adenosine Triphosphate (ATP) required for anaerobic training which Bajarang Punia mostly performs.
Almonds are like a staple for Indian wrestler Bajrang Punia. He even drinks four litres of milk fortified with almond and desi ghee every day. Although four litres of milk may seem a little excess, wrestlers like Bajrang need micro-nutrients like vitamin D, vitamin BI, B6 and B12, calcium, which can be derived from this ghee-almond milk. Bajrang does not compromise on his lunch and dinner he eats an equal proportion of macro-nutrients in both his meal.
It is important to note that your diet depends on the way you train. Especially for athletes, diet plays an important role in their performance and training, as insufficient nutrient can deteriorate the health and can also cause injury. However, the diet requirement differs from different sports, for example, a cricketer will not be required to eat as much as a  wrestler does. Having said that, it is necessary to first determine your fitness goals and take consultation from a professional dietitian and fitness trainer before choosing any workout programme.