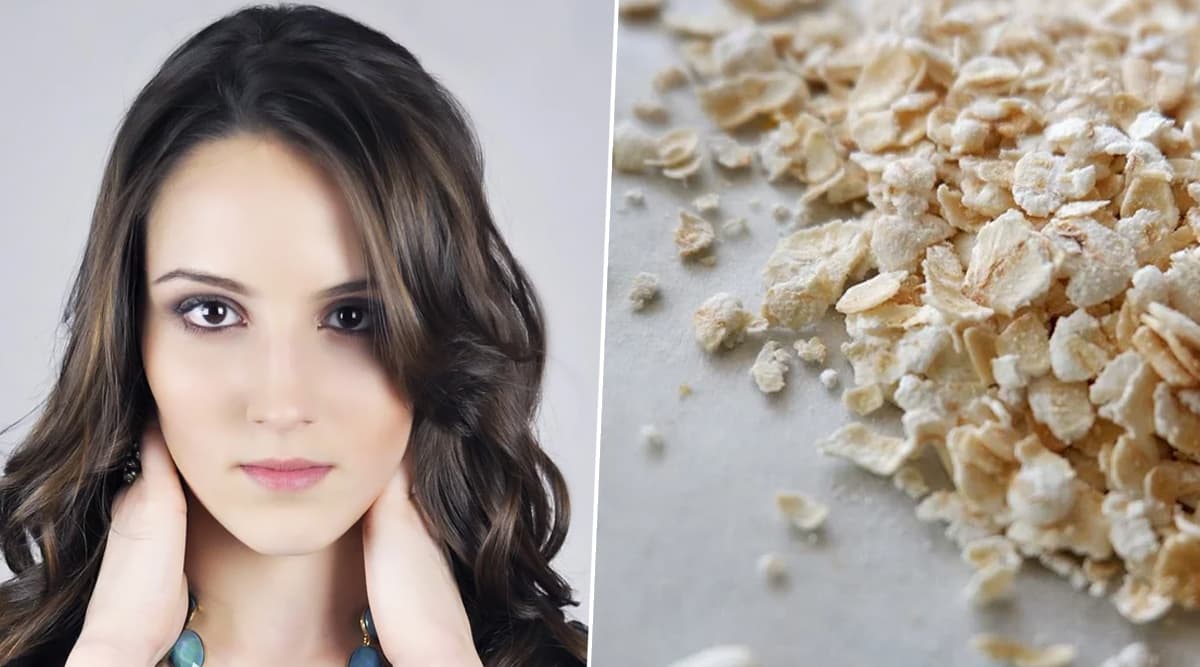 Who doesn't want to have beautiful glowing skin? We all desire for smooth flawless skin, however in that process, we get attracted towards highly expensive cosmetic products which use excellent marketing gimmick to upsell their products. We can use many ingredients as a home remedy to make our skin acne-free with a glowing and shinier look. Many of us have heard about the nutritional benefits of oatmeal, however, most of us are unaware of the fact that it is even good for the skin. In the below article, we will discuss how the oatmeal facial pack is good for acne-prone skin and different ways you can apply it to make your skin look healthier. Home Remedy Of The Week: Nutmeg (Jaiphal) For Beautiful and Glowing Skin; How This Spice Can Reduce Acne (Watch Video)
Oatmeal face pack also helps in skin whitening and giving that charming shinier look. It is better to use oats instead of any cosmetic products. Oats has no side effects, while the beauty skin care products available in the market contain bleach, which can damage your skin. Oatmeal is good for itchy, dry and irritated skin as it contains avenanthramides, antioxidant and anti-inflammatory compounds that help in curing these skin-related issues. Oatmeal absorbs oil from the skin's surface and this is the reason why it is good for acne-prone skin. Home Remedy of the Week: Potato to De-Tan Skin; How This Root Vegetable Can Make Your Skin Healthy & Glowing (Watch Video)
How Oatmeal Facial Pack is Good For Acne-Prone Skin
Oatmeal can remove the toxins from the skin as it contains 'saponin' which is a great cleanser for the skin. Oatmeal can moisturize the skin as it consists of lipid and protein. The anti-oxidants property of oats prevents the skin from getting damaged as it neutralises the effect of free radical which can make the skin lose its elasticity. The anti-inflammation feature of oatmeal helps to fight off acne, and improves skin's functionality. Oats contain Vitamin B1 which improves blood circulation and enhance the effect of skin whitening.
Oatmeal Face Mask For Glowing Skin & Acne Prevention 
Oatmeal face pack can be created by mixing oats with various other ingredients, however, what suits you the best, should be applied. This oatmeal facial pack remedy can be tried this season packed with wedding and other events. It can definitely help you attain a beautiful soft glowing skin and make your look more charming.
(This article is written for an informative purpose and should not be substituted for medical advice. Kindly consult your doctor before trying any tips.)