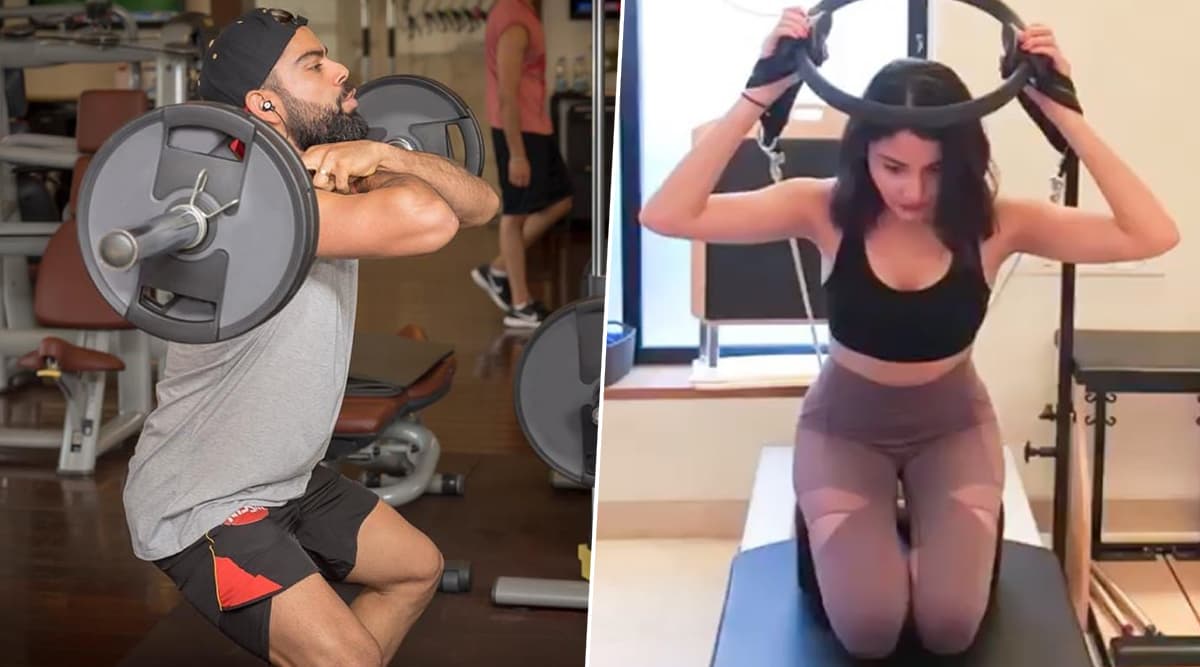 Virat Kohli, the captain of Indian Cricket Team and Anushka Sharma, one of the A-listed Bollywood actress tied knot on December 11, 2017. This year, India's most famous and beloved couple complete two years of their wedding and togetherness. Both Virat and Anushka have huge fan followings on social media, where they constantly post their adorable pictures and videos. Apart from being gorgeous and charming, the duo is also quite serious about their fitness and intent on leading a healthy lifestyle. On occasion of Virat Kohli and Anushka Sharma second wedding anniversary, we will have a look at a few exercise videos of Virushka, which makes them the fitness freak couple of the glamour world. Virat Kohli Can't Stop Beaming in his New Picture with Anushka Sharma from Their Movie Date Night.
Before we head into checking out the healthy lives of Virat and Anushka, we must tell you Captain Kohli will have a busy day on his 2nd wedding anniversary. The 31-year-old will be leading the Indian team against West Indies in the 3rd T20I match of the three-match series. The deciding game will be held at Wankhede Stadium in Mumbai. And, fans can expect Anushka Sharma to be present during the match to cheer for her husband and Team India in the series finale. Now let us have a look at the workout videos posted by Virat Kohli and Anushka Sharma. Anushka Sharma and Virat Kohli's New Picture from their Bhutan Holiday is all About Loving your Soulmate.
Workout of Virat Kohli and Anushka Sharma
Virat Kohli and Anushka Sharma are indeed one of the fittest couples in the world. Virat being a cricketer train for endurance, power and explosive strength. The Indian skipper includes Olympic weightlifting exercises like the power clean, snatch in his training routine. Kohli also incorporates strength and conditioning exercises in his exercise regime. On the other hand, Anushka Sharma keeps herself fit by doing pilates. Anushka does lower body exercise like lunges on the pilate machine with ease and perfect form. Apart from that, Anushka also does some weight training exercises like bicep curl by dumbbell, double hand dumbbell tricep extension, etc. Virat Kohli Fitness Regime: Workout & Vegan Diet of Indian Cricket Team Captain That Has Helped Him Transform From a Boy With a Chubby Face to the Most Aesthetic Cricketer (Watch Videos)
Virat Kohli's Snatch Grip Upright Row and Front Squat
View this post on Instagram
Virat Kohli's Snatch Exercise 
Anushka Sharma's Pilate Exercise 
Anushka Sharma and Virat Kohli Workout Compilation 
Virat Kohli follows a vegan diet, while Anushka is also a vegetarian. The Indian Cricket Team captain derives his protein from plant-based food, as vegans cannot even use dairy products. It would not be wrong to say that Virat and Anushka give major fitness goals to other celebrity couples around the world.