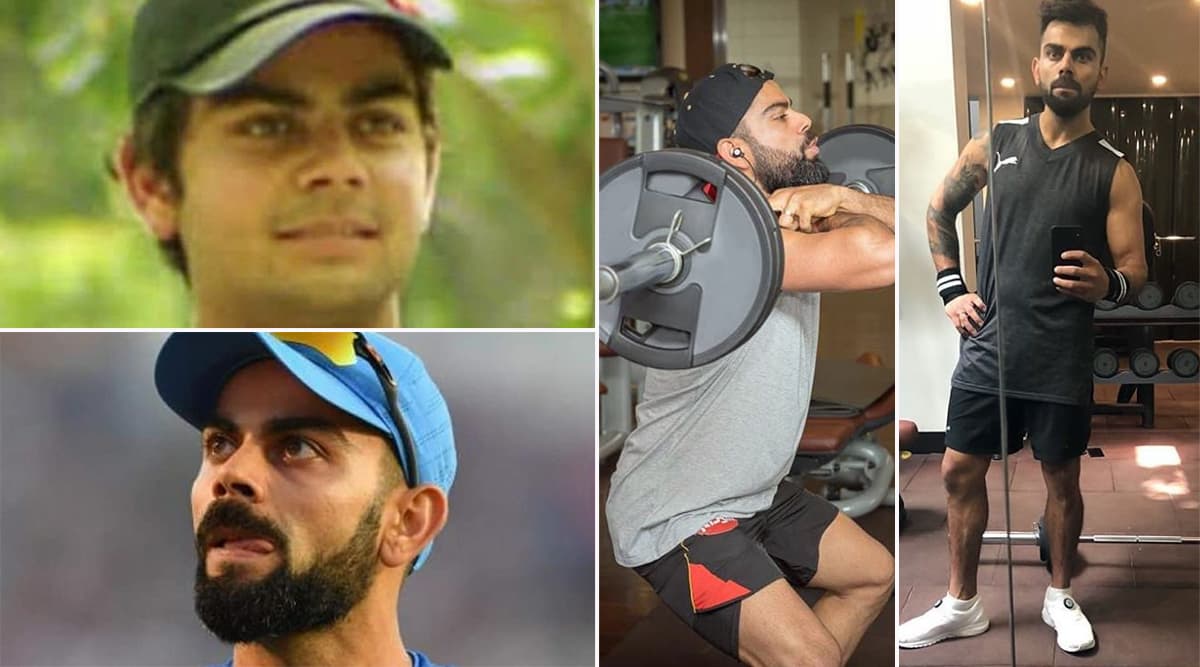 Indian Cricket Team captain Virat Kohli is indeed one of the fittest athletes in the world. His hardcore fitness routine is very challenging and can give tough competition to any sportsperson around the world. Virat Kohli turns 31 years old on Nov 5, 2019, however his endurance level is no less than any teenage. Meanwhile, let us throw some light on Virat Kohli's workout and vegan diet which has helped him transform from a round face chubby boy to the most aesthetic cricketer. Virat Kohli Vegan Diet: Everything You Need to Know about the Indian Skipper's New Plant-Based Lifestyle.
Virat Kohli is currently World's No 1 ODI batsmen and has also taken his team to a good height in Test Cricket. Under his captaincy, India maintains number one position in ICC World Test Championship with 240 points. He is also the most successful Indian captain in overseas as well as at home. Virat Kohli's excellent fitness can be seen on the field, like the way he fields, runs between wickets and play excellent cover drive shot with good body balance. Virat Kohli has credited his major transformation to the vegan diet, the Indian Cricket Team skipper eats only plant-based food.
Virat Kohli Credit Vegan Diet to His Ultra-Fitness 
Saw game changers on Netflix. Being a vegetarian athlete has made me realise what I have believed all these years regarding diet was a myth. What an amazing documentary and yes I've never felt better in my life after I turned vegetarian.

— Virat Kohli (@imVkohli) October 23, 2019
Virat Kohli's Workout
Virat Kohli's exercise routine is the amalgamation of Olympic weightlifting exercises like the snatch, power clean, conditioning training, body balancing and endurance training. Kohli loves to lift the weight and constantly post his video of doing a different type of Olympic lifts on Instagram. Virat Kohli never misses his workout session and hit the gym even while travelling. Kohli even has chiselled core and to maintain that he does a good amount of abdominal muscle exercise.
Virat Kohli's Overhead Press in Squat Position 
View this post on Instagram
Virat Kohli's Front Squat & Snatch Grip Upright Row
View this post on Instagram
Virat Kohli's Snatch 
Virat Kohli's Power Clean 
View this post on Instagram
Virat Kohli Training His Core 
View this post on Instagram
Virat Kohli's Diet 
Virat Kohli has turned vegan last year and this has helped him to take his fitness to the next level. However, for this, he must have done good amount of research as you cannot turn vegan overnight. You have to study your body and diet history and then work out the vegan plan accordingly for yourself. Virat Kohli follows vegan food eating habits, which means he doesn't eat anything derive from animal and only stick to plant-based food. To fulfil his protein and calcium requirement he takes soy protein which majorly includes Tofu. Apart from that, to meet his micronutrients requirement he eats green leafy veggies like cabbage, spinach and broccoli. It must also be noted that there is no cheat day in Virat Kohli's diet. Virat Kohli's fitness should motivate every youngster and even adult to lead a healthy lifestyle.