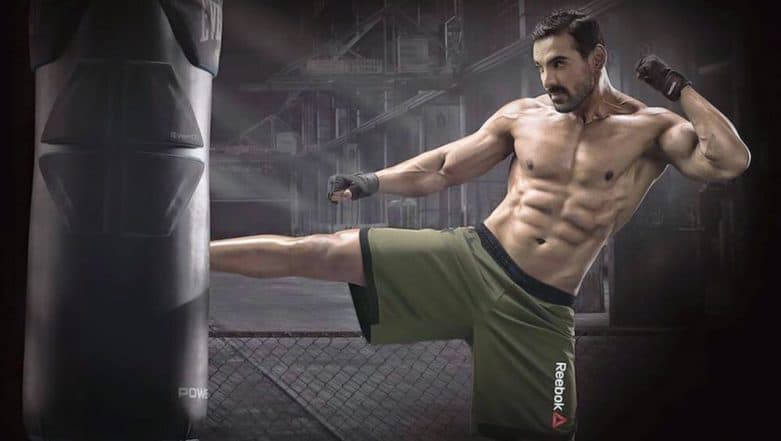 John Abraham is one of the most influential fitness icons in the film industry. He started his career through modelling, and we have seen him maintain his great shape in all his movies. At some point, everyone wanted a physique like his. But can we achieve it? Yes of course, but it does not come easy. One has to put full efforts into fitness and make it an essential aspect of one's life. A little hard work is all that keeps you from achieving a body like John's. Let's take a look at the Romeo Akbar Walter actor's diet and workout routine. WORST Exercises and Workout Mistakes That Will RUIN Your Fitness Goals.
The Beast of Bollywood never misses his workout even in a tight schedule. In an interview with TOI, John said that he is always addicted to fitness and it is his drug. Now that much amount of dedication is required to get a hardcore physique, as there is a good saying that, "Hard work always pays off."
Diet Tips by John Abraham
According to the RAW star, nutrition plays an essential role in the development of your physique. Exercise contributes to 40 percent of your fitness while the rest is by diet.
He also states breakfast is the most important meal of the day, and one should have egg whites for breakfast, as they contain essential amino acids. According to John, there is no need to cut down on carbs for an aesthetic physique; all you have to do is balance your meal.
John also added that your muscles need to be repaired with a good proteinaceous meal after the workout. One should also drink a lot of water and include fruit and vegetables the diet.
For protein supplements, John recommends whey protein and protein bars. For his look in Force 2, John used to eat around 25 -30 egg whites per day. But now he has dropped down to ten. He alters his diet according to role requirements for the role in his movies. John does not eat meat; therefore for protein, he mostly relies on fish and egg whites. Click on the video below to hear what John has to say about fitness.
John Abraham Workout at his personal gym
John Abraham Workout Plan
For each of the exercise, you should perform three sets of 10- 12 repetitions each. One should select the weight as per their One Repetition Maximum(ORM). It is better to train between 60 to 80 percentage of your ORM. 10 Benefits of Strength Training: Overview of Muscle Development Techniques.
Day 1-Training of Chest(Pectoralis) Muscles
Barbell chest press on flat bench

Dumbbell chest press on flat bench.

Incline bench press

Incline dumbbell press

Decline dumbbell press

Dumbbell fly

Cable fly
Day 2- Training of Back(Latismus Dorsi & Rhomboid Major) muscle and Core Muscles
Pull-ups

Wide grip lat pulldown

Cable row

Barbell row

Dumbbell row
For Abs exercise, three sets of 15 reps each should be performed
Russian twist

Decline weighted crunches

Hanging leg raises
Day 3- Training of Legs(Quadriceps, Hamstring and Gastrocnemius) muscles
Squat

Lunges with weights

Leg extension

Lying leg curls

Leg press

Calf raises
Day 4- Training of Shoulder(Deltoid and Trapezius) muscles and core
Overhead press by barbell

Arnold press

Front raises

Side lateral raises

Bent over rear delt raises

Barbell upright row

Dumbbell shrug
For Abs
Hanging knee raises

Bicycle crunch

Woodchopper

Knee hugs
Day 5- Training of Bicep and Tricep
Barbell curl

Alternate arm dumbbell curl

Preacher curl

Hammer curl

Skull crusher

Cable push down

Alternate arm tricep dumbbell extension

Cable rope overhead tricep extension

Tricep kickback

Wrist curl
Rest on day 6 and day 7. For cardio, every day, 15- 20 mins of cycling is recommended, it not only works on your endurance, burn your fat but also develop your lower body strength.
John Abraham Diet Plan
John does not follow a very complicated diet, but he takes care of his macronutrients. He ensures that he at least has one boiled potato, fresh fruits and 3 egg whites for breakfast along with a cup of tea.
After the gap of two hours from breakfast, he takes whey protein along with two egg whites. For lunch, the Rocky Handsome star eats fish, veggies, sprout and roti. In evening again he includes potato and fresh fruits along with egg whites in his meal. John Abraham has dinner before 9 pm and eats fish with roti or veggies.
The Force star doesn't believe in the cutting carbs; in fact, he uses carbohydrates as fuel for his workout. John has whey protein shakes along with protein bar and three egg whites after he completes his workout.
Although you now have John Abraham's diet and workout plan, it doesn't mean you will get quick results. Also the intensity of your workout, your body type and lifestyle will also play a role in the development of your physique. Always remember there is no shortcut to success.
(This article is written for an informative purpose and should not be substituted for medical advice. Kindly consult your doctor before trying any tips.)