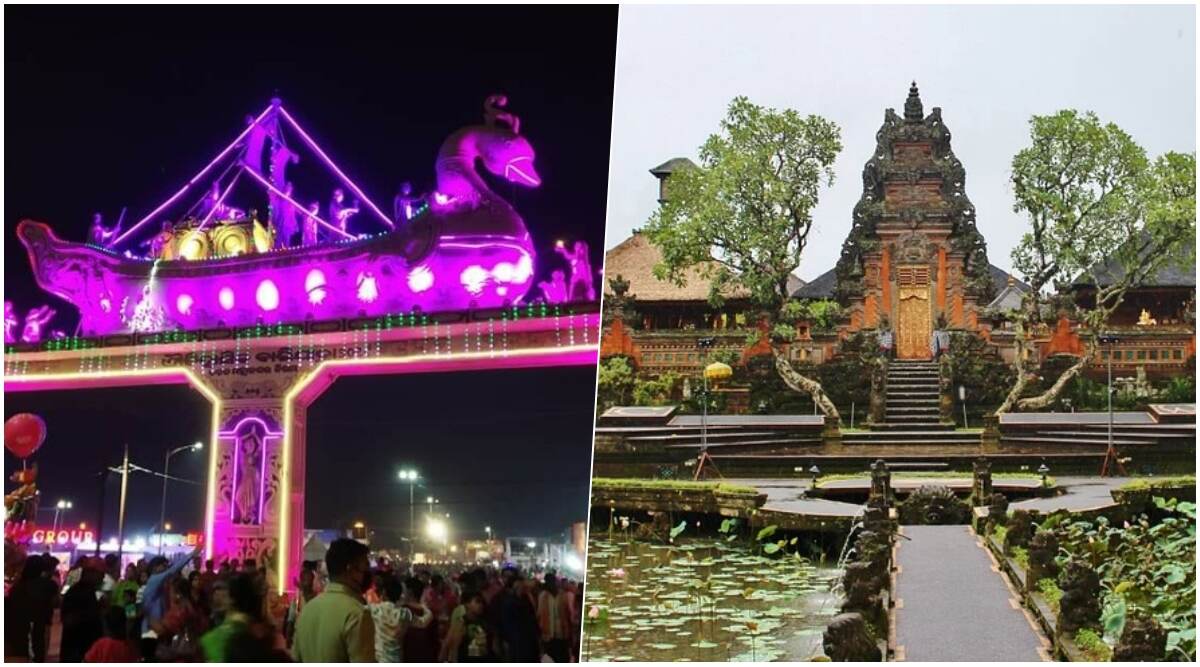 India is rightly called as the land of festivals. With so many diverse cultures coexisting together, there are some celebrations happening in some part of the country. Some of us must still be getting over the Diwali celebrations, but Odisha the Eastern state of India is enjoying the celebrations of Bali Yatra. Also known as Bali Jatra it is one of the most awaited time for residents of Cuttack. Bali Yatra 2019 began on the day of Kartik Purnima and will go on for about a week. Primarily celebrated by the Sadhabas or the Odia mariners, this observation dates back to the 2nd century BC. And it is very much linked to Bali, a very famous tourist spot in Indonesia. Let us look into how this ancient Indian festive occasion relates to one of the most popular tourist spots in the world. Bali's Famous Tourist Spot 'Gates of Heaven' Is Not How It Looks on Instagram! Tweet Revealing the Truth Behind the Reflection Goes Viral.
Balijatra literally means A Voyage to Bali. This festival is held at the Gadagadia Ghata of the Mahanadi river and is dedicated to the sailing voyages to distant lands by the mariners. The sailors offer a prayer to the Gods and set sail to foreign lands for trade and cultural expansion. There are many reports and records which point to the connections of sailors heading towards Indonesia. Visitors to Odisha's Bali Jatra to Be Imparted Legal Awareness.
As mentioned in a book by urban theorist and author Sanjeev Sanyal, back in time, present-day Odisha had a port named Palur. It was being ruled by Emperor Ashoka who carried on trade with China, Rome and other South Asian countries. Bali was known for its spices, pearls gems, silk, camphor and sandalwood for the traders. So Indian sailors and traders embarked on a voyage for months to get these. Depending on the monsoon winds and ocean currents, they would set sail and head south and then to Indonesia. They would sail to Java, Bali, Borneo, Sri Lanka, and Sumatra.
Check Pics and Videos of Bali Jatra 2019 Celebrations:
Odisha is celebrating #KartikPurnima, also end of the holy month of Kartika, change in direction of wind that helped flourishing maritime trade. And of course start of #BaliJatra in Mahanadi river bank in Cuttack.👍 pic.twitter.com/nbnolbK2Dx

— NandiniMSarangi (@nandini_sarangi) November 12, 2019
Here's a Video From Past Celebration:
Since the sailors would go off for months, their wives would come to the ports to see them off. The women would offer prayers for the safety and well-being of their husband and other members of the family. This tradition has now grown in a full-fledged festival that goes on for a week. Today, the revellers make artificial boats and light lamps in them. It is called as Boita Bandana. As several boats with lights in them sail in the river and lake waters, the landscape looks beautiful. These boats symbolise the start of ancestors' voyage.
People sing a song Aa ka ma boi, pan gua thoi... to remember the early maritime history of the state. Today there are large fairs organised here which sell the traditional toys, artifacts and cultural symbols to everyone. Besides, there are several cultural programs organised here. Isn't it interesting that while many chose to travel to Bali for tourism purposes today, we have a festival that is dedicated to voyaging to the distant land?