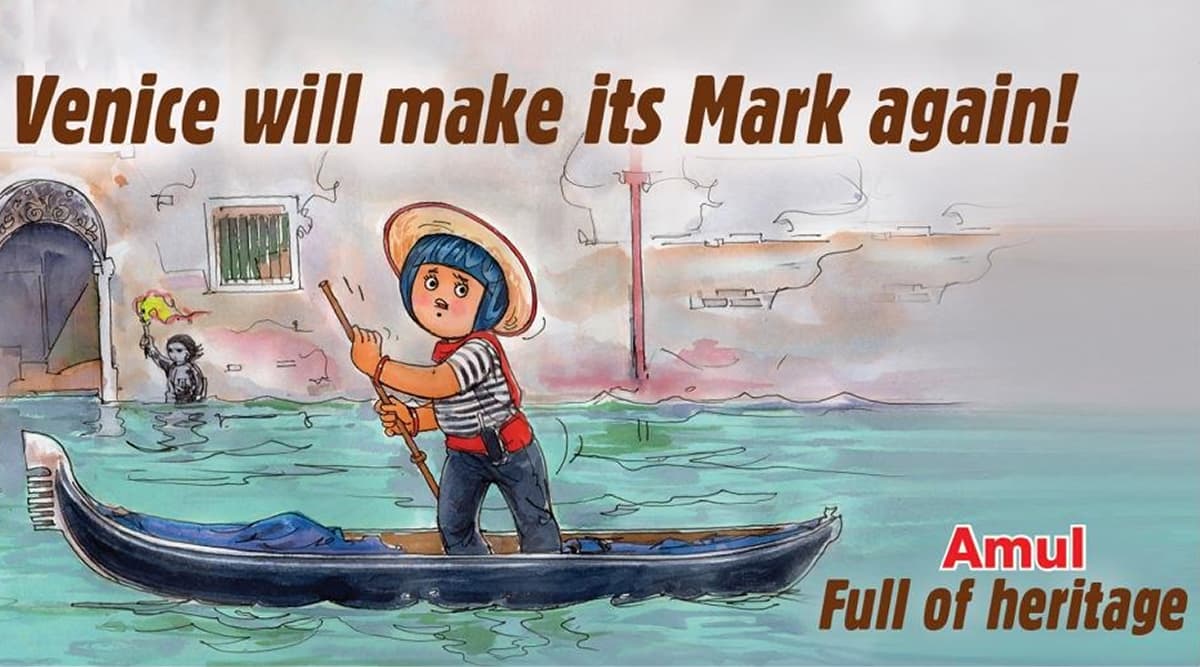 One of the world's popular tourist spot Venice, the city of canals is currently flooded with terrific floods in the past week. Italy declared a state of emergency following the exceptional tide on November 14. With the streets flooding and knee-deep water in the churches, there have been damage worth million euros. And to show some hope to regain from this calamity, Indian dairy brand Amul has made a nice Topical doodle. The doodle shows the iconic Amul girl trying to wade through a boat in the flooded water. The text reads, "Venice will make its Mark again!" Venice Floods: St Mark's Square Closed After Italy Declared a State of Emergency.
The city of Venice saw an unprecedented third major flooding in less than a week. The historic city was hit by the highest tide in 50 years. Pictures and videos of the flooding were shared on social media too. Amul is known for choosing topics of relevance and trends to make a special doodle each day. Their creativity gets all the love from the audiences and people especially wait for these topicals to see how they represent any issue. Be it an event, an achievement, birth or death anniversary, Amul has released a topical for such occasions. Amul's Topical Ad on Communication With Vikram Lander Has People 'Loving Them to The Moon and Back'.
Check Amul's Topical on Venice Floods:
#Amul Topical : Popular touristic city is sinking... pic.twitter.com/IGkEaH3wqZ

— Amul.coop (@Amul_Coop) November 18, 2019
Watch Video of Flood Situation in Venice:
Although the damage in million euros is not easy to incur, we too hope the city of heritage revives from the blow. Prime Minister Giuseppe Conte called this flooding "a blow to the heart of our country". People have been given temporary aid and more government aid has also been announced. Tourists have also cancelled their booking after the news of the floods came up. Although the city has less population, it thrives on the millions of tourists that visit here every year.