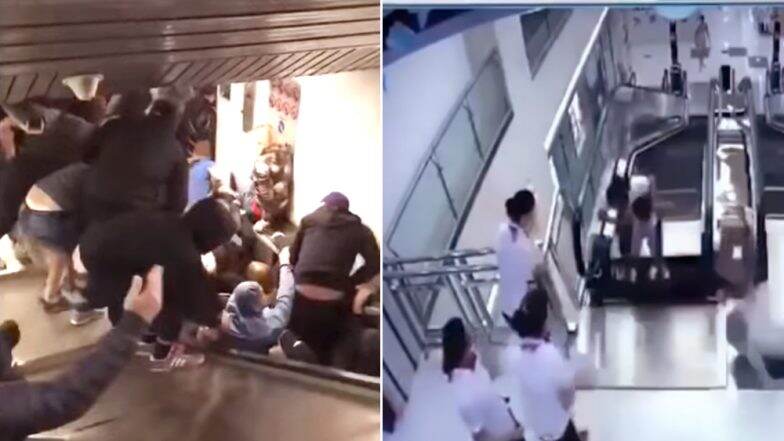 Escalators are meant to ease the trouble of climbing stairs. The moving stairs have been installed in so many public places, especially those involving commuting. Be it stations, subways or malls, escalators are used everywhere. But the comfort has turned into grief on several occasions, the most recent incident in Rome. Almost 20 people were severely injured when an escalator at a metro station collapsed.
The accident was horrible with people entangled and crushed under each other as they were hurtled towards the base of the stairs. The soccer fans were returning from a game and it was reported that the group was created a ruckus on the stairs before they collapsed. But the incident has left people severely injured. But is this the first time escalators have proved life-threatening? Well, in fact, there have been instances where escalators have even claimed the lives of certain people. This Video of Kanpur People Using Escalators on the Railway Station is Quite Funny. 
Look at a List of Accidents have been caused on Escalators
Watch Video of the Escalator Accident That Took Place in Rome
A man identified as Carlos Alvarez died in a freak incident in the Bronx subway on October 15 this year. His shirt was accidentally caught in the mechanism of the stairs and he was dragged all the way up. The man was dead because of the choking. The police had to cut his shirt in order to free him and rush to the hospital. But Alvarez was unresponsive by the time he was rescued and was declared dead in the hospital.
An escalator at a school at Stuyvesant High School in Manhattan injured 10 students in the month of September. One of the students was severely injured with cuts on his toe. What exactly caused this accident was not known but was immediately taken down of service.
Video of Stuyvesant High School Escalator Accident
In HongKong, 18 people were left injured after an escalator suddenly reversed due to malfunction. A damaged driving chain and braking system caused the malfunction at Langham Place leaving many shoppers injured and tumbling. The escalator was twice as fast and people piled up on one another.
Check Video of Escalator Accident at Langham Place in Hong Kong
A rather freak accident took place in China in the year 2015 when a woman was eaten up by the escalators. The incident took place at Hubei mall and she was pulled in the panels. Her son was also with her but she pushed him as she fell to death. The video of the incident had gone viral because no one would have expected something like this to occur years ago.
Watch Video of Woman Who Fell to Death on an Escalator in China
These incidents are not the only ones, there have been numerous other accidents in other places that have caused injuries. We use escalators regularly but looking through these videos is horrific.