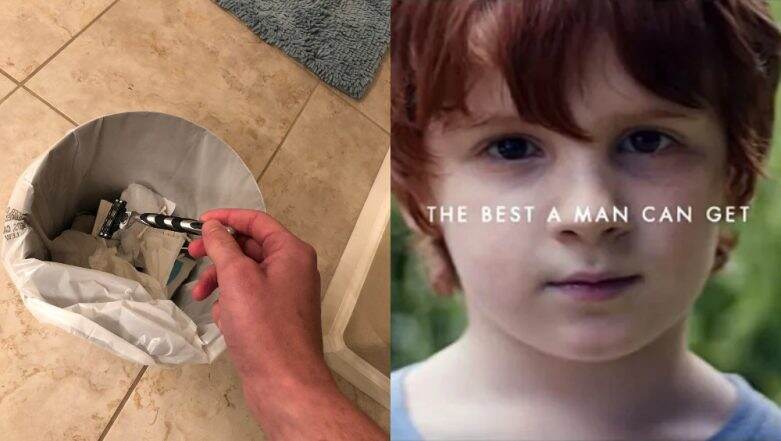 Gillette's ad against toxic masculinity had divided the internet earlier this week. While one group hailed the brand for speaking on the issue, the other hit out at Gillette saying they were simply trying to cash in from the current feminist wave. As debates and discussions on the topic continued on social media, a Twitter user posted a picture of his Gillette razor in the toilet. Following which many men took to social media sharing videos of discarding Gillette products in the trash with the hashtag #BoycottGillette.
However, they were met with equal criticism from social media users for throwing away products they bought with their own money. Some also said that razors can't be flushed down a toilet and even if they do, it will block the pipe and will eventually have to call a plumber. However, people continue to follow the trend and some of them also posted pictures with brands of new razors after throwing Gillette items. Did Gillette Take a Jibe at Hardik Pandya in their Latest Ad Campaign Following KWK 6 Controversy? (Watch Video)
Check out the tweets below:
I have always used #Gillette but I will not be buying and using your product. #BoycottGillette https://t.co/ZU3TAvNUt0

— Jason White (@JasonCDN88) January 14, 2019
The brand's 30-year tagline, 'The best a man can get' has been replaced with 'The best men can be' in the ad campaign.
So long old friend. #boycottGillette #thefutureismasculine pic.twitter.com/6SWJPhq16w

— Joseph Biagas (@JosephBiagas) January 16, 2019
It speaks against sexual harassment at workplaces, eve-teasing, violence, stopping fights between boys among many other things.
This was the #Gillette razor I was sent on my 18th birthday. It's been with me through basic training, four deployments, and seven moves. I've used it almost everyday for the past 15 years. But since @Gillette thinks I'm a bad person, I'm throwing it away. #BoycottGillette pic.twitter.com/yVwFx4z9QH

— Truffle Fries (@fakespike1) January 16, 2019
Among men who have threatened to boycott Gillette includes TV personality Piers Morgan who called the advert a "virtue-signalling PC guff which may drive me away to a company less eager to fuel the current pathetic global assault on masculinity." Nike Receives Backlash for Featuring Colin Kaepernick in New Ad; #JustBurnIt and #BoycottNike Trends on Social Media.
Here is the tweet:
ICYMI:

My @DailyMail column on why @Gillette's man-trashing commercial is the worst an ad can get: https://t.co/oxerBI37av pic.twitter.com/Z9nmmgkJpL

— Piers Morgan (@piersmorgan) January 16, 2019
Check out the tweet below:
It's been real. @Gillette #BoycottGillette pic.twitter.com/e7Or9hToHM

— Drew Van Roekel (@DrewVanRoekel1) January 16, 2019
Smash Gillette. #BoycottGillette pic.twitter.com/rh4sxMLumP

— Phil Sayles (@phil_sayles) January 15, 2019
Here is Gillette's ad that created the controversy:
The ad also received a lot of support for speaking outrightly on issues that brands have deterred from touching up. Bernice King, daughter of civil rights champion Martin Luther King also praised Gillette's message. She took to social media writing, "This commercial isn't anti-male. It's pro-humanity. And it demonstrates that character can step up to change conditions."