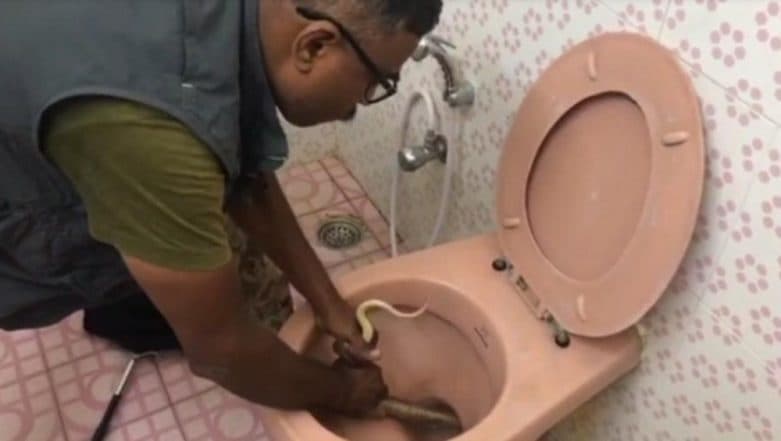 Bengaluru, June 19: In a surprising incident, a man in Bengaluru found a spectacled cobra in his toilet bowl. The video of the snake being rescued is going viral on the internet. According to the report, on June 9 morning, Pramod Kumar, a resident of JP Nagar, found reptile in the Western toilet bowl following heavy showers in the area. After founding the cobra, he contacted a wildlife volunteer team affiliated with the civic body.
On being informed, Rajesh Kumar rushed to the location and initially tried to rescue snake with his bare hands but failed. He then tried to remove Cobra using some tools and nearly after half an hour the snake was rescued. The snake was later released into the forest. Snake Bit an Australian Woman's Butt in the Toilet, Here's What Happened Next!
Watch Video:
"We get several calls daily. Vehicle parking areas, gas cylinder bases, shoe racks, toilets, junk storage space, compound corners and lawns are some places where snakes are taking refuge," according to a report in Times Now, Rajesh said. He added that reptiles are attracted to the dirty atmosphere as they expect to find and eat rat there.  Snake Bite and Boat Mishap Incidents to Get Compensation Under Disaster Relief List as UP Government Extends Ambit.
In a similar incident from Bangalore, another cobra was found in a car bonnet. The car was parked in a garage in Banaswadi area. After the snake was spotted, a wildlife volunteer was called who arrived at the spot and rescued it. According to reports, the snake had taken shelter in the vehicle after some locals had chased it.