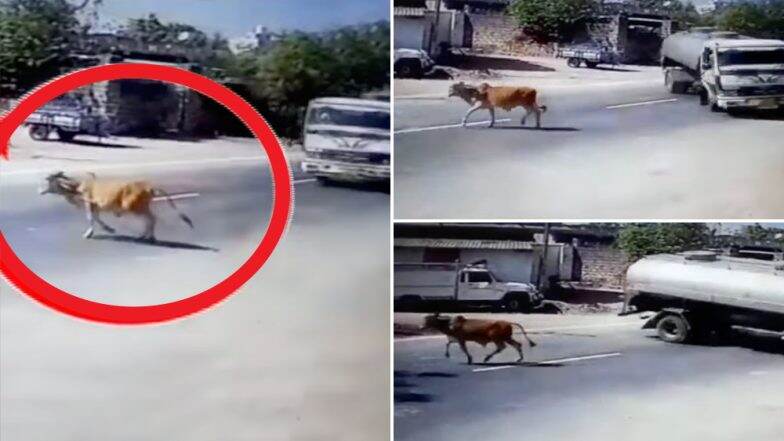 The traffic rules in India, unfortunately, do not apply to the animals that randomly walk across our streets. It is not a rare sight to have cats, dogs and especially cattle walking in the middle of the main roads. In rural areas, the vehicles are expected to make way for them and go from the sides. But a truck driver from Junagarh nearly risked his life to save a cow. The truck was coming in full speed while the cow was crossing the road. The truck driver not wanting any untoward incident quickly applied his brakes to save the life of the cow. The dramatic footage of the escape was captured on a CCTV camera nearby and has been shared online. Child Cheats Death in Bengaluru: Accident Video of Riderless-Bike Travelling 300 Metres With Kid Goes Viral.
The truck driver was in great speed so when he applied the brakes, the truck took almost 180 degrees turn. Thankfully, it did not lose its balance or the driver would have got seriously injured or could have even died. The cow startled and despite the truck taking a full turn, it did not get any hurt. The cow missed the truck by just a few inches.
Watch Video of a Cow Being Saved by a Truck Driver in Dramatic Incident in Junagarh
Isn't it scary? The way the truck just swooped around it could have turned and the results would have been disastrous. The dramatic turn feels like straight out of a movie scene. Last year, another video went viral when a child miraculously remained unhurt despite a car running over it. The incident took place in a residential colony when a woman was taking out her car from the parking area. Few kids were playing around and the footage showed the car going over the child. But the kid wasn't hurt, he just got up and headed to his other friends.