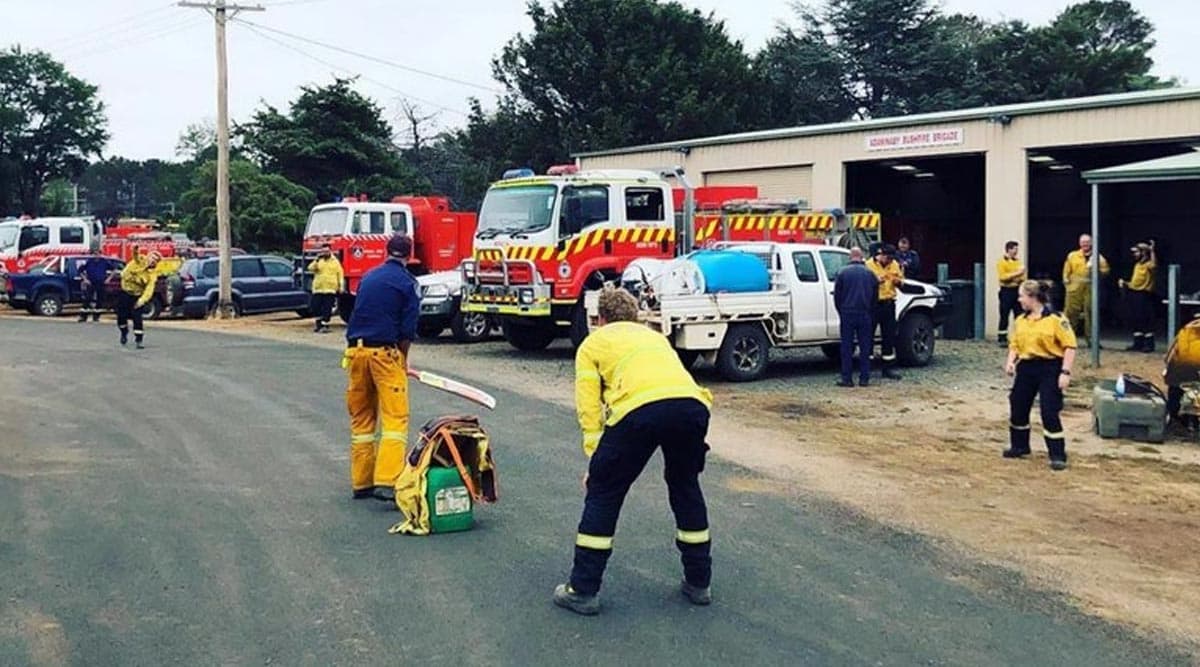 Australia is certainly in great crisis at the moment as a great part of the country is affected by bushfires which have caused big damage. However, the firefighters of the nations are leaving no stones unturned to minimize the harm. Well, a substantial responsibility is on their shoulders as fighting with the great disaster is no easy job. However, in between their rescue mission, some of the firefighters were seen enjoying their spare time playing cricket. The official Twitter handle of International Cricket Council (ICC) shared a picture of the Aussie heroes trying their hand on the gentlemen's game. Shane Warne's Baggy Green Cap Fetches Over 1 Million Australian Dollar for Bushfires Aid.
Cricket is certainly one of the most loved and celebrated sports in the country and it was evident that the fighters were also not able to keep themselves away from the game, amid the critical situation. The natural disaster in Australia has claimed a lot of humans and animals lives and the issue isn't sorted yet. Even, few firefighters have lost their lives and people will hope that the death count would not increase. Ricky Ponting, Shane Warne to Lead Retired Australian Legends in Charity Cricket Match to Raise Funds for Bushfire Victims.
See Post!!
Shout out to these Aussie heroes in Adaminaby, NSW.

Our wonderful game bringing people together #LoveCricket pic.twitter.com/smil9GuHD1

— ICC (@ICC) January 12, 2020
Till now, the wildfire has taken the lives of 1.25 billion animals and have ripped through more than 6 million hectares of land. Nevertheless, many Australian sportspersons have put their hands up by raising funds for the bushfire victims. Legendary spinner Shane Warne auctioned his baggy green cap through which he contributed over one million dollars for the noble cause. While Cricket Australia have also shown a great sense of responsibility and have organised a charity match between former Australian cricketers in order to collect maximum fund to help the bushfire wounded persons.