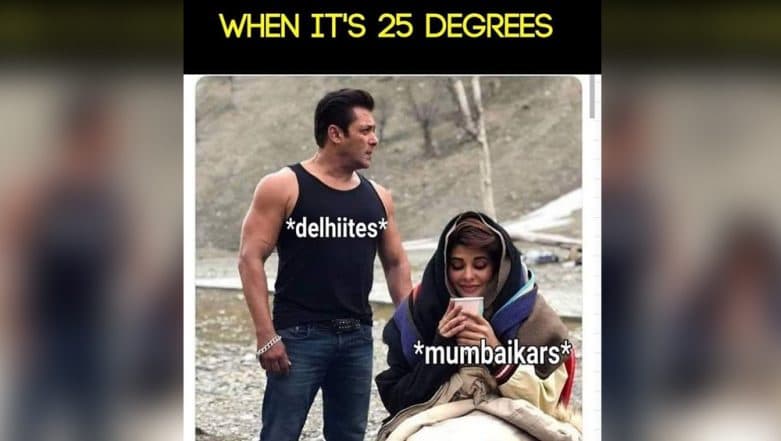 It's winter and the forever comparison between Delhi and Mumbai on which city is the coldest, is back. While Delhiites may rightly argue that they are experiencing 'real' winter with temperatures being record low, Mumbaikars who barely manage to witness nominal cold weather between December to January, are more than happy with the chill.
Delhi recorded the coldest temperature in four years on Sunday with the lowest recorded at 3.6 degrees. The cold wave has swept across north India with the Himalayan regions witnessing minus temperatures. Delhiites who are quite used to the cold temperatures are armed with their best mufflers, hoodies and of course hot tea. And they can't stop laughing at Mumbaikars who are boasting about the 'itsy bitsy' winter at 20 degrees being the lowest. Delhi Winters: Stray Dogs in Capital City Get Sweaters Every Winter to Fight Cold, See Cute Pictures.
And with Twitter having all the rights to hold an official debate on the matter, has once again served as a platform for the same. Memes and funny jokes on the Mumbaikars saying it's cold at 20 degrees have gone viral on social media. With the epic war on winters in Delhi and Mumbai being back on social media, we present you the best from the 'chilly' debates! Delhi Shivers Under Cold Wave, Flight Operations Continue As Per Schedule As Visibility Improves.
Check out the tweets below:
Delhi vs Mumbai DEFINED rightly
😂😂😂😭😭😭😂😂😂 pic.twitter.com/1LVlV5YxJH

— स्वाति 🇮🇳 (@singhaiswati09) December 18, 2018
What do you think, Mumbaikars?
Way out of league..#winters #mumbaiwinter #Mumbai pic.twitter.com/gHxjHx96Pr

— Ashish Rawat (@raw_ashish12) December 24, 2018
Really, Delhi folks?
Delhi folks talk about #Mumbai winter more than Mumbai folks talk about Mumbai winter.

— Salil (@sa_lil) December 19, 2018
HAHAHA
Want to hear a joke? Mumbai winter.

— Jenster (@JainaChandwany) December 24, 2018
That's how winters are everywhere
रोज का संघर्ष सिर्फ नार्थ वाले समझेंगे ये बात 😂😂😂#north #winters #dillikisardi #winteriscoming #delhi #funny #memes #trolls #desi #bakchodi #harami #bihar #madhyapradesh #delhi #rajasthan #udaipur #chandigarh #AssemblyElections2018 pic.twitter.com/SNVvvGXyUO

— Gangs Of North (@GangsOfNorth) December 11, 2018
Delhiites may shiver with cold but not give up their fight against people of Mumbai in claiming to have the best winters. And residents of Mumbai with no option in hand, have to be happy with whatever the weather has in store for them. And thanks to meme makers, we share a laugh at their jokes on social media. Also, let long live winters with both the cities sharing equal hate for summers.