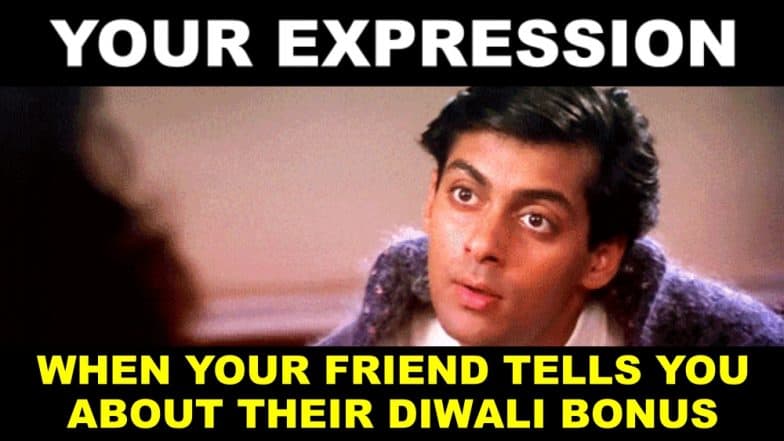 It's almost time to celebrate the 'Festival of Lights' – Diwali or Deepavali. We are gearing up to perform Lakshmi Puja for the Goddess of Wealth and Prosperity. While the preparations for the major Hindu festival are in full swing, employees across the nation are also eagerly waiting for their Diwali bonuses. Yes, the thought of getting big Diwali bonuses is the next level of happiness for an employee. Especially after hearing about big-hearted employers giving away cars and FDs, one tends to get a little hopeful. But let's be honest, not all of us get what we desire on Diwali. So, what should we do then? Well, share hilarious Diwali bonus memes and jokes because they are funny and free to download! Diwali 2018 Gift Ideas for Employees: Best Corporate Gift Options to Pamper Your Office Staff This Festive Season.
Who should be sharing these Diwali Bonus 2018 jokes and memes? Are you still waiting to hear from your HR on Diwali bonus? Have you been handed only a pack of Cadbury Celebrations as your Diwali bonus? Are all your friends getting amazing bonuses this festive season? Then you must share them TWICE! Why? Because laughter is the best medicine to hide the pain. After all, Diwali is just a few days away, and there is no news (or any hope) of any gift, cash or voucher. But Diwali bonus or not, no one can stop you from getting your meme game on point. Diwali 2018 Date Calendar for India: When Is Dhanteras, Lakshmi Puja, Govardhan Puja and Bhai Dooj? Get Complete Deepavali Holiday Dates.
Your Constant Expression This Diwali Season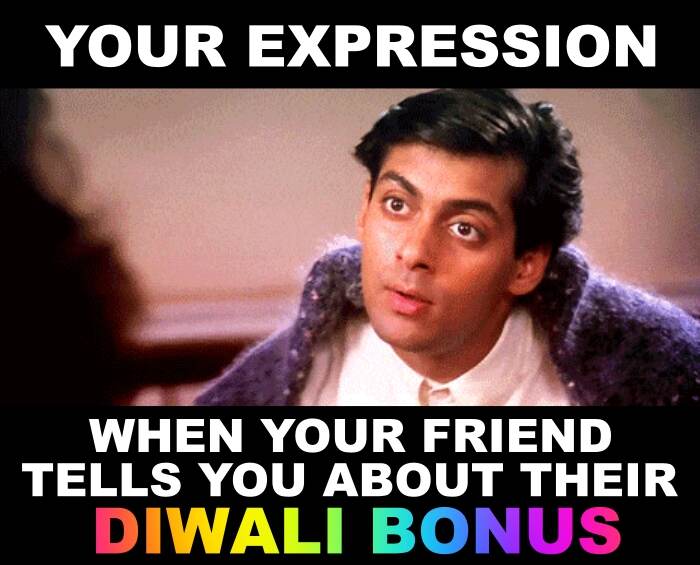 Another Level of Dark Humour
HR: Chalo Ek joke Sunao

Me: Sabko Diwali Bonus Milega

— Sumeet (@AaadiVaashi) September 22, 2017
Diwali Bonus = Joke Papa
Johny Johny- yes Papa

Private Job- Yes Papa

BP Sugar- High Papa

Diwali Bonus- Joke Papa

Monthly Pay- Low Papa

Weekly Off- Ha ha ha 😂😂

— प्रिया सिंह Follow=FollowBack (@Humorcoming) October 6, 2016
Diwali Bonus, Woh Kya Hota Hai?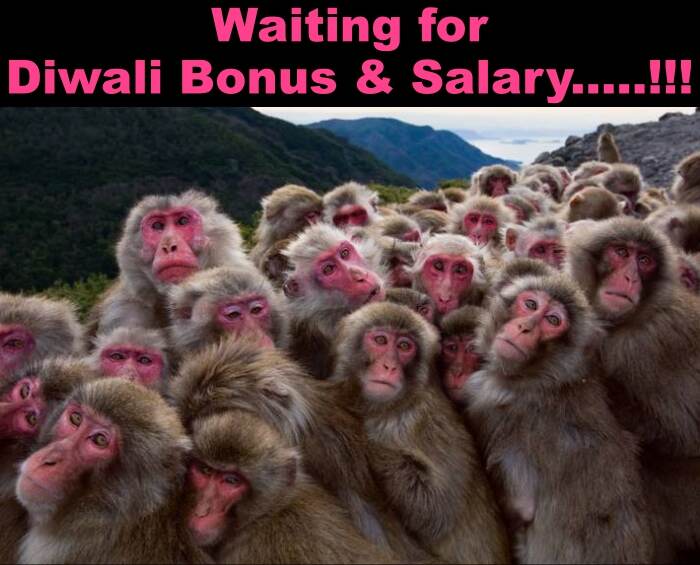 Nothing Called Enough HR-Employee Diwali Bonus Jokes!!
Boss on whatspp:- Oye Jokes Bhej

Me:- Pehle Diwali Bonus Do

Boss:- Hahaha. Acha Tha. Or Bhej.#Boss #MaantaNahi @BajajAllianz

— Deepak (@Potterhead_Mee) September 29, 2014
We All Have That Rondu Friend
When your office buddy got apraisal and diwali bonus and you didnt get anything except the box of sweets but still they are crying for more money.

I am like :- pic.twitter.com/Klqh5IOopC

— Atulkumar Gupta (@GuptaAtulkumar) October 31, 2018
Be Prepared For This!
Weren't these some fun Diwali bonus jokes and memes? Let us know if they worked as Burnol or not for you. Make sure to share it with your colleague or BFF who is also waiting for their Diwali bonus just like you. Come 'on, do not lose hope as there is still some time left for Diwali 2018 to begin and we hope by that time, your HR would spring up a big surprise for you with a delightful gift.