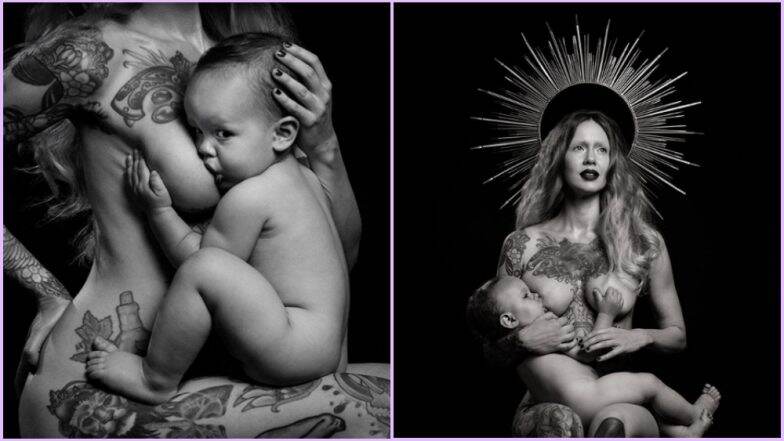 Leaving an abusive relationship is not easy. If we look at the number of cases reporting almost every day, there are millions of people with an increasing number of women who experienced domestic abuse across the world. It is seen on an average; women attempt to leave an abusive relationship a number of times before successfully and permanently doing so. And once they decide, there is no looking back. On a stronger note, a heavily-tattooed domestic violence survivor has given some sexually empowered goals for all mothers ahead of International Women's Day 2019. She has posed Virgin Mary while breastfeeding her son,  for a photo series that aims to prove that being a mother and a sexually-empowered woman does not have to be mutually exclusive. And the bold nude photoshoot speaks for it all.  Why Breast Milk Is The Best Food Mothers Can Give Their Babies? 
When women are disconnected from their sexuality or traumatised, their sexuality is trapped with shame, guilt and fear. It is difficult to come out of it and embrace one's body, the perfect way it is. Even after giving birth to a child, newly-mothers are often seen to be detached from their sexuality. New York-based photographer Reka Nyari captured the series of photographs as a part of her 'Ink' project, and the woman is identified as Leah, who became a mother after getting out of an abusive relationship. Photographer Reka said she became interested in shooting a series about motherhood, breastfeeding, and the over-sexualisation of the female body after she gave birth to her own daughter. She aimed to prove that you can be a mother and still feel beautiful. Lisa Haydon Remembers Being Shamed For Breastfeeding Picture on Instagram Where Trolls Compared Her To a Cow. 
The "Mother Ink" series captured a young, tattooed woman, who is taken on the character of the Virgin Mary, the ultimate symbol of motherhood and love, explained the photographer to the Daily Mail.
Leah Breastfeeding Her Toddler Son Nude. 
View this post on Instagram
After becoming a mother, Reka discovered that breastfeeding is still a taboo, especially when it is done in public or involves a toddler. Reka contacted Leah and requested her to be the subject of her newest project after seeing photos of the mother on Instagram. Nude Model Binges on Junk Food to Become the World's Heaviest Woman. 
Bold and Beautiful Mom. 
"She is heavily tattooed, recently had a baby, and was breastfeeding her son. She's got a very unique life story of leaving an abusive relationship and being a single mother," the photographer was quoted saying on the same report.
A Mother and a Sexually Empowered Woman.
View this post on Instagram
With Leah, Reka wanted to show that a woman can be both a nurturing mother and a sexual being. "In these images, we see her nursing and playing with her son, full of tenderness and devotion. Her body, still a tool for self-expression and sexuality, has also become a sanctuary of nourishment and security. She is a mother, yet a sexually empowered woman. There is no reason why these two powers should not co-exist," said the photographer.
Reka is quite sceptical that the religious iconography may displease some and invite many criticisms; she believes the portraits accurately represent the love and devotion of a mother, which the Virgin Mary symbolises. For the past three years, Reka has been working in her 'Ink' series, which shows incredible, extremely tattooed women and their moving life stories. She also believes that her recent photoshoot and coverage will empower many mothers out there.