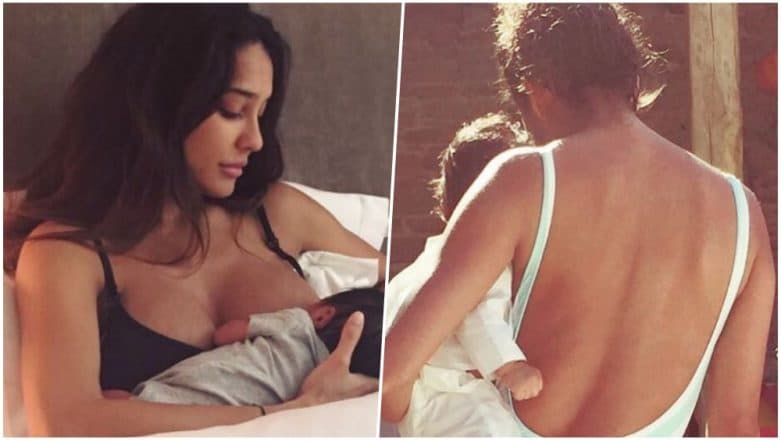 Last year, actress and model Lisa Hayden was trolled for posting a picture of her breastfeeding her son Zack to commemorate World Breastfeeding Week 2017. She shared the picture on her Instagram account to showcase the nutritional benefits of breastfeeding, and how it helped her get back in shape and bond with her child. But far from being lauded for her actions, she was subjected to bullying as trolls unleashed their worst side online. The comments ranged from insensitive to downright cheap; some even went as far to sexualise the act of breastfeeding a child. Trolls transcended every boundary of human decency when they picked on everything from her character to her upbringing. Let alone men; even women were not too far behind. In an interview with IANS, a year after the incident Lisa remembered a comment which said she wasn't a cow to feed her child publically.
Here's Lisa's Instagram post:
While the experience itself may have been unpleasant, the model-turned-actress still supports breastfeeding. Recollecting the incident, she said, "I certainly felt uncomfortable at times when I was asked if I was still breastfeeding my baby and it had only been four months. Some people told me I am not a cow, my baby should not feed off me and there were many things that made me feel uncomfortable to do it, not so much ashamed."
She added that she didn't breastfeed her child out of a sense of responsibility or duty, but rather due to something that came naturally to her. "I know that a lot of people struggle to breastfeed for various different reasons," she said.
The 32-year-old actress said that she'd prefer to stay at home if she had the option, saying that a lot of women don't have the opportunity to. "I felt very fortunate and blessed to be able to breastfeed my kid for as long as I did. I would definitely encourage every mother to do so, and it is something I definitely stand by," she adds.
She said that she couldn't breastfeed her child for a year. But she recommends that all mothers should nurse their children since it helps the two bond. She said that motherhood had helped her learn how to pick and choose more than before because now she had the time to do it. She says that being a stay-at-home mom can help one focus on bettering oneself as a mother.
Lisa wasn't the last to be subjected to merciless trolling for breastfeeding her child. Actress and singer Gilu Joseph also courted controversy after she posed breastfeeding a child on the cover of Grihalakshmi, a popular Malayalam magazine. These incidents go on to show that the society is still sexualising the act of breastfeeding, refusing to see beyond the obvious erotic connotations of the female breast. Instead of shaming these women, trolls and self-anointed guardians of the society should take a good look at themselves. Perhaps it's just a case of jaundice eyes.
(With IANS inputs)