The Christmas cheer is spreading everywhere and shops are decked with holiday season displays. But a picture from outside an Australian shop will leave you scared as there are a bundle of snakes wrapped around one another! A picture of three venomous snakes wrapped around a pole outside a shop with some Christmas decorations entangled along was shared on Facebook. The photo is quite scary for someone who has a fear of these reptiles. But let us tell you, although it looks scary all of these were pet snakes of the store owner. Can You Spot the Snake? Queensland Family Wakes Up to a Python Relaxing on Their Sun Lounge (Watch Viral Video).
A tourist named Maxime Zimmerman posted the picture on a Facebook group. The photo shows three snakes entangled around a pole and that looks a dangerous scene to solve. The three snakes were red-bellied black snake, an eastern brown snake and a tiger snake, all of which are among the most venomous snakes in the world. But these snakes were placed on the pole by the owner of the store and they were his pets. Snake Bit an Australian Woman's Butt in the Toilet, Here's What Happened Next!
Here's The Scary Pic of Snakes Around Christmas Decor in Australia: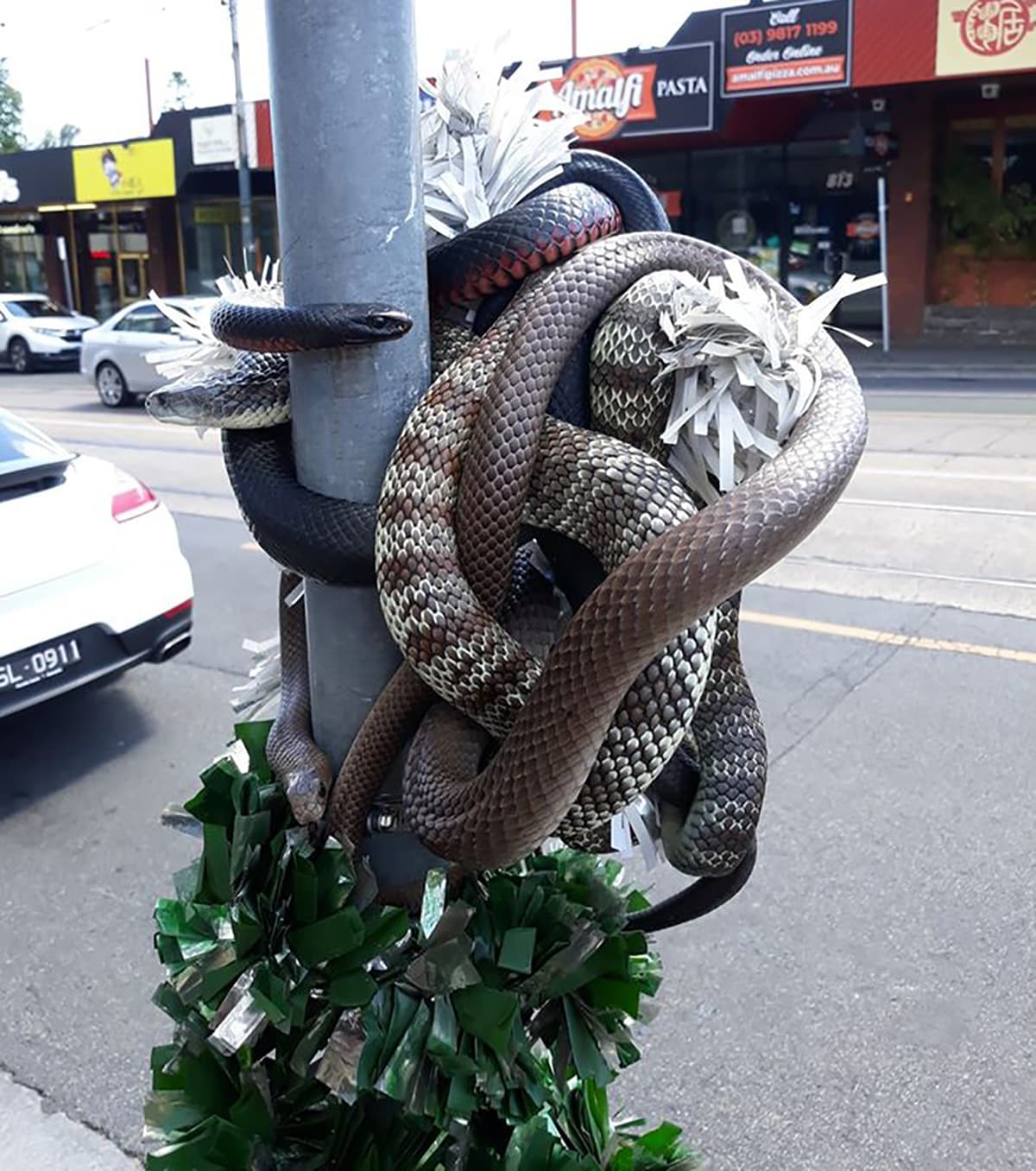 Well, if you too have freaked out, let us tell you it is not as dangerous as it seems. Zimmerman told in a Daily Mail report that the snakes belong to the owner named Raymond Moser, also known as Snake Man. He told him these snakes were no longer poisonous as they had had their venom removed. Some people on social media, however, were freaked out by the picture. But others were quick to reassure that it was a staged picture.
But this reminds us of another incident recently when a 10-foot-long python rested on a Christmas tree in Australian house. The picture of the huge snake calmly sitting on a family's Christmas tree was shared on Twitter and it was really scary. The family was out on a vacation and when they were back, they saw the huge python sitting amidst their pine tree.
(The above story first appeared on LatestLY on Dec 19, 2019 01:03 PM IST. For more news and updates on politics, world, sports, entertainment and lifestyle, log on to our website latestly.com).