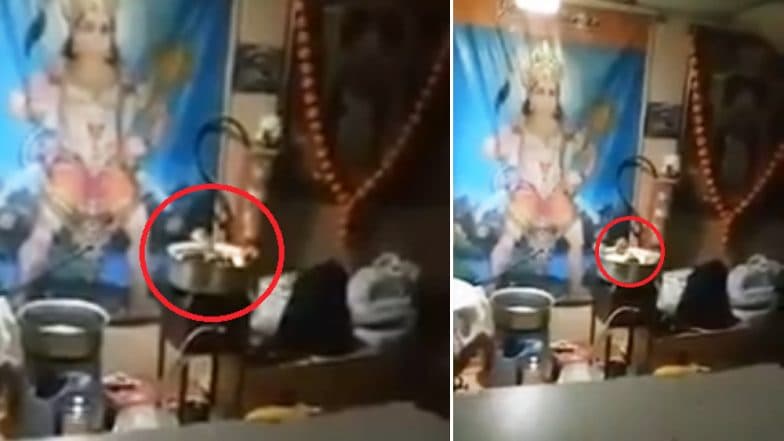 Hyderabad, April 24: There have been numerous incidents of people falling sick due to consumption of unhygienic foods served at restaurants. A video that has surfaced online shows a rat loitering in the kitchen of Hyderabad airport canteen. The incident came to light after a Twitter user Amjed Ullah Khan tweeted a video showing the rat-infested kitchen.
In the clip, the rat can be seen scurrying around vessels and also nibbling at some food items. The video was quick to go viral on social media with Twitterati forwarding it to the responsible authorities. Cyberabad Police after being tagged in the video took note of it and brought it to the notice of the Rajiv Gandhi International Airport (RGIA) Police Station, who sprung into action.
Here is the video of rat-infested Hyderabad canteen's kitchen:
See the canteen situated in parking area of @RGIAHyd which serves food to Ola/Uber taxi drivers.@KTRTRS @CommissionrGHMC @zcsz_ghmc @AchnsGhmc @cyberabadpolice @cpcybd pic.twitter.com/zjeif6zCSf

— Amjed Ullah Khan MBT (@amjedmbt) April 21, 2018
RGIA Hyderabad on Twitter informed that they instructed the canteen owner to keep it clean.
Rushed to the spot/ canteen and checked the entire canteen and instructed the owner to keep it as clean and neat and warned him don't repeat it in the future.

— RGI Airport Police Station (@psrgia_cyb) April 22, 2018
The Police force also replied to the Twitter user who posted the video on the micro-blogging site with the update.
The canteen operator has already initiated actions like heightened pest control various measures to improve the hygiene and also certain infrastructural changes to protect the kitchen from pests . (2/3)

— RGIA Hyderabad (@RGIAHyd) April 22, 2018
RGIA Hyderabad also replied stating that pest control has been initiated at the canteen along with other infrastructural changes.
Our team will also monitor the kitchen and canteen hygiene on daily basis. We really appreciate for bringing this matter to our notice.(3/3)

— RGIA Hyderabad (@RGIAHyd) April 22, 2018
Twitterati slammed the responsible authorities for lack of interest in things which affect the common man. However, the Hyderabad Police has promised clean canteen premises and necessitating required measurements. Consumption of this food can result in food poisoning resulting in nausea, vomiting, diarrhoea, dehydration and other issues.