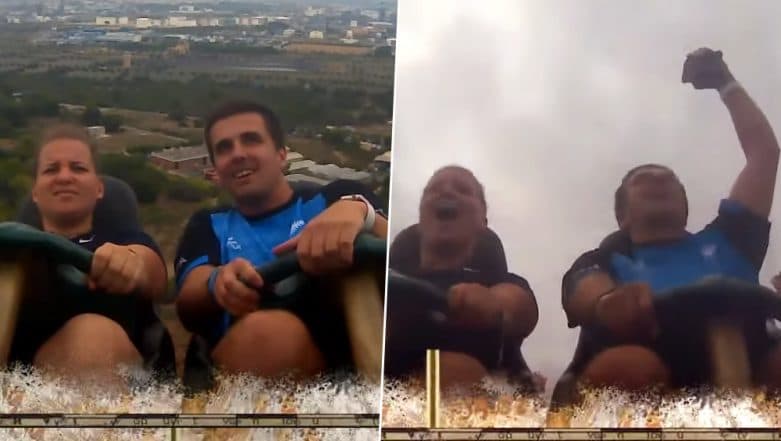 Video of a man catching a phone dropped by another man while flying on the roller coaster has gone viral on social media. The incident was recorded on the ride's dashcam in at an adventure park in Spain's Port Aventura. The video shows YouTuber SirSammy sitting in Shambhala rollercoaster alongside a woman. As the ride goes up, the duo can be seen enjoying the views of the city in the background. Then they tightly hold on to the side as it begins to drop suddenly. However, in no time, he spots something falling down through the air towards them and catches it. The video was quick to go viral on social media with people praising the YouTuber's presence of mind. Man Throws iPhone Into Bear Enclosure at China Wildlife Park Instead of Apples; Video Goes Viral.
He can be seen leaning towards his fellow passenger and reaching his hand out towards them. He had got hold of an iPhone which was dropped by a passenger sitting ahead of him. SirSammy can be seen celebrating the catching by showing thumbs up in the air. Man Uses iPhone As Beer Bottle Opener; Phone Breaks at Second Attempt (Watch Video)
SirSammy uploaded the video on YouTube saying, "I caught a strangers phone in mid-air on a roller coaster! I was in Spain at Port Aventura on shambhala ride and saw the person a few rows ahead drop their iPhone X. long story short I caught it. this roller coaster is moving at over 130kms...was once Europe's tallest and fastest coaster.. only recently beaten."
Watch The Video Below:
Shambhala was Europe's tallest and fastest hyper coaster until Hyperion opened in Poland in 2018.  The Shambhala rollercoaster travels at speeds of 134km per hour and has a maximum height of 250 feet.